new Apple iPad (no "3" or iPad "HD"), just new – Retina 264dpi LTE, A5X Processor, iOS 5.1
the new Apple iPad is quite like expected, – and very hard to distinct between iPad 2, the old one and the "new iPad", no "number". let's talk about the new iPad when the next one is out and call it "new" – that'll be fun.
2048×1536 Pixel (264 dpi) Retina Display,
A5X Prozessor, 5MP Cam – 1080p Video.
Voice Dictate – Stimmendiktatfunktion.
LTE – 73MBPS max. (USA only, – in Deutschland liegen die passenden Frequenzen auf anderen Frequenzbereichen, aber HSDPA/UMTS mit bis 42MBit/s geht, was mehr ist als bisher, weit mehr! – Passende Tarife zu finden mag schwierig sein)
QuadCore Graphics.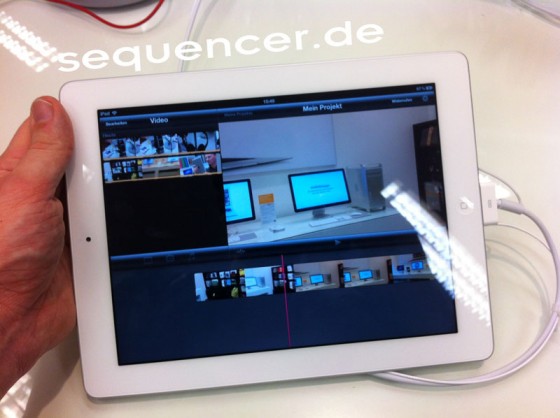 iPhoto (new) + iMovie  – quite like on the mac – ist jetzt quasi wie auf dem Mac – iPhoto adds touch draw like a very simple sketch pad like "Skitch" and simple "Photoshop"-Style effects and draw functions. simple. But simplified.
also new – Garage Bands adds networking with 4 iOS devices to work on one song and score editor. — Auch Garage Band wurde aktualisiert, unter anderem gibt es nun "Smart Strings", einen Noteneditor und iCloud-Sharing. Hierzu wird gerade ein Video gezeigt.4 iOS Geräte können an einem Garageband Dings arbeiten.
it's nice to have that retina display but at the moment it does not really makes a BIG difference. Well, they had no 64GB GPS model left – on 16.3. – it's slightly heavier, but not really a big difference, the cam is MUCH better, the old one was really crap, I don't know why they did not choose the 8mp one – dictation works quite well, even when it's noisy around it worked.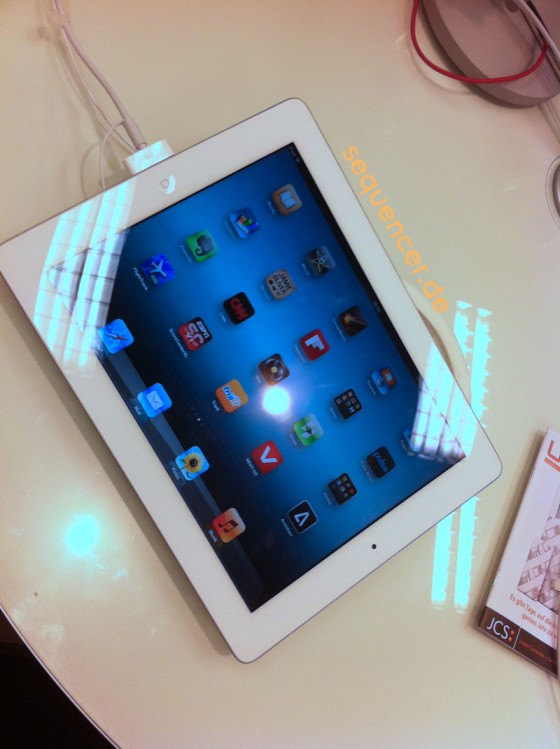 –> Forum: Neues iPad, heute – bestellbar ab 16.3.
to musicians – this thing is nicer to read and may allow more complicated graphics, it won't change that much but is simply nicer to the eyes – as you might know from the iPhone 4 / 4S, retina is cool to look at for a long time. technically I won't expect too much "more". order can be placed on 16.March.
new iOS 5.1 coming (later) today. as well.
battery will last as long as the old one, they say. and it's more expensive. 100USD, guess thats 400€ min for the smallest new one. iPad2 will still be availables as a "cheaper line". as always still 2 basic models – with or without mobile connectivity and RAM size (still 16-64GB) – Wifi only or 3G/LTE/GPS (yes, GPS is only available with the expensive model), can work as hotspot – if the provider allows is.
here's the event video
iOs 5.1
the music app on the iPad is no longer a horror for me since it can be set to 2x speed again.
Dieses Update enthält folgende Verbesserungen und Fehlerbehebungen:
Unterstützung für Siri auf Japanisch (während der Einführungsphase evtl. eingeschränkte Verfügbarkeit)
Fotos können jetzt vom Fotostream gelöscht werden
Der Kurzbefehl für die Kamera ist permanent auf dem Sperrbildschirm des iPhone 4S, iPhone 4, iPhone 3GS und iPod touch (4. Generation) sichtbar
Mit der Gesichtserkennung der Kamera werden Gesichter hervorgehoben
Neu gestaltete Kamera-App für das iPad
Genius-Mixe und -Wiedergabelisten für iTunes Match-Abonnenten
Optimiertes Audio verbessert die Lautstärke und Tonqualität bei TV-Sendungen und Filmen auf dem iPad
Podcaststeuerung für die Wiedergabegeschwindigkeit sowie 30-Sekunden-Rücklauf auf dem iPad – endlich wieder da!
Behebt Fehler, die die Batterielaufzeit beeinträchtigten
Behebt ein Problem, das bei ausgehenden Anrufen gelegentliche Tonausfälle verursachte
Informationen zum Sicherheitsinhalt dieses Updates finden Sie unter: