NonLinear Labs – Kontour + upcoming hardware synth / concept
NONLINEAR LABS is the company of NI founder Stephan Schmitt. I first recognized one of "their" new hardware based approaches to things like Reaktor. And Stephan writes, that he is still a share holder of NI. Well I don't own Komplete 10, there are some new synths in it – Kontour being one of it (so can't tell about details so far). It's looks appear to be an easy to use but non boring synth because the comb filter is outlined as a module as well as 2 envelopes with 6 parameters – made for expressive works – buuut – this is the one:
this is the first outline of something coming from Nonlinear Labs soon (!), that is based on that hardware concept which is sort of controller and DSP engine – so they are doing a HARDWARE synth.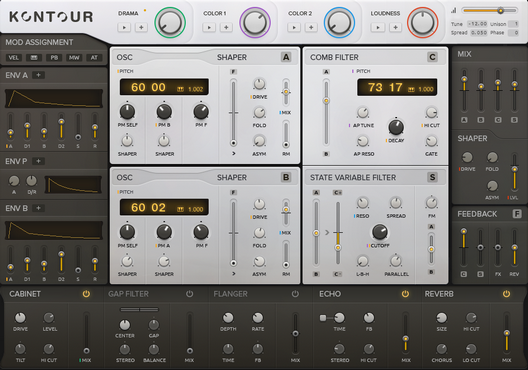 That synth uses a technique called TCD, means – some protocol that is detached from the synth engine and just discribes what you can control – means – if you did this one right and perfect you may be able to send it to "any" upcoming controller that has dedicated controls for – say – envelopes and put's it all there, or may have controls for OSCs on another section of the hardware – to me this makes sense and COULD bring the controllers move from generic to something synth-generic, so it is not as specific as the Roland System 1 but it might not be as generic as "controllers" or synths like the G2 which has a really perfect user interface for it's time and modularity. so you got the PANEL and the ENGINE (Reaktor, do you heaaar me?) – so that's what comes to MY mind when reading and hearing this, and it COULD be a good start for us synth guy(settes), huh?