16.10. Apple Event October 2014 Retina iMac/iPads Air 2 + Mini 3/Mac MIni/Yosemite d'l today
Apple rolls out another keynote & event <– the link to the live stream
what we get: new iMac Retina, Mac Mini (long long awaited), iPad Air 2 and iPad Mini 3 are here! – also: ios 8.1 coming next week, Yosemite OS X 10.10 for download today!
Retina-iMac
Neuer Mac mini
iPad Air 2
iPad mini 3

– OS X 10.10 Yosemite coming / to be announced / free download – TODAY!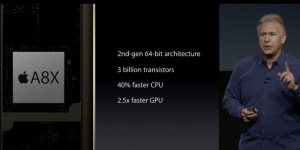 – new iPads Air 2 /A8X processor? Yes! it's in! – it's 18% thinner – 6.1mm, 8MP cam, both cams enough for HD video – same as iPhone 6 (finally), better LTE, NFC/Apple Pay will work as well etc.
left: air  ————————— right: 2x air 2
Same für iPad Mini 3 (retina)

they are still selling the super slow iPad Mini 1 and the iPad Air 1 (that's ok)
so – get one next week  (orders from tomorrow)
so -.. will updated this as soon as the new stuff is announced/told – or just watch it yourself.
ios 8.1 – at Monday for download
and iWork free as well.
– iMac Retina with 5k Pixels (27″) 5120×2880,  AMD Radeon R9 290x
$2.5k (only big one – non retina still available), 3.5 – 4Ghz, TB Fusion Drive, 8GB Ram
buuut – note you need the i7 processor – i5 is for pussies – not for musicians! and this one is for photographers and video ppl among us musician! that's 3k€ then! (it's 16GB, 1TB Fusion Drive – since apple charging more than ok prices for SSDs at Pro level (512GB)) – so if you a image lover – the i7 4core iMac Retina is for you, but expect 3k€> for a useful configuration! otherwise you might feel pissed sooner or later – maybe get that RAM later – oookay. but the internal SSD/Drive can not be exchanged EASILY (it is possible, but..)
– new Mac Mini – $500, Haswell CPU, 100US4 cheaper start price, dual TB 2 ports, Iris Pro 5000 Gfx, warning: only 2core which is not fast available / 1220€ for i7, don't do it below the i7 processor
and still: the SSDs are way too expensive at apple !! – so if you want a 16GB RAM / 512GB SSD-Mini you need 1.7k€ – possibly too much for a 2core machine? yes. 
both available now / today.
UP NOW: 16GB for download (!!! eeeeek !!!)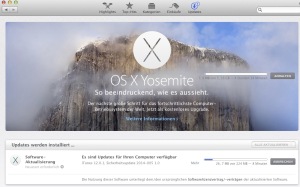 works on MP and MBP – but my old Geforce 120 is a bit too slow for zooming so it's the lowest end for GFX on Yosemite OS X 10.10 , so I needed to get the ATI RADEON HD 5850 1GB for Mac Pro 1,1-5,1 (just search eBay or others for it – app. 150€, which is the fastest to get) – if you go for those that were available for macs, there's also the 5770 – note – the 5850 will only work on post 2008 Mac Pros, others may need to step down to the 5770 because of bus speed)  to help the OpenGL/CL stuff to work fast enough, and it you want handoff you need BluTooth 4 (the older Mac Pros do only provide 2.1) -> which is 100€ PCI mini card
yes, there are 4K GFX cards out there for the price of half the MP, there is processors I could get for my 2.26dual, but it's 1k€ – so might not be worth it – but IS possible and after all you will be better of than one of the new MP's for music and some little more..
Yosemite: wants 8GB RAM, right?
well – on my machines it is all ok – they are both at 8GB and both SSDs, with Trim support via those 2 tools available for Yosemite as well.
so – everything is GO for leaving Mavericks. So I am now on 10.10 and Snow Leopard for running older editors, Photoshop etc.. when needed. I said good bye to Adobe for their subscription stuff (50€/month is more than evil) – Pixelmator will come to iPad as well – get it! will work well.
btw: iPad 2 also has Blutooth 2.1 only, so no handoff / continuity functionality possible.
– more – like 12″neo Mac Book Air / new line of Books may not be ready this time – something without fans/maybe with ARM instead of Intel or something.. – true – thay might be there in 2015.