O.G.Sus – MomInstruments – EFX – iOS FX (4fach Effekte – im Kaoss Pad Stil)
Elastic FX – O-G-SUS ist eine iOS App und ein komplexes Effektgerät.
Vier identische Einheiten erlauben eine Auswahl aus eine wirklich langen Liste von teilweise auch ungewöhnlichen Effekten aus 7 Kategorien. Darunter Dinge wie Dimension D, Ringmodulation, Reverse Pitching, Dual VCF, Kammfilter, Grain Delay, Hall und Stotterer. Und ja, es sind wirklich viel. Aus diesen kann man 4 Blöcke mit Pegel direkt einstellen. Sobald man das links antippt, bekommt man rechts eine Art Kaoss-Pad, also eine 2D-Fläche um zu performen und weitere Knöpfe oben links bieten weitere Möglichkeiten, von denen 2 eben über das Pad gesteuert werden. Das Routing (was kommt von wo nach wo) kann man einstellen und wird grafisch angezeigt – ähnlich wie Yamahas Algorithmenanzeige in FM-Synths.
Man kann Microfon, Livesound oder Samples oder auch Musik durch das Ding schicken und quasi live darauf spielen.
Am Ende der Kette gibt es noch einen Kompressor, Equalizer und Pegelkontrolle – das kommt nach oben anstatt der 2D Steuerung wenn man oben links das Icon dafür antippt. Dazu ist dort auch schon ein Stotter-2D Pad, was natürlich auch kleiner ist als die Haupteffekte.
Zusammen ist das nicht nur mächtig, sondern man kann damit aufwendige komplexe Sachen machen und zwar für die Bühne. Selbst wenn man das nur mit Samples und kleinen Loops macht ist das bereits extrem effektiv und könnte auch reichen um Übergänge zwischen Stücken zu überbrücken.
main/master FX – simple serial routing set here – using the microphone right now: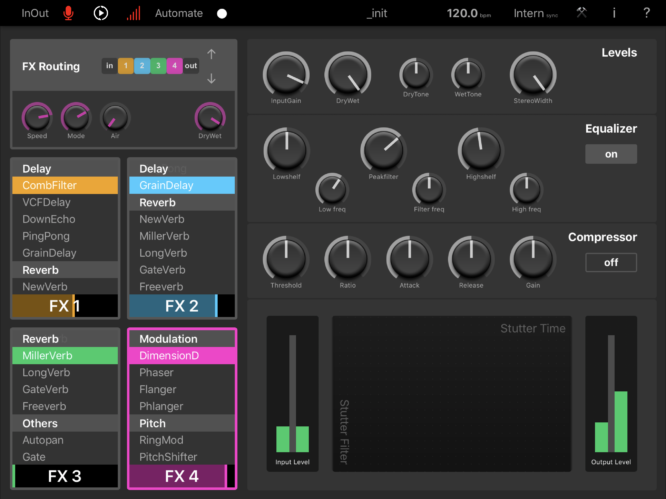 this is a a quad effects processor – a bit like Korgs Quad-Kaoss Pad – there are 7 categories filled up with a looot of effect variations – like comb filter, granular fx, reverb and filters – not just tolly common ones but also common ones – I like that Dimension D is in as well. and things like "Miller Reverb" which is reverb plus pitch / tuning. add 4 of these individually and route them to your likes – control them via a 2D pad and have 3 more parameters (sometimes more, less) – it's n.off to touch the fx selection to get there – touch an icon to get the main stutter fx, compression and eqing and adjusting the levels – you can process audio, the microphone or sample loops – all of them is enough to kill some time between your live tracks and sets – but it's also good to fx each of your apps or synths on stage.
mominstruments elastic fx ios app / effects 4x