Oval – Hang-Style Instrument (sends & senses MIDI)
Das Instrument hat den Hang ein wenig wie ein Hang auszusehen, ist aber elektronisch. Es hat mehrere X/Y-Felder mit jeweils 5 Drucksensoren – und es gibt ein Video dazu – die Macher brauchen noch etwas Support.
Dimensions: 420 x 420 x125 mm
Weight: 3,1 kg
Materials: Solid Surface with acrylic, quartz, marble and bauxite.
Rechargeable long-lasting lithium battery via USB.
Class-compliant MIDI over USB connectivity through Lightning on iOS and USB on Android and any other operating system.
Bluetooth BLE connectivity with Apple BLE MIDI compatibility on iOS8 and OSX Yosemite
External input for a pedal or external controller
ARM Cortex M3 microprocessor
Bluetooth 4.0 Low energy

bei / at ovalsound.com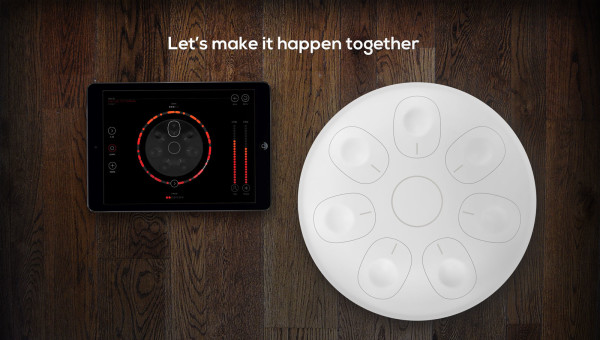 this instrument looks a lot like a hang but it's electronic – just found it because I was following Hannah Peel, who is in a studio that looks a lot like that of John Foxx'es, in'it?
the instrument needs support, so..
here's where to go – you can control and set it up with an app.
note – it has reached the Kickstarter goals – but you can only get one THERE, so..
these "pads" are registering x/y position and pressure – it's 5 sensors per pad and a multicolour LED showing what it is sensing..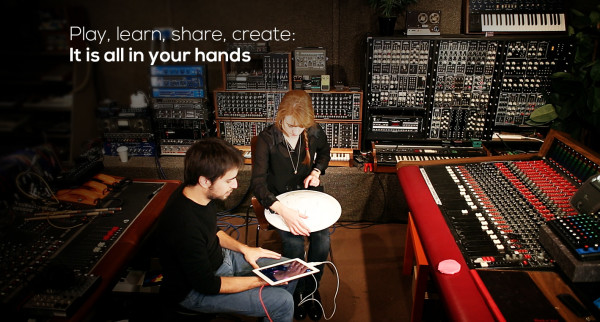 ->Another MIDI Hang but seams without those 5 sensors:  Digital MIDI Hang?