Roland TR8S Sampling DrumMachine – mit 8 Takten
Es ist eine TR8S da mit Sampling, Automation, 128 Patterns, 600 Sec. Sampling, neue Effekte,
Mit echter Automation wie Electribe/Elektron – aber in der Machart eher wie Elektron. Es gibt jetzt auch ein Display, Es gibt 6 Knöpfe und je einen Fader für Parameter. Trigger Outs (Analog) sind auch an Bord.
Verschieden Länge der Tracks pro Instrument!
FX pro Spur!
8 Variations pro Pattern
8 Pattern-Chain A-H = das sind 8×16 Steps max.
TR808,909,727,707,606 sind drin ab Werk.
Ratchet/Roll Step – Substeps! Ein wenig wie in der Sonic Potions LXR ? Nein, das sind einfach mehr Steps! insgesamt 8×16 – die Rollfunktion ist anders umgesetzt aber vorhanden.
Analog Trigger Out. Mehr als einer und frei zu routen. Auch hier hat Roland nicht geschlafen.
Velocity wird mit Accent verwendet.
Offensichtlich hat Roland die sgnt. Hausaufgaben richtig gemacht.
Sampling bedeutet – Samples laden, also ein "Rampler", kein Sampler in DEM Sinne, so es nicht Sampling an Bord gibt. Lädt direkt von SD.
die Maschine kostet 625€ – ist also eine Mischung aus Sampling und Synth/Modeling nach den bekannten Roland Drummachines und lässt lange 8-taktische Patterns zu mit Automation – dh – man hat alles verbessert und richtig gemacht, was bei der TR8 nicht optimal war. Nach meinem Test in SynMag ist das Teil für alle die Drums bauen wirklich gut gelungen, für Melodien ist sie nicht gemacht, soll sie aber auch nicht.
Die Oberfläche ist gut – aber man muss einige Parameter per Menü erreichen – das ist ok gemacht, könnte natürlich noch besser sein – aber für das Gebotene ist das gut so – Performances macht man hier über Parameter, Knöpfe und Co die man zuweist und kann die anderen halt auch erreichen. Wäre ich Drummachine-Mensch würde ich genau die kaufen, sie hat eine gute Größe, einen guten Zugang und macht was sie soll.
Die Substeps sind einfach eine höhere Anzahl von Steps – und nicht etwa das was bei Sonic Potions LXR integriert ist – dennoch steht die Maschine in Drums einer Electribe SX in nichts nach, zumal es auch eine Art Roll-Funktion gibt. Wir sprechen hier darüber.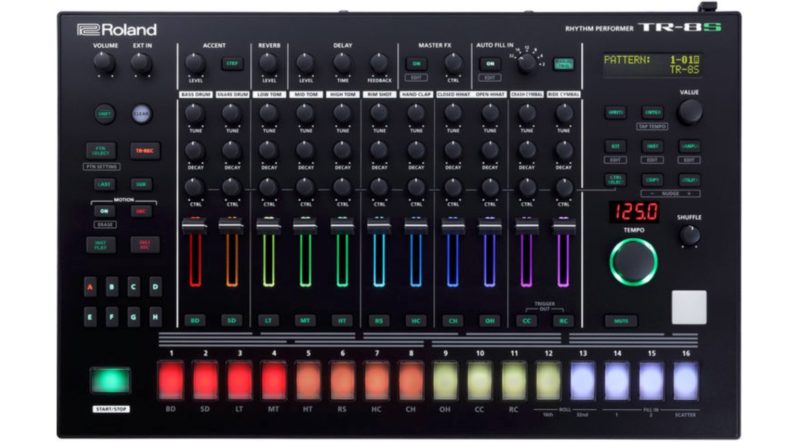 the TR8s is a samplling TR8 with automation just like the Elektrons.
600 Secs of Sampling Time
6 knobs, display, fader per instrument, 128 patterns
new ind. FX, ind. pattern length per track. (cool!)
You got 128 patterns and can chain 8 – makes 128 steps or do variations,
substeps allow ratcheting/roll like the LXR
analog outs can be configured – more than one – to control ext. analog triggers
SD card for samples etc. – means it directly loads the samples from there, so it is actually a RAMpler not a sampler – to be excact on that.
Display
2 more knobs per set
well – this time Roland did it exactly right. to me worth it. if you want drums in a modern way this is the right machine.
Roland TR-8S Rhythm Performer
Machine Models: 808, 606, 909, 707, 727
128 User Drum Kits + 128 User Patterns
11 Instruments with Multiple ACB Tones
Preset Samples: 150 Tones or Greater
SD Card for Sample Playback: 600 Seconds
16 Steps per Measure with 8 Variations
Updated Instrument and Master FX
Motion Recording Function
Side Chain, Scatter, and Auto Fill In
USB Audio and MIDI
Drum Kits User Drum Kits: 128
Patterns User Patterns: 128
Step Sequencer 11 x instrument parts
1 x exclusive part for trigger out
16 x steps per 1 measure
8 x (A – H) variations per 1 pattern
2 x fill-in patterns per 1 pattern
Instruments Bass Drum: 11 ACB tones
Snare Drum: 8 ACB tones
Tom: 15 ACB tones
Rim Shot: 3 ACB tones
Hand Clap: 5 ACB tones
Hi Hat: 8 ACB tones
Cymbal: 8 ACB tones
Percussion: 23 ACB tones
Preset Samples: 150 tones or greater
User Sample Import User Samples: Imported from SD card for playback
Available Format: WAV, AIFF
Total Time for All Samples: Approximately 600 seconds (at 44.1 kHz, mono)
The maximum length of a single audio file that can be imported is approximately 180 seconds (at 44.1 kHz)
Effects Inst FX: Thru, Hpf, Lpf, Lpf/Hpf, H boost, L boost, L/H Boost, Isolator, Transient, Compressor, Drive, Comp+Drv, Crusher
Reverb: Ambi, Room, Hall 1, Hall 2, Plate, Mod
Delay: Dly, Pan, Tape echo
Master FX: Hpf, Lpf, Lpf/Hpf, H Boost, L boost, L/H boost, Isolator, Transient, Transient 2, Compressor, Drive, Overdrive, Distortion, Fuzz, Crusher, Phaser, Flanger, Sbf, Noise
Other: Side chain (for Ext in), Scatter (as one of Auto Fill-In functions)
Display 16-characters, 2-line (backlit LCD)
7-segments, 4-characters (LED)
External Storage SD card (SDHC supported) for backup/restore function and import sample data
Connectors Phone Jack: 1 x Stereo 1/4″ / 6.3 mm phone type
Mix Out (L/Mono, R) Jacks: 2 x 1/4″ / 6.3 mm TRS phone type
Assignable Out/Trigger Out (1 – 6) Jacks: 6 x 1/4″ / 6.3 mm phone type
Ext In (L/Mono, R) Jacks: 2 x 1/4″ / 6.3 mm phone type
Trigger Out Jack: 1 x 1/8″ / 3.5 mm
MIDI (In, Out) Connectors: 2 x 5-pin DIN
USB Port: USB type B (Audio, MIDI)
DC In Jack
USB Audio, MIDI
Power Supply AC adapter
Current Draw 2000 mA
Dimensions (W x D x H) 16.1 x 10.4 x 2.3″ / 409 x 263 x 58 mm
Weight 4.6 lb / 2.1 kg
Spekulation war diese:
Roland kündigt für morgen früh 9:00 ein neues "Ding" an, kein Boutique sondern ein Neuling bei der Aira-Serie, die Fader leuchten zwar eher bläulich aber der Grundton ist grün – Die Fader könnten von einer TR9, TR8 Version 2 oder auch einem neuen System 1 stammen. Letzteres würde sehr sinnvoll sein, da selbst Roland weiss, dass sie bei der Tastatur des sonst gelungenen System 1 schlicht das schlimmste verbaut haben was sie hatten – Keine Dynamik, kein Druckpunkt und komisch flach – Stattdessen wäre eine Microkorg Tastatur oder eine richtige viel sinnvoller gewesen. Die kleinen Fehler des Vorgängers wären leicht ausgebügelt – 2 LFOs mit insgesamt mehr Hub für die Modulation für ENV und LFO – und auch fürs Rack Zugang zum zweiten LFO und Dynamik auf die Filterhüllkurve wirken lassen – vielleicht dimmbare LEDs für die, die mit grün nicht klar kommen – ARPer direkt und Hebel für Mod und Bend – das alles war nahe dran und könnte das System 100 besser fernsteuern, ein sehr hochwertiger Klang und die Hardware würde das hergeben. Eine TR8 in einer neuen Version hätte natürlich mehr Speicher für Patterns und diese wären länger 4 Takte muss man heute schon haben für Drums und eine Automation für Effekte und Knöpfe ist auch Pflicht. Das System 1 würde den Sequencer und Arpeggiator des SH01A bekommen, der sehr gut zu bedienen ist und transponierbar ist er auch. Das System 1m ebenso, wäre dem Keyboard dann nicht mehr "unterlegen". Es gibt sogar Leute, die von der Rückkehr der Groovebox sprechen wie MC505 (JV1080 im Wesentlichen mit Sequencer – eigentlich super – nur leider nicht livetauglich damals gewesen, weil man den Sequencer zum editieren anhalten musste). – Heute könnte das ja durchaus sein, dass man das kann. Und – die hatten sehr lange Pattern, sie wären also heute eine sehr willkommene Alternative, so sie livetauglich wäre.
Es ist auch denkbar, dass Roland konsequent die Plugouts zugunsten einer Art Cloud weglassen könnte oder viel mehr Slots anbietet und man darf sich runter laden was immer man will, mit irgendeinem Bezahlmodell und verdoppelt die Stimmen. Das aktuelle System 1 kostet aktuell 499€, das 1m ist deutlich billiger nämlich 519, was für dessen Ablösung spräche. Normaler Preis liegt bei 599€.  Ein System 8 Update für den Sequencer und Variation sollte endlich LFO2 und S/H im System erreichen und damit die Bedienung komplett über die Hardware möglich machen. Vielleicht ist es auch einfach was Neues wie ein Roland Sampler? Die sehr simple Symmetrie sieht aber nach Mixer oder TR aus, eher als Synths, denn der MX1 hatte zu wenig USB Eingänge und könnte natürlich auch ein Kandidat sein.
Roland showing us faders that look like Aira, not like Boutique, so it is about System 1/1m or TR8, shimmering blue'ish btw – the system 2 could be – more modulation, 2 LFOs, the ARPer and SEQ from the SH01A which is very cool in both, the 1m and the keyboard – and – the worst one I ever played from Roland – nevertheless the sound engine is one of the best – especially since it is digital – it could send the System 100 Plugout LFO2 and S/H Information via simple Command – which is not possible – even on the System 8 (that one should be given a 2.0 Update to access all LFO2 and S/H via Variation so everything can be reached via the hardware.) but that system 2 could be without any plugout or with another way of cloud access, maybe choose freely and use it or 4 voices or maybe the whole system changes to 8 voices or something? the other one could be an update for the TR8, more patterns, automation for all knobs and FX which is missing – maybe real ind.outputs. that would be cool –
or we get our Roland Resonance-Filter Sampler now or the TR8 gets sampling since Sampling was introduced in the D05 as something that works with the Aira / Boutique series. btw – there is also a rumour about the return of the Groovebox, like the MC505 – the original had a JV1080 as a base synth engine – and had a lot of cool funktions and long pattern lengths but wasn't made for stage use since record mode wasn't possible without stopping the sequencer. maybe this time..
those faders all look the same so – that refers more to a TR or MX2 which was a cool approach but could have a lot more inputs for Aira and Boutique Synths..