Behringer Pro One Clone (Desktop)
Behringer bringt einen nach dem anderen Prototypen in Form von Platinen in die Welt, allerdings werden meist eben genau diese gezeigt, nicht hergestellt. Dieses Mal ist es der Sequential Pro One – ein Klassiker, den Skinny Puppy, Vince Clarke (Yazoo, Erasure, Depeche Mode), Fad Gadget und andere eingesetzt haben – seine schnellen Hüllkurven und irgendwie sogar "interessanterer" Klang im Gegensatz zum eher unerschwinglichen Prophet 5 mit 5 Stimmen im Gegensatz zum monophonen Pro One war eine Möglichkeit einen Synthesizer zu kaufen. Die Platine ist technisch eher einfach zu kopieren und mit Sicherheit für wenig Geld.
Das Gerät ist ein Desktop – mit Sequencer und allem, was man kennt, CV & Gate in / out und VCF in.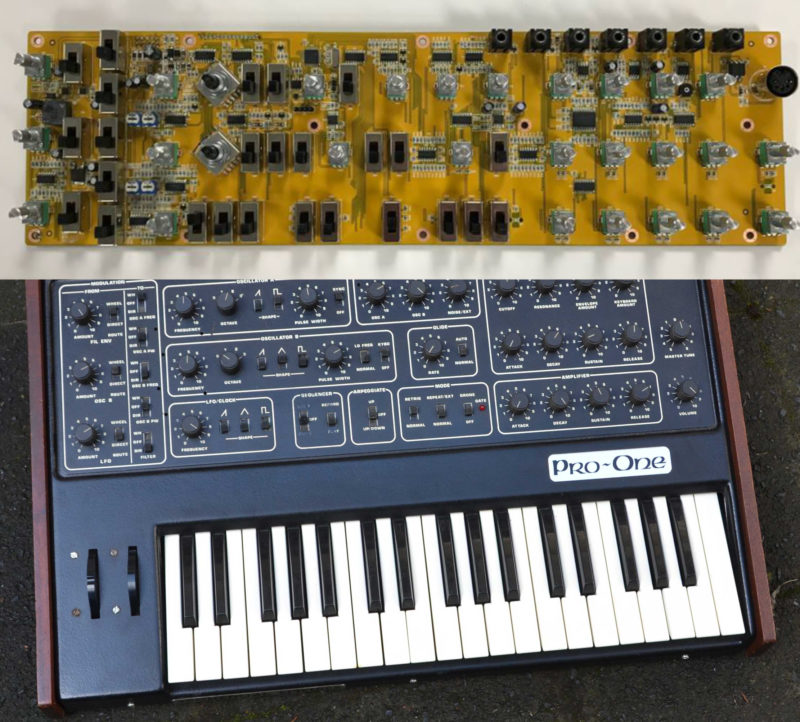 Kürzlich gab es ein Foto mit einem Jupiter 8 und einer TR909, was auch viel sagt aber genau so auch gar nichts. Daher habe ich als einer der wenigen Blogs nicht gepostet. Vermutlich soll auch das mal durchgeprüft werden.
Bisher gezeigt wurden direkt oder indirekt TR-Clones, VC340 (VP330 Vocoder Clone), ein Bild eines ARP Odyssey, der OB-Xa (als UB-Xa) und auch die Idee eines VCS3 und anderem war durch den "Leak" vor Einger Zeit bekannt geworden, darunter EDP Wasp, MS20 und so weiter…
Behringer sagten selbst, dass dies nicht unbedingt bedeute, dass man sie auch bauen wird – es ist wohl eine Evaluierung, ob sich das lohnt, man kann testen wie interessant das ist – man tut das nahezu ausschließlich im GS Forum. Ansonsten reichen wir Blogger uns faktisch die Klinke in die Hand und die Bilder kommen von Behringers Facebook Account. Aktuell kann man nur sagen – aha, noch einer..
Aber – selbst wenn es sie technisch gibt als Platine oder Prototypen, muss es sie nicht auch im Laden geben. Daher sind wir im Wartemodus. Was man noch bringt, weiss man nicht. Es ist auch denkbar, dass sie sie einfach nur "anschauen" .. analysieren und sehen wo eine Produktion sich lohnt, hier würden sie mit Sicherheit einen guten Schnitt machen können, denn der Pro One ist technisch sehr einfach. Spekulieren, Meinungen sagen und so weiter geht im Forum.
_
Again – Behringer posted a PCB showing that they did a clone of the Pro One – finally most of those images shown did not go into production so far – but why should one do clones and not make them for us? well – in a post they say – with the Vocoder they don't expect too many pcs sold, so it is a bit of a risk – but a Pro One may be something to be sold more than 1000 or even 5000 times – so – let's see what's happening..
they sometimes post new synth clones except the Neutron which is not a clone – maybe it is about analyzing those classic synth and make something new in the end? ..