Behringer bringing in the Vintage Synths II: Korg Behringessey EX2800? #ARP #Odyssey
Wir diskutieren schon länger über diese Idee von Amazona, die Behringer auch wieder aufbringt in aktiver Form: Forum • Behringer Synthstudie – Phat 108 -> Juno 106 Clone. – Korg ist ja schon lange dabei den Odyssey zu klonen – und jetzt mit Display auch bei Behringer für 500 Dollar? Ja, ich halte das für total machbar, mehr als alle Polyphonen, so wie in "unserer" Studio über Analoge (siehe link oben / Amazona). Hier ist der Vorschlag den Behringer in ihre Diskussion nehmen will. Konkurrenz ist gut fürs Geschäft – sagen die Ferenghi. Und einen Eintrag bei Sequencer.de – auch. Mal sehen was wirklich kommt.
Mein Tipp: Vermutlich ist den meisten egal, wer es bringt – er ist ein guter Synthesizer mit gutem Sound, würde also wohl auch gekauft. Wenn B das 1000€ billiger kann als Korg, dann wird das wohl passieren können. Es ist ja nur "spiel" erstmal – die wollen wohl mal sehen, was wir so sagen. Also – wir sagen – billig gewinnt. Oder? Aber alle verändern die Originale nicht, also kein schaltbares CV-HPF oder  12/24dB/Okt Wahlsystem – hier ist das angedeutet, was alle Odyssey ausmachte – nämlich alle Tiefpass-Typen, aber keine Multimode-Varianten – schon ganz gut für $500 ? Schnellerer LFO obwohl billig zu machen? Das ist dennoch relativ egal, es ist einfache Technik, jeder 70er-Jahre Synth kann von einer Firma wie B so günstig gemacht werden. Nichts dagegen zu sagen. Ist ja auch mit anderem Aufdruck ein guter Synthesizer, vielleicht hätte man die AR mal durch ADSR ersetzen können, sooo authentisch muss es dann doch nicht sein, achja – Behringer-ARP muss nicht speicherbar sein wie das hier aussieht, es kann auch ein Midi-Dingsi sein.
Es gab ja auch den Clone von damals – 70er: Octave CatSRM subtractive,analog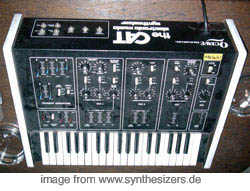 Man könnte eben auch das HPF per CV und so steuern lassen – ggf. mit Resonanz!? Das wäre eine gute MS20-artige Aufwertung aber in "gut" ;)
aber es wäre schwerer Sampling, Polyphonie der neue Funktionen einzubauen, die eben nicht in die 70er passt aber heute machbar sind. Oder Plugins die wirklich dasselbe tun und noch mehr. Das ist auch in Hardware so, sehr wenige Änderungen können bereits den Klang verändern.
denke sie können alles kostengünstig bauen von Minimoog bis Synthacon, SH5 bis System 700 – es ist alles einfache diskrete Technik. Eine Frage der Rechte und Lizenzen.
Die Originale: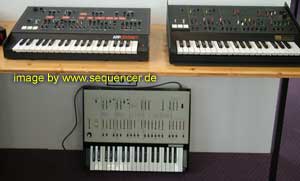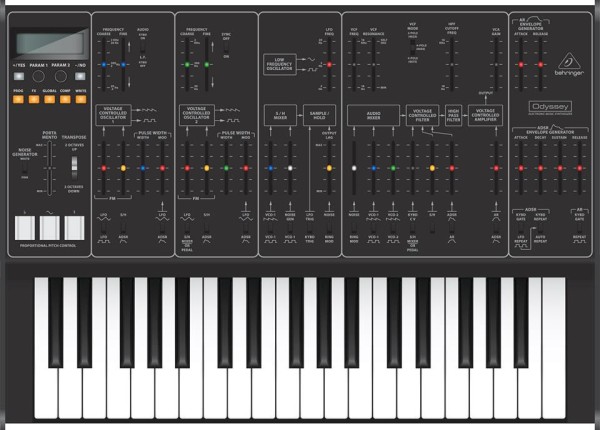 Behringer is raising it's words again – the Ulissey EX2800 would be a $500 Monosynth which is almost a clone – nor changes like those well known mods (more filters like like HPF – well they got all in Moog and 2Pole – and with types of 4pol ones – so it is a bit more than the original but no other filter type than low pass) neither ADSR instead of AR or a faster LFO (thats one capacitor, changed). IT's just what was cool and still is cool. I'd assume anyone in the need of an Odyssey would get one of those for a no brainer price tag and even 1000k$ below that of Korgs announced Korgessey. Nice thing to be in – they still plan a series of analog synths – but like to discuss it and possibly it's just some renderings to tease. I'd assume any classic is like a movie remake or soft synth with image of an original – it will always be easier to promote and there's always ppl and musicians wanting the vintage stuff – it is a great synth no matter what logo is printed on it. but it is no innovation it is just providing us with cheap synths from the past. to me – this works for a nice worldwide amount of hundreds or even thousands. but not too much more – so it's nice to have if they do so,.. otherwise DIY'ers will do here and there, it's possible with all the 70's synths since they are very easy to reproduce. there is no single part that will be a hard job, it's harder to make a plugin that sounds exactly the same or something that has all the features from the Odyssey but is polyphonic or offers a lot more like sampling or other non analog stuff.
Why not adding a CV control to the HPF and possibly Resonance to have something that is superior to the MS20 (technically) – I know – that's not how most of us think TODAY, but those days this was an issue – have a look at the Odyssey Clone "Octave CatSRM subtractive,analog" ..
Btw – they can build anything from the Synthacon to a Roland System 700 – it's hardly no hi-tech stuff – therefor no technical problem.
FB questions via Behringer (links):
– analog synths? (x) done.
– Odyssey for $500? (x) running.
– the XYXY … (  ) upcoming
really making a product: in at least 1-2 years – not before! don't expect them to get it done earlier.
note B got the analog tech nerds from midas and others – cool guys, not synth guys but filter guys.