SequencerTalk 131. Juno-X, Syntakt, Supermini Mixer, Minidexed etc.
Wir sprechen über #Synthesizer #Synthesizer Neuigkeiten und Gespräche zu Themen der Zeit über Musikmachen & Synths. –
Unterstütze uns hier: https://sequencertalk.synthesizers.de bzw. da etwas kaufen (oder beides): https://shop.synthesizers.de – Wir unterhalten uns über Synthesizer, #Sequencer und Musik. Dean und Moogulator Die Kapitelmarken sind nicht exakt sondern eher zur Orientierung, ihr könnt euch auf eine bestimmte Stelle beziehen durch simple Zeitangaben Stunde:Min:Sekunde in Kommentaren.
Inhalt 0:00 Counter 7:28 Start
12:00 Elektron SynTakt again 21:00 Minimischer TE TX6 35:00 Roland Juno-X + Jupiter-X V3.0 1:10:00 Mod Dev FX 1:13:00 8x MiniDexed 1:27:00 Mischkonzept Mixthesizer 1:40:00 Sichtbarkeit für eure Kunst / Musik?

nach der Livesendung sind wir für einige Stunden direkt und live im Videochat: talk.synthesizers.de
Ein paar Links …
12:00 Elektron SynTakt again – Maschinedrum -re'xed (ist da)
21:00 Angriff der Minimischerhttps://teenage.engineering/products/tx-6TX6: 6 channel stereo mixer with built-in equalizer, filters, compressor, aux send, cue and digital effects. this ultra-portable mixer can also be used as a multi-functional usb-c audio interface
35:00 Roland Jupiter-X & 3.0 Jupiter X/m & Juno X https://www.sequencer.de/synthesizer/threads/roland-juno-x.162189/post-2394765
1:10:00 Mod Dev FX
1:13:00 8x MiniDexed in einer HW https://www.synthtopia.com/content/2022/04/17/free-app-minidexed-puts-8-dx7s-on-a-35-raspberry-pi/?fbclid=IwAR16ziX64FGrflGVRC8B9fy9lJlDkG3DV0J5PkkuEXEL3cwoTRmG3zXJg5M
1:27:00 ist so ein Mischkonzept sinnvoll https://www.gearnews.de/fcpro-audio-mixthesizer-konfigurierbarer-mixer-fuer-synthesizer/
1:40:99 Laber Thema Sichtbarkeit und was bedeutet das für eure Kunst / Musik? 
Roland Juno-X vs. Juno-106 vs Juno-60 Models
Der Roland Juno-X – mit Juno-60 und 106, Vocoder & RD-Piano sowie XV5080/Mode- trotz ZenCore – was bisher SO noch nicht irgendwo enthalten war – es gibt den 60er im System 8 und als JU06A – aber das sind Modelling Synths und das können die neueren Synths eigentlich nicht – auch die letzten beiden JD08 und JX08 sind ZenCore Synths – was beim JD800 vs JD08 gar keine Nachteile sondern nur Vorteile (mehr Stimmen als frühere Boutique Synths) bringt – der 60er Juno klingt moogiger & fetter als der weichere 106er. Beides hat seine Vorteile.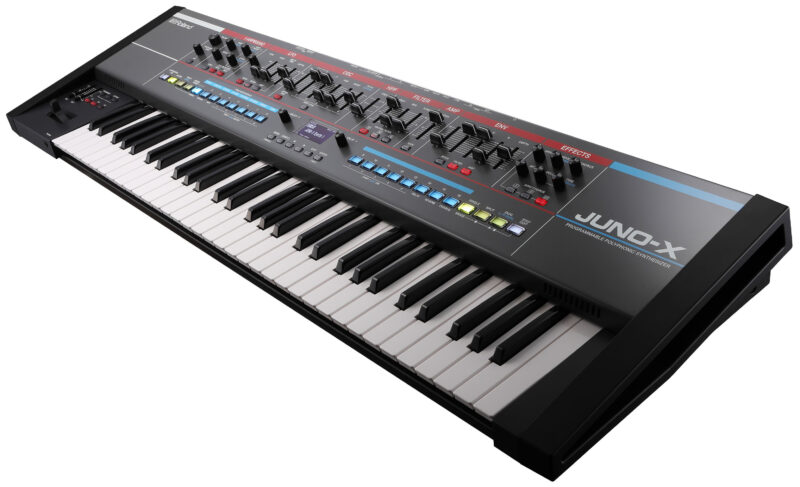 hier kannst du dir den Juno-60 im System 8 anhören… bei 1:51:00 geht's los…