SynMag 73 – Das Synthesizer-Magazin – Modular Special + Deluge und Schiller, Mijk van Dijk etc. – ist da!
Maschinen
Synthstrom Deluge Groovebox mit CV/Gate – 4 Takte war gestern – Unbegrenzt im Deluge mit Pianorollen-Prinzip!
Modular-Special:
Erica Techno System, ACL Discrete VCO, Vermona Fourmative Contour Intellijel Tetrapad EOWave Ribbon 2 Mutable Instruments – Marbles – Zufall strukturieren!
Novation Peak 1,2 – Das Update macht viel mehr (Wavetables, Bedienverbesserung und mehr)
Sonicsmith Serie: Modulor A1 Synth (halbmodular),Convertor, Squaver P1+
Audiosignal steuert Synth – Pitch to Voltage eingebaut.
Monitorbox / Klein PA – Wohlklang 08
Platform Nano & Elektron Analog Rhytm -Kurse und Videos und Controllerneuheit
Datenreduziert für iTunes – Praxis und Theorie mit Audiofiles & Entwicklung
Musikerpsychologie II Band & Recording
Pianola-Museum- Die echten Pianorollen – Sequencer!
The Twins "Das Buch"
Menschen
Schiller
Mijk van Dijk
Rudolf Heimann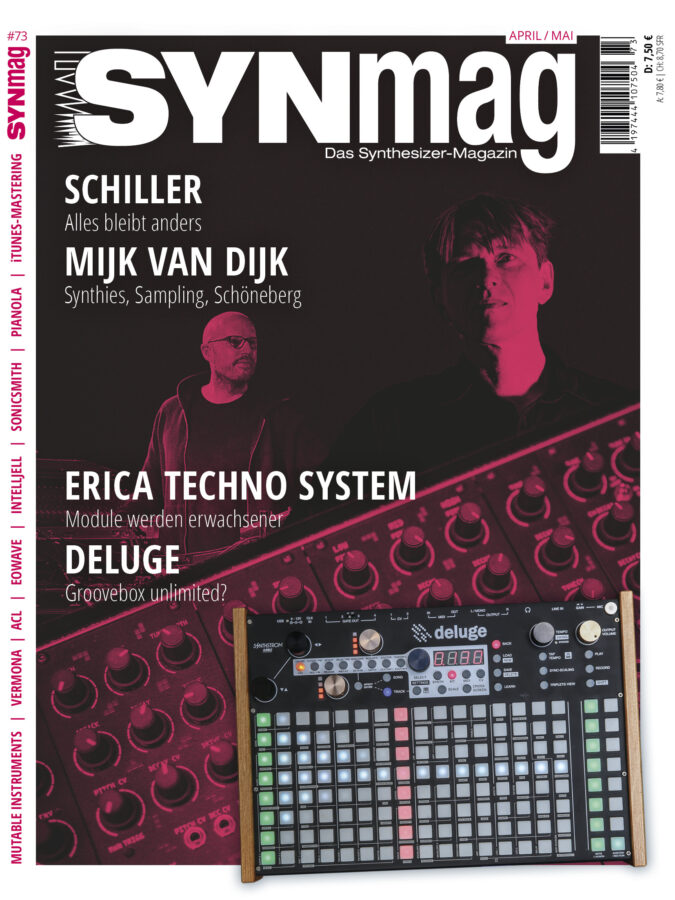 Solltest du ein Heft erhalten haben, wo Seiten fehlen oder doppelt sind – bitte melde dich per Mail an input AT synmag PUNKT de – dann kannst du einen Ersatz bekommen! Es gibt wohl einige wenige Fehldrucke! Druckerei hat Mist gebaut!!