Synth Noise Jam – online – the Patchwerk / Patchwork Controller Jam
Synth.<– go here and turn knobs, I mean turn YOUR knob!
very simple thing here, you can turn one knob and others listen to it. if you'd like it more "synth" check out that norwegian guy's page.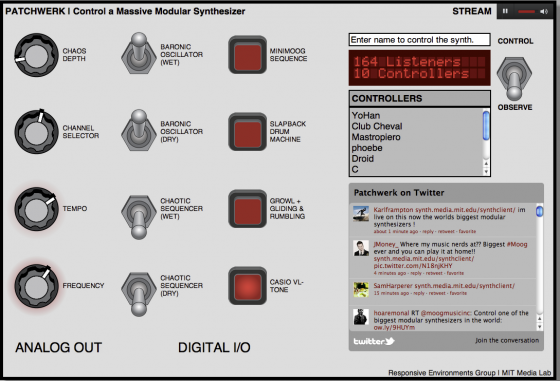 Forum:
besser so viewtopic.php?f=36&t=51629&p=531435&hilit=patchwork#p531435 ??
und hier sind die Meinungen der anderen:
–> viewtopic.php?f=36&t=66803&p=692973&hilit=patchwork#p692973
–> http://synth.media.mit.edu/synthclient/
–> viewtopic.php?f=36&t=66577&hilit=http%3A%2F%2Fsynth.media.mit.edu%2Fsynthclient%2F
–> patchwork-synth.com