Wie ein U-Boot kommt der Korg Nautilus aus der Leak-Zone. Es ist faktisch offenbar eine Art günstiger Volks-Kronos. Die Idee ist gut. Ich vermute es fehlen alle verzichtbaren Elemente wie Audioeingänge und so weiter, aber liefert die wichtigen Dinge mit und einen besseren Screen.
Neuer Screen, neue Bedienführung
Es gibt einen 800 x 480 Screen, einige aber wenige Bedienelemente und viele Tasten, denn die Kronos-Reihe gab es bekanntlich mit 88 und 76er Tasten-Ausstattung. Hier wird man wohl primär einen günstigen Preis im Auge haben. Aber so viel günstiger wie ich dachte ist er nicht, dafür hat man polyphonen Arpeggiator und Stepsequencer mit 4 Patterns integriert, es gibt auch 16 Spur Audio Aufnahmen und 16 Spuren für MIDI.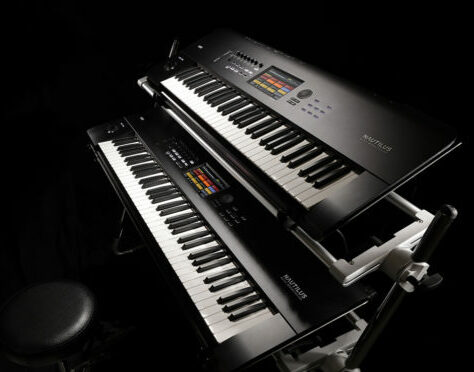 Der FM-Synth "MOD-7" ist übrigens nicht nur im Kronos unterschätzt, denn er hat eine Art Teilmodularität und nicht ohne Grund hat Korg auch noch einen eigenen FM-Synth, den Opsix, der ebenfalls schon geleakt wurde.

Was ist drin im Nautilus
9 updated Sound-Engines der Kronos-Workstation
Neues Bedienkonzept mit Mode- und Quick Access-Tastern
7" Touch-Display (800 x 480 Pixel) mit Dark-Mode
Ein paar Echtzeitregler (versenkbar) für Soundbearbeitung
Polyphoner Arpeggiator, Drum-Track und Step-Sequenzer (je 4 Szenen)
Set List – Modus für Live-Performances
Such- / Vorhörfunktion für Sounds / Combinations
Favorite-Sound-Funktion
3-Band EQ / Track (Midi und Audio)
Smooth Sound Transition – Keine Stille beim Soundwechsel
Dynamics Regler für expressive Klangeinstellungen
Sampling-Funktion
16-Spur Midi-Sequencer & 16-SpurAudio-Recorder (24Bit, 48kHz)
16 Effekt-Prozessoren, 2 Master-Effektwege / 2 Total-Effekte
USB-Typ A für Midicontroller- und Tastatur-Anschluss // USB-Typ B für USB-Midi und Audio
61er / 73er mit leicht gewichteten Tasten oder 88er mit RH3 Hammermechanik
Free Software Bundle (KORG Softwareinstrumente, Reason Lite, Ozone Elements, Skoove)
Korg NAUTILUS REVIEW // vs KRONOS // Tutorial including the new arp and drum sequencers
Preise und wann kommt er
Verfügbarkeit ist Februar 2021
NAUTILUS 61: 2199,00 € (Kronos kostet 2.5k€)
NAUTILUS 73: 2499,00 € Kronos 2.7k€
NAUTILUS 88: 2899,00 € Kronos 3k€
also alles nicht so billig, wie ich es vermutete.
Die Synth Engines im Nautilus
Drin sind: die SGX-2 Piano-Engine, die EP-1 Electric-Piano-Engine,
die CX-3 Drawbar-Engine,
die HD-1 PCM-Engine, die MS-20EX Analog-Modeling-Engine, die PolysixEX Modeling-Engine,
die AL-1 Analog-Modeling-Engine,
die MOD-7 VPM/FM-Sound-Engine und
die STR-1 Physical Modeling-Engine.
KORG NAUTILUS Overview & Demo