VOSTOK modular synthesizer
ANALOGUE SOLUTIONS – THE SYNTHESISER SECTION
back to analogue solutions main menu..
VOSTOK modular synthesizer
vostok TV – quicktime impression of vostok made by Tom Carpenter (should start now!):
I took that video (who else..on musikmesse 2002 superbooth)
it has a EMS – type mod matrix to be patched with pins (with resistors in it)
has also a wavetable osc (so its 2 VCOs and a wavetable, 2 lfos..)
check the video here..

Analogue Solutions VOSTOK Synthesizer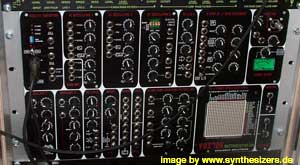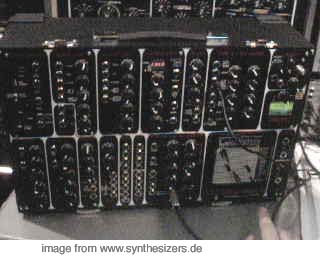 click this image to enlarge vostok modular synthesizer, ehm synthesiser to be correct..

ms20 filters!!
Midi to CV1+2/gate-converter, 2 VCOs, Wavetable Osc., 8step sequencer, MS20style LP+HP-filter, VCA, AC ring modulator, 2 ADSR-Egs, 2 LFO, S+H, CV/audio-mixer mit Pegel-Anzeige, 484 Matrix patch panel points, Multiplyer und Adapter, 69 Buchsen, 52 Regler, 13 LEDs, 20 Schalter, 2 Displays
8 step sequencer inside,a joystick, S/H,sync,ringmod,too.also has patch(cord)able jacks AND the matrix. but it's mostly the important parameters that are patchable. very british idea.. not cheap, but interesting, very interesting for ms20 fans..
MORE about analogue solutions synthesizers find here..
—————>back to analogue solutions main menu..
deutsche/britische.. ANALOGE synthesizer / german distribution german/british and other synths.. vertrieb jomox, vermona, macbeth, mfb / fricke etc..
www.schneidersbuero.de of course in the uk and the us order directly at analogue solutions 2599 euro.
here is an alternative "korg ms20": cwejman, the swedish ms20?