Hi guys
G-Stomper Studio, Rhythm and VA-Beast Synthesizer have been updated to 4.3.
This new release comes with full round-trip MIDI (IN/OUT) integration, MIDI clock sync (IN/OUT), MIDI CC/Key/Channel learn and much more. In addition to the major MIDI upgrade, you finally get VU meters all over the application and a new "Ultra Bright Outdoor" color scheme, rounded up with a great bunch of tweaks and bug fixes.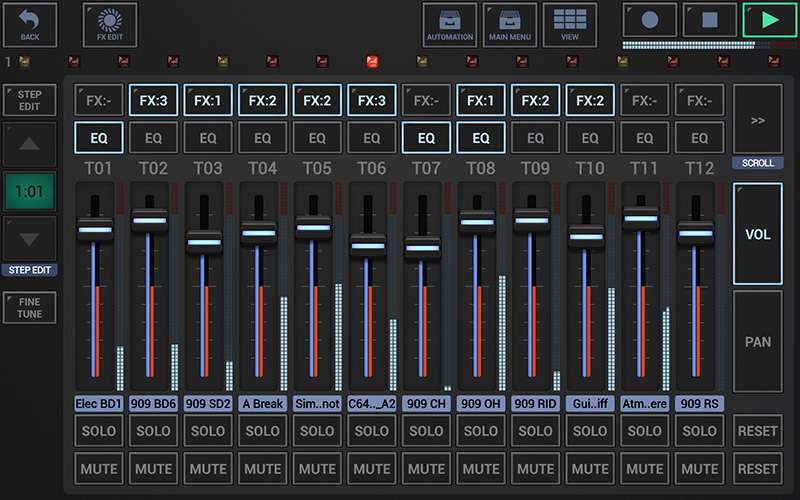 Release Notes:
MIDI:
Full round-trip MIDI (IN/OUT) integration: Hook up MIDI capable Samplers and Synthesizers, send MIDI feedback to your MIDI feedback capable MIDI Controller (e.g. such with flashing Pads like the AKAI MPK225, with Motor Faders or with LED based Knobs or Faders)
Added support for Virtual MIDI Interfaces to address more than 16 channels
Added MIDI channel (+Virtual MIDI Interface) learn capability
New switch to set a Track as "MIDI Instrument" (internal Sound OFF)
Full MIDI Clock Sync integration (IN/OUT)
Latency compensated start over MIDI (IN/OUT)
Latency compensated MIDI transmission (OUT)
The Connected MIDI device is now shown in the setup dialog
Velocity-Sensitive MIDI Recording of the Drum Samplers
Fixed a bug in the MIDI device attachment routine (re-connection device name problem)
Fixed a bug in the MIDI device connector which made some MIDI interfaces to fail, e.g. AKAI MPK mini (very special thanks to AndreasH, JasonT and Rej for their reports and help to fix this bug)
Minor changes in the VA-Beast default CC Mappings
Automation:
Improved Automation recording when recording over existing Automations
Audio & Audio related:
VU-meters integrated (each Mixer Channel + EQ, each FX in/out, each sumFX in/out, Master in/out + EX, Main Out)
New "Stop All Sounds" (overall panic) function on the Stop Button
Fixed a bug in the Waveshaper effect which occurred when the input signal was close to silence
File Manager:
Confirm Name with enter key on the virtual keyboard
Proper error message for the case when the device storage is full
Allowed accented characters for file names
Audio Export is now possible to every location, also to additional SD cards
Automatically step into new created folders
Sample browser now highlights Samples which are used in the current pattern set
Increased the max file name length to 50
Fixed a minor bug that occurred when saving patterns out of a pattern set
General UI:
New Fader/XY-Pad Sticky Mode (long press 'fine tune' to enable)
New Ultra Bright Outdoor color scheme (Setup / Color Scheme)
Tooltips for Track labels with too long names (tap the track label to show up)
Fixed the popup animation of the Parametric EQ
General:
Added standard share ability for exported audio files
Many tweaks and bug fixes
User Manual:
Hope you guys enjoy the new features.
If you don't know what the G-Stomper apps are about, check out the
KVR Product Page