Ableton Live geht in Version 10.1
mit einigen Detailverbesserungen beim editieren von Automation – da kann man insgesamt gezeichnetes "vergrößern" und besser verändern,
es gibt ein neues "einfaches" Delay und einen neuen EQ.
Unterstützt VST3
lässt Return & Master FX exportieren
Erlaubt einfrieren von Sidechains
Verbessert das Handling beim Zoomen/Scrollen
Der Wavetable-Synthesizer erlaubt laden eigener Wavetables bzw Samples.https://www.youtube.com/watch?v=TY5UuK6T7R0&feature=youtu.be
Live 10.1 ist jetzt in Beta, wo jeder mitmachen kann der schon Besitzer ist… Kommt also ASAP.
Live 10 was bisher geschah…
Hier eine kleine Reihe von Bildern von den Neuerungen.
Es gibt einige neue Dinge im Bereich Workflow aber auch einen Wavetable-Synthesizer. Push zeigt nun auch alles deutlich grafischer an. Insgesamt ist es gefühlt kein "großes" aber ein interessantes Update, welches viel unter der Haube verbessert, dazu gehört auch die engere Verzahnung von Max/MSP und Live, da dies nun von Ableton gekauft wurde.
Für User der Version 9: 179€ für das Update für Standard, für die Suite sind es 199€, beide Preise gelten nur in einer gewissen Zeit als 20% Rabatt. Die Suite enthält Max 4 Live – Standard enthält diese nicht. Die Preise werden nach dem einloggen entsprechend sichtbar.
Der Alte Text von Oktober 2017
not much more than these have been found in a DJ Jazzy Jef video – but it's most likely to be ready somewhere soon?
eigentlich ist nichts als dieses Bild aus einem Videos im Umlauf, daher bitte als Gerücht wahrnehmen – offenbar gibt es da eine Aktion für Live 10 und diverse Rabatte und so. Ob 10 kostenpflichtig ist oder nicht? Wie sind die Bedingungen? Was wird es können? Keiner weiss was – es ist also wirklich nur ein Bild, was aber ausreichend eindeutig ist. -> Wann – Major Release von Ableton Live 10?

Neuer Wavetable Synth, ein Delay (Echo), Pedal (Verzerrer), Drum Buss Transienten/EQ-FX,
kleine Verbesserungen bei Navigation und Edits (skalieren per Maus, etc.), M4L ist noch mehr integriert, Push bekommt einen besseren Sequencer für Echtzeit. Q1/2018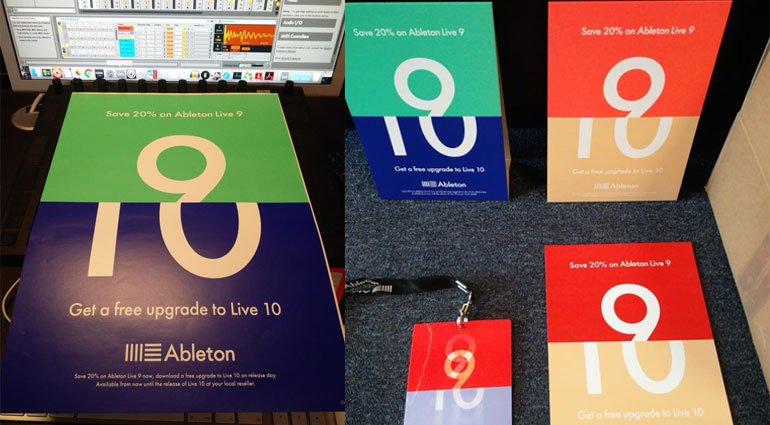 Features:
Wavetable Synth