Moog Matriarch – schwarz und mit 4 Oszillatoren, neue Firmware (Arper, Sync etc.)
4 VCOs, 2 Filter, 2 Hüllkurven – damit ist Matriarch im Grandmother Stil eine Luxusversion die sinnvoll zweistimmig gepatcht mit 2×2 Oszillatoren laufen wüde, aber … es gibt einen 4-fach paraphon Mode und 4 OSCs – Monophon-Mode.
A detailed list of Matriarch Firmware v1.2.0 and Grandmother v1.1.0 updates can be found here.
Synchronization and Timing Engine update – Analog Clock in/out and MIDI Clock all remain tightly in phase now, eliminating the possibility of drift between these clocks which was present in earlier firmware. • New function when step recording: hold SHIFT + press the TIE button to duplicate the current step. This function copies the note(s) from the current step to the next step and ties them together, advancing the sequence by one step for each SHIFT + TIE press. This makes it easy to program longer notes and chords into your sequences. • New Global Parameter (5.1) "Arp/Seq CV Out Mirrors KB CV": If ON, then the Arp/Seq CV OUT, GATE OUT, and VEL OUT jacks on the front panel will output the same voltages as the rear-panel KB CV OUT, KB GATE OUT, and KB VEL OUT jacks, whenever the Arp/Sequencer is not running. • New Behavior: HOLD button acts like a Sustain Pedal (KB Hold) when Arp/Seq is not running. • The default setting for CLOCK INPUT PPQN and CLOCK OUTPUT PPQN was changed from expecting/outputting a clock every 8th note, to expecting/outputting a clock every 16th note (changed from 2 PPQN to 4 PPQN). • Arp/Sequencer Gate Length can be adjusted using MIDI CC 106. Value 64 = 50% gate length (default). • Matriarch no longer outputs unexpected streams of MIDI CC/NRPN data. • PPQN In/Out settings now match documentation in manual. • External Analog Clock overrides MIDI Sync. • Arp/Seq PLAY button does not output MIDI CC 73 (can still respond to it if necessary). • Improves compatibility with other Grandmother/Matriarchs. • Changed MIDI Clock Output default setting to "Off". • Fix for stuck envelopes (was due to retriggering faster than a certain minimum, easy to do in multi-trig mode). • Can now edit global parameters via MIDI SysEx messages (documented below)
Neu ist jetzt eine Firmware und die wesentlich schönere schwarze Variante – Dasselbe gilt auch für Grandmother 

Damit gibt es einen vollwertigen Duo-Modus – also 2 Grandmothers komplett oder eine 4-stimmg-paraphone Betriebsart. Eigentlich ist nur die Tatsache, dass der Grandmother nur eine Hüllkurve hat eine große Antriebsfeder – und vom Matriarch gibts es nur 250 Stück zunächst, die sind also schnell weg. USA bevorzugt, wie immer. Aber es gibt auch eine normale Edition und die kann man jetzt bekommen. Kostet: 2229€

Ein analoges Doppeldelay ersetzt die Hallspirale und 90 Patchpunkte und doppelter Aufbau kosten genau das Doppelte des Grandmother, der klanglich wirklich sehr gelungen ist und damit wohl auch der neue Matriarch für 2229€ vs 885€ für die Großmutter. Sequencer/Arpeggiator ist auch an Bord, wie bisher und auch das farbige Design ist wieder angewendet worden.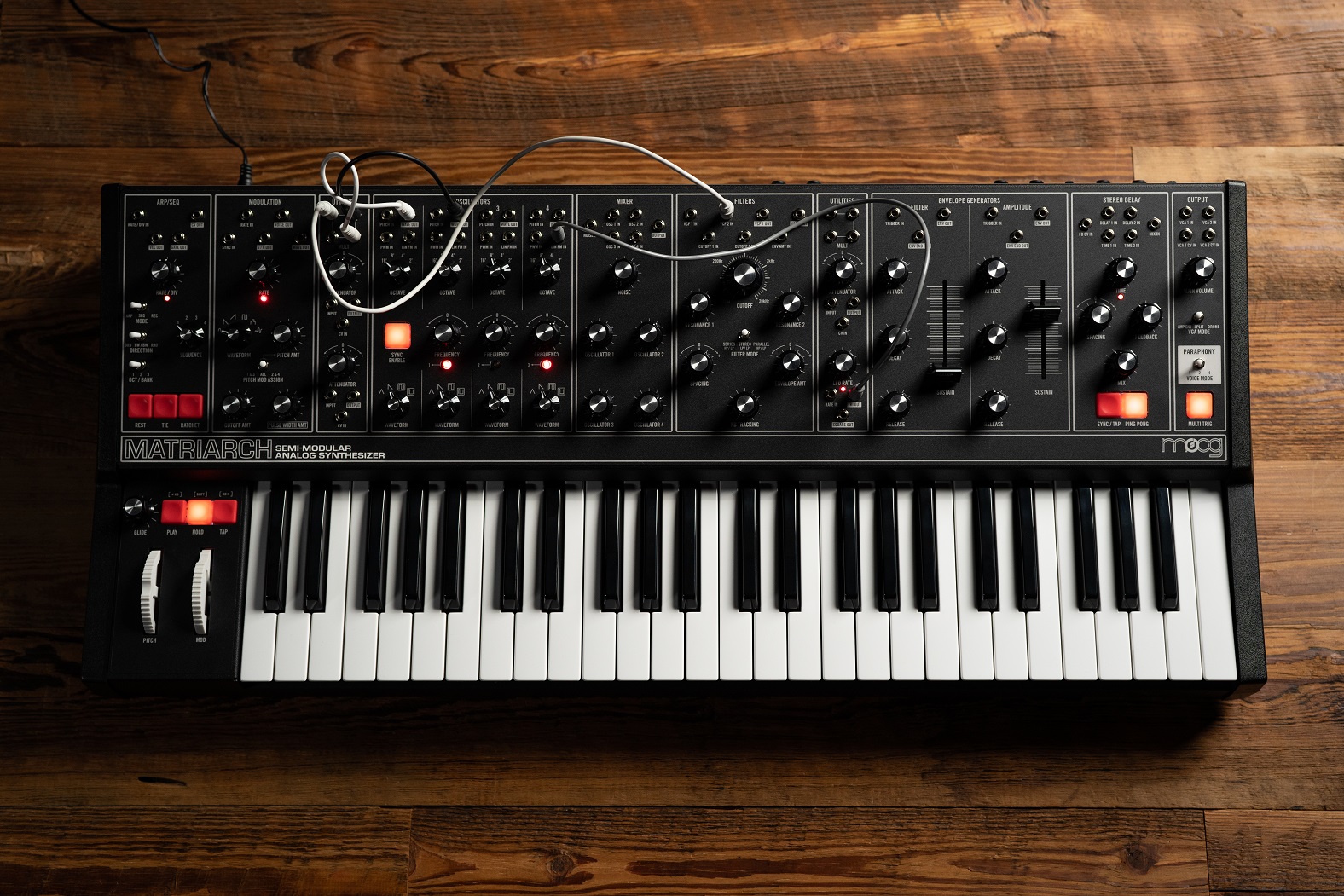 Reden im Forum über: Moog Matriarch
Der Vergleich Moog Matriarch gegen Moog Grandmother
Eigentlich ist dies zu sehen, weil er jetzt wohl ausgeliefert wird – also Versand läuft. Also bestellen kann man ihn, bekommt ihn dann bald – nicht JETZT.