Moog Grandmother +Subharmonicon – Bunt und schwarz + Spring Reverb.
Superbunt ist der zum Moogfest erscheinende Moog – und bitte bitte die Augen zuhalten, denn er hat wie seine Vorgänger einen bekloppten Namen "Moog Grandmother".
der ist auch in schwarz mit neuer Firmware zu haben.
A detailed list of Matriarch Firmware v1.2.0 and Grandmother v1.1.0 updates can be found here.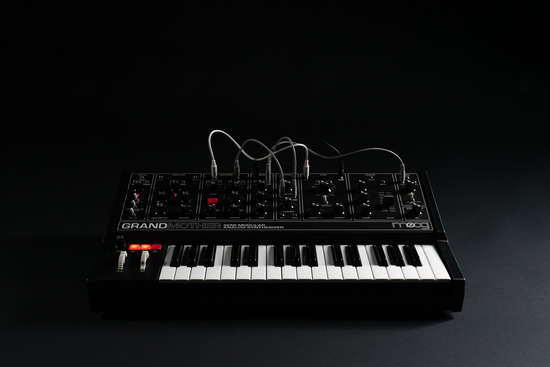 Seit wann sind Großmütter so bunt? Wäre das nicht eher"Erdfarben"? Der Aufbau erinnert daran, als könne man die einzelnen Farbmodule tauschen, das ist aber nur ein optischer Gag. Aber er ist "halbmodular" – $900 wird er etwa kosten. Inzwischen  885€ für die Großmutter gegenüber dem großen 4-VCO-Matriarch für 2229€. Er ist ebenfalls neuerdings in schwarz zu haben – was viel besserr aussieht.
Test in SynMag 70

SynMag Moog Grandmother Demo 1 Teil 1 und 2
SynMag Moog Grandmother Demo 2 Teil 3 und 4

Moogfest? Was heißt das – während das läuft wird man ihn zeigen, in den USA zuerst anbieten und nach einer gewissen Zeit auch hier verfügbar werden. Es fehlt nur irgendwie der Stepmother 256 Sequencer als eigenes Gerät ohne Klangerzeugung, oder? Aber der hier ist schon ein vollständiger Synth mit FM, Sync und 2 OSCs – und das ist gut, daher Grandmother.
The Build & Sound of the Moog Grandmother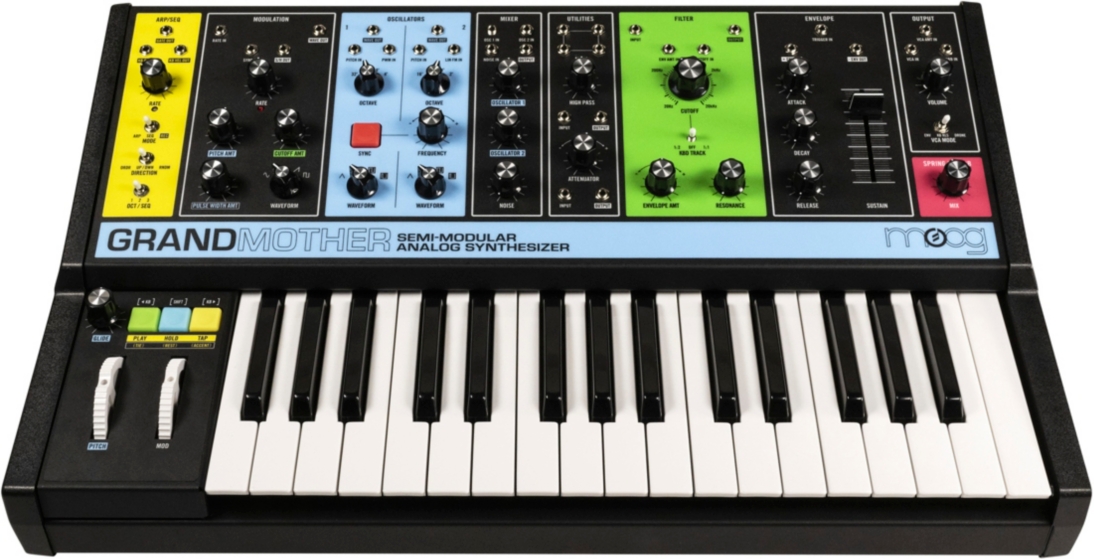 Grandmother wird limitiert sein und diese Möglichkeiten haben:
analog synthesizer with 32-note Fatar keybed
Semi-modular, requires no patching to play
All normalized connections can be interrupted for full modularity
Spring Reverb & external input
Arpeggiator & Sequencer, 3 sequences / 256 notes each
2 Analog Oscillators with selectable waveshape and hard sync
Classic 4-Pole 10Hz-20kHz Ladder filter
Patchable 1-Pole High Pass filter
1x ADSR Envelope Generator
very simple Gate/Rel. "Env"
LFO with audio-rate capabilities
DIN MIDI In/Out/Thru and USB MIDI
Patchable bipolar attenuator
41 patch points with 21 inputs, 16 outputs, Parallel-Wired 4-jack Mult
made from the modules, refined where it's better but tries to keep it moogish – good idea as well as having Reverb, Sequencer and MIDI, CV, USB in as well. Well – maybe dual ENV and 2 LFOs would be better but well – more is something you can always do.. *G*
Moog Grandmother Synthesizer - First Impressions and Sounds with Justin Meldal-Johnsen
Moog Subharmonicon
Dazu wird man dort auch den kleinen Subharmonium-inspirierten kleinen Synth basteln können – die Oszillatoren kann man dort in der subharmonischen Obertonreihe stimmen wie eben das Trautonium und Subharchord – Der Sequencer bringt etwas Rhythmus dazu.
Der dritte große Moog wird ein hybrider Synth mit analogen Filtern und digitalen Oszillatoren werden – polyphon. Es gibt das ADC Video dazu, aber wirklich wissen wir es nicht genau, ein bisschen Animoog, ein bisschen neues, ein bisschen Filter und eine Prise Magie – vielleicht auch Maggi dazu.