E-Mu going Euro-Modular – Modules & Z-Plane Filter – Dave Rossum
• E-Mu kommen zurück – und zwar im Euro-Format.
Das Emu Modular war seinerzeit technisch weit entwickelt und Emu waren es auch, die lange andere Hersteller belieferten. Nach dem Kauf von Ensoniq wurde es aber eher still um die nun nicht mehr so Mac-freundliche Firma, die auch die Emulator 1/2, Emulator II Sampler Serie zu großem Erfolg verhalf. Sie sind zurück! Emu war nicht "tot" aber fast…
Es heißt aber Dave Rossum Electro Music – nicht mehr Emu.
Die Module sind sehr aufwendig, sogar der Function Generator aus dem Morpheus kommt zurück – 8stufen-Hülllkurven mit Kurven und mehr mit Satelliten, die dasselbe können, aber kleiner sind. Und natürlich das Z-Plane Filter.
NAMM 2016: Rossum Electro-Music - Evolution, Control Forge, Morpheus
New Modules – UPDATE:
Z-Plane like Emu Morpheus, CV Processing (2 Modules) and up to 6 poles filtering like Emulator IV series.
and it's under Dave Rossums Name – electro music still contains E-Mu – these modules and the funkction generator is amazingly complex – the satellite is basically the same as it but can be programmed via the master module and needs a lot less space – hence the name.
the last one is a 6 pole filter that can switch between the slope from 2-6.
Es gab ein Interview, wo Dave das ankündigte bzw Diskussion:
E-MU Revival ? Interview mit Dave Rossum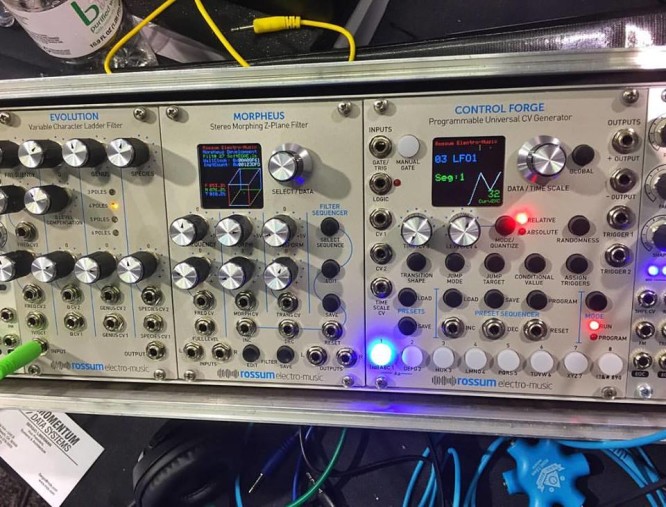 pic via R.Divine

• Dave Rossum of the former Emu told us some weeks ago, there would be E-Mu again, and what was the main thing E-Mu go famous for? Samplers and the Emu Modular.  in fact Emu wasn't dead but sort of so far..
the modular one will be back soon in euro format. Dave posted this on his FB page.