Ein bisschen wie Modor als Ruf aus der Wildnis – Synthesizer in digital bauen erscheint irgendwie fast schon irgendwie neu, dabei war das mal alt. Optisch gibt es durchaus Erinnerungen an Virus und Co. – Die "Attitüde" des Namens und Aufmachung klingt nach "von allem etwas mehr". Aber 4 Jahre Arbeit lohnen sich dann doch, die Engine ist total neu und leistungsstark, was nichts aber auch gar nichts mit dem Sound der 90er zu tun hat, beim Virus lässt sich das nicht mehr ändern, aber hier haben wir etwas, was das tun könnte.
Ein neuer digitaler Sound? Ja, sehr hochwertig. Konnte das vor Ort ansehen. Und hören, auch die vielen Effekte (alle gleichzeitig pro Slot) sind von hoher Qualität. Er hat zudem 3 Stereo-Einzelausgänge, so kann man dann mal wirklich gut damit arbeiten. Audio-Streaming über USB und MIDI mit Thru. Sparen is for loooosers! Auf der Messe war er, um einen Vertrieb zu finden, nicht um speziell den Usern die Maschine zu zeigen. Die LFOs laufen auf 12,80Hz, für FM gibts die OSCs, sagt Manuel, der Entwickler…
FPGA – bisher gabs genau einen Synth mit diesen Chips, den AVS04 (Exot).
10x OSCs / Stimme (Voice). Design könnte sich noch ändern, technisch und sonst ist er fertig und auslieferbereit – sobald ein Vertrieb gefunden ist.
Manuel Caballero, UK – Developer of the Valkyrie:
he's into finding distributors for the 1800€ machine based on FPGA coding, which is very powerful compared to DSPs etc. – he integrated 4x stereo ind. outs, super high end quality engine and 7x fx per multislot that belong to the patch (3000 patches already in) – USB covers audio streaming, there is a Thru MIDI and the engine has 128 voices ready, the filters are not much but they sound good – they are digital but in a good way. 30x oversampling is totally different from the often cited Virus TI comparison – it is not a 90's engine – it's new – Manuel worked on it 4 years and you can hear it.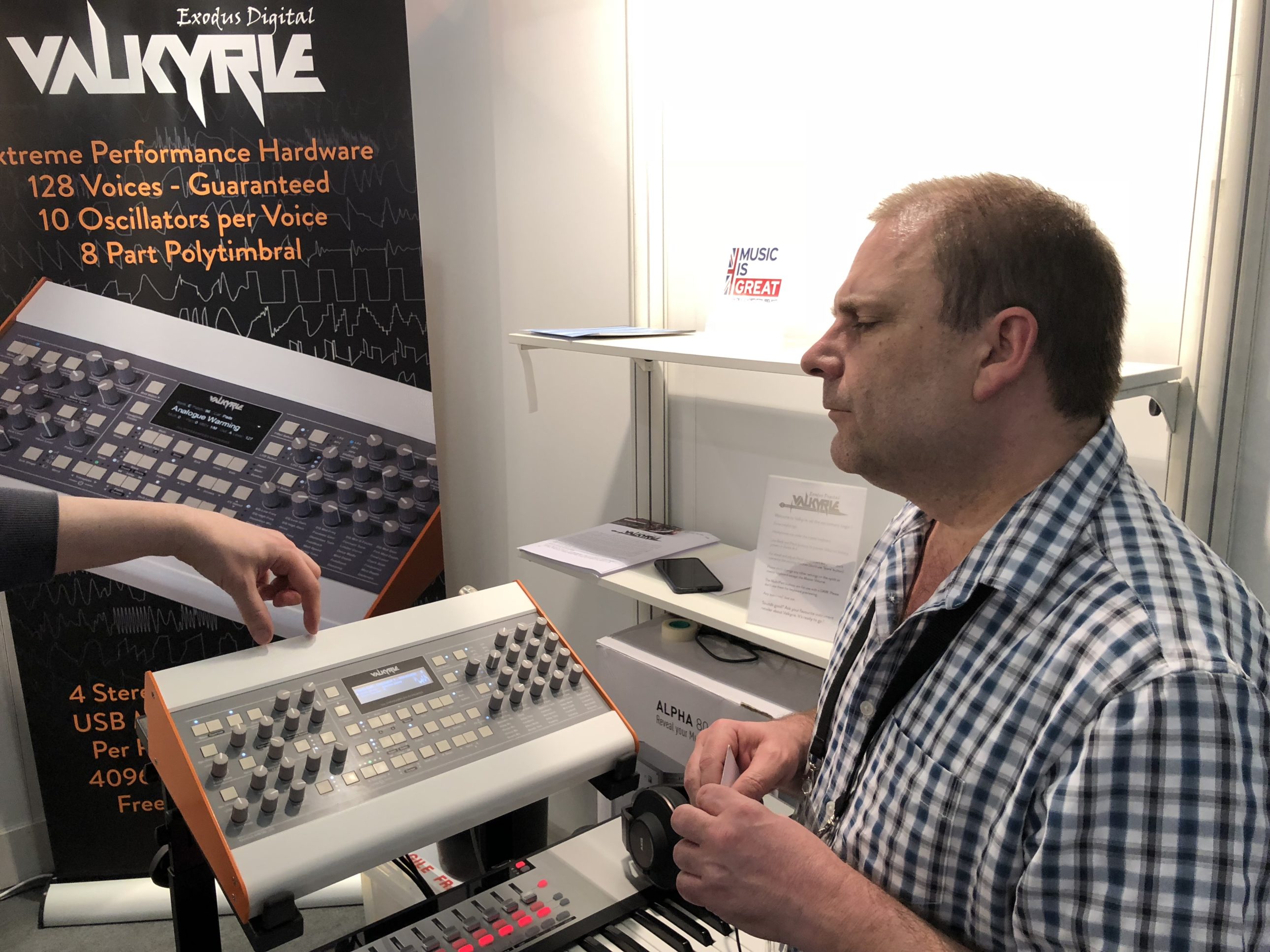 Preis etwa 1800€ – "well under 2k€". Die Filter sind zwar "wenige" Typen aber sie klingen hervorragend, genau wie der ganze Synth. Die Hüllkurven sind schnell. FM und Ringmod und einen vollständigen Editor gibt es auch..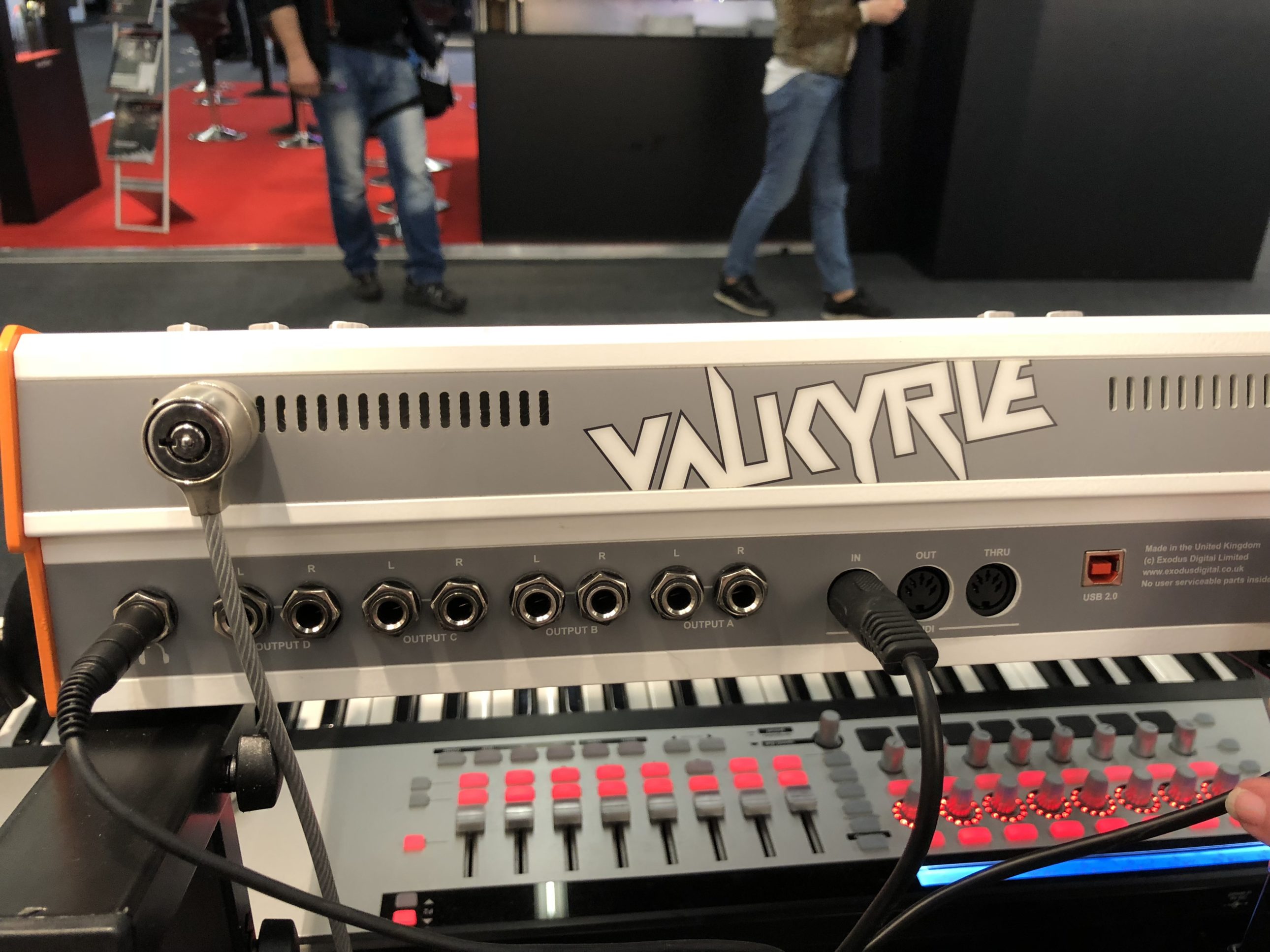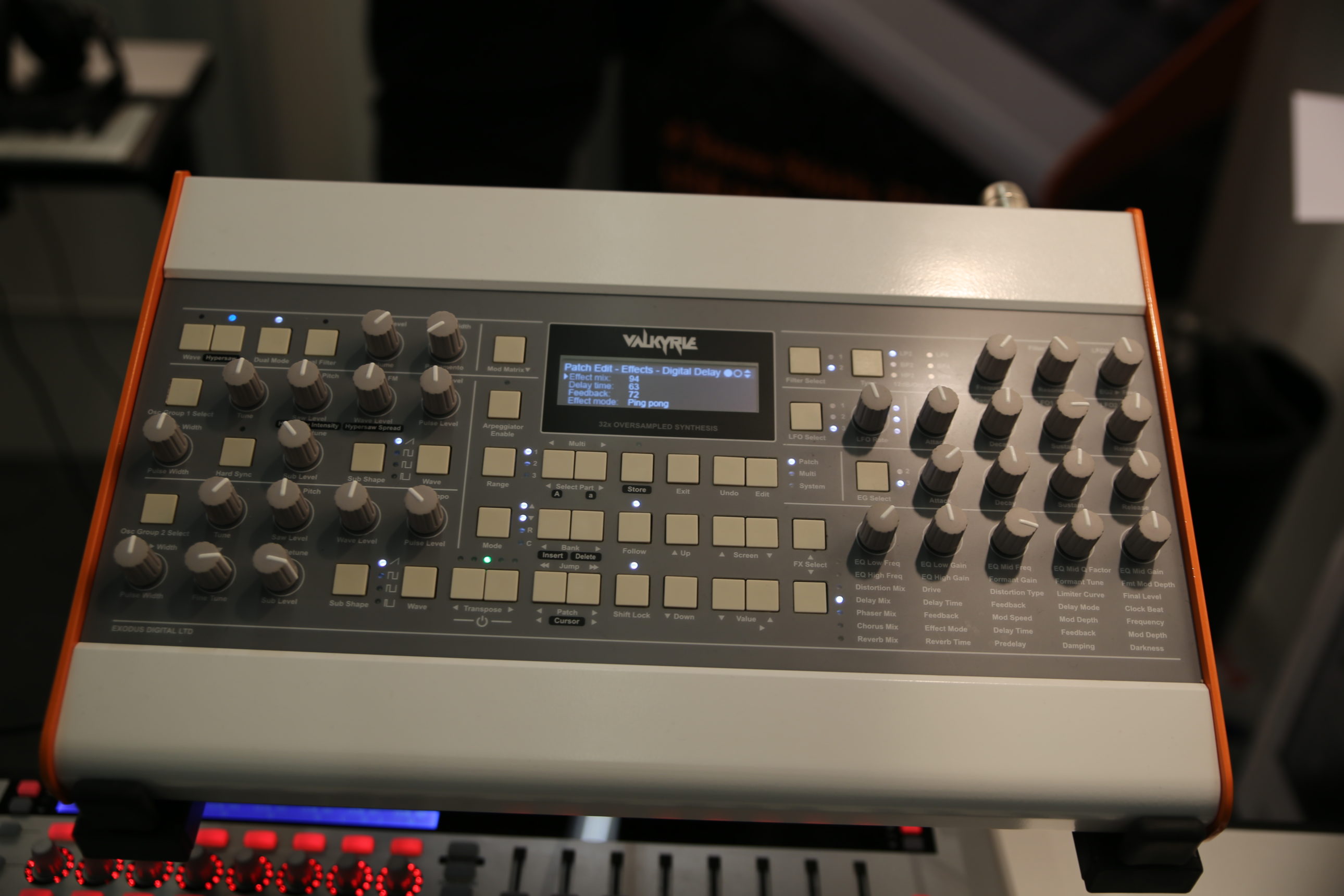 Der Editor – lässt Sounds per Drag & Drop verschieben – es gibt 3000 Sounds im Speicher.  Basiert auf Juce und ist für Mac und PC und ggf. sogar Linux. Die div Mods sind im Klappmenü zu sehen! Die Struktur ist dann etwas anders.
Here's the Editor für PC/Mac that also allows drag & drop patches -and see that menu? it's the basic core of the engine shown there.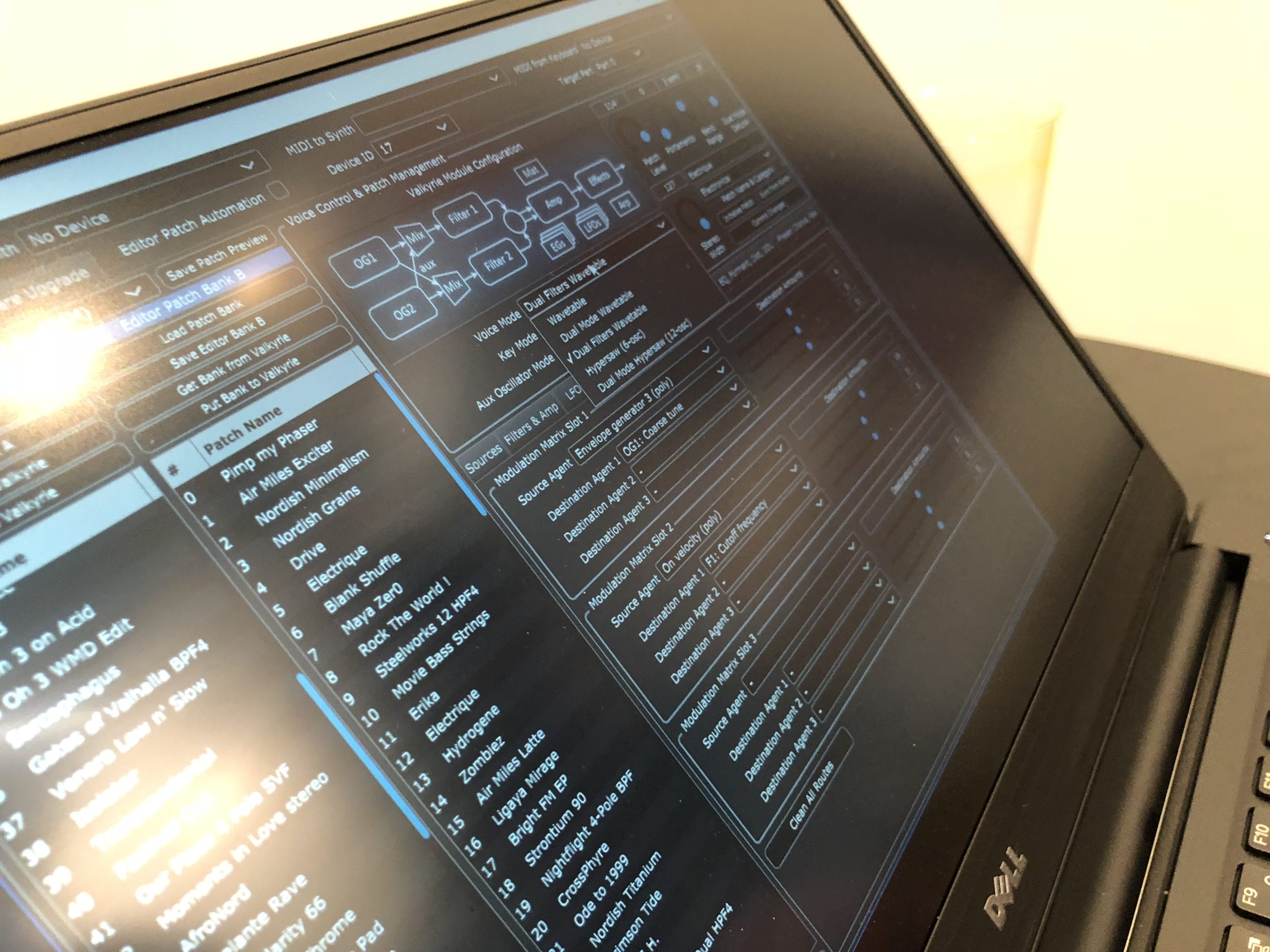 Er hört sich so an: Wurde nach Info, dass das Gerät von Waldorf als Kyra Ende 2019 kommen wird offline gesetzt. https://soundcloud.com/exodusdigital/no-rest-for-the-wicked
8x multitimbral, 32 voices per part (!)
128 voices, dual mode = 2 channels (OSC-Filter-…)
2 OSCs, Hypersaw (6/12x doubling), 4096 Wavetables (18 bit), 3 basic waves to be used at the same time (mix),
2x Subosc (4 waves),
Sync, Ringmod., FM
1-2 Filter (3 Types, 12/24dB/Oct)
3 ADSR ENVs
USB & MIDI
6 Mod Slots – 3 Destinations
3 LFOs, 64 Waves, Quadrature Mode
9x Stereo FX
Arp'er
looks like it is sort of a new virus with even more voices – most of these things are sort of classic digital synth features – but more of it all – but no – it is really 2018 concerning the engine – it is totally high quality and 7 FX in one multislot – amazing stuff.
*shown in Frankfurt – starting wednesday 11.4. –> Musikmesse 2018 (11.–14.04.2018), Prolight + Sound 2018 (10.–13.04.2018) in Frankfurt am Main
Musikmesse Report