Korg Mini Kaoss Pad – overview NAMM 2012 synth-related links
New Korg Mini Kaoss Pad with Display and additional "slider". There's Vocoder in it – 24bit resolution and has SD card slot..
Filter (15), Modulation (15), LFO (20), Delay (10), Reverb (5), Looper (20), Vocoder (5), Synthesizer (10) NAMM: KORG mini KAOSS PAD 2
Kaoss Pad 2

KORG mini kaoss pad 2 : preview
Kaossilator 2
KORG kaossilator 2 : preview
Also there's a yellow Kaossilator – same data – 50 arpeggiator patterns, 12 notes range, 150 sounds.. NAMM: KORG Kaossilator 2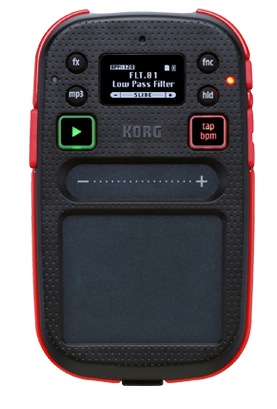 Forum • KORG NAMM 2012. Korg keeps calm and secret as well, but they seem to work on Apps they call "real thing" to be after the 19th, well see, if it's true, a nice gadget or instruments or …
I know this is not really worth posting, since it's just advertisement, but well, it's close to NAMM and there's some food for … whatever..
here's another "dark image" saying – you must keep track..
we have the Moog Minotaur as a real thing, the Clavia Nord Drum, the Akai "Maschine" Renaissance, the smaller Buchla Case and the new Ableton Attackers Bitwig, a Casio coming not quite sure if it's "a real thing" or just a "keyboard" – there's still things to come..
NAMM 2012: was alles passiert: Namm 2012