Franke Music (ex Waldorf): Stroke Machine Groovebox (iPad) incl melodic tracks
Franke Music.is Waldorfs long-time coder and member Wolfram Frank – he left the Waldorfians and now here's the first release upcoming soon (not s.o.o.n.) – a Groovebox for 12 drum and melody tracks on iPad which looks very cool as a standalone performance step sequencer workstation for everywhere use. Not yet in the Appstore – up now – 14€.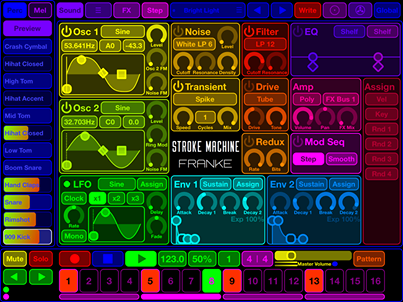 Wolfram Franke war bisher bei Waldorf, verabschiedete sich aber kürzlich – und nun ist zu sehen, was er zukünftig machen will – Den Anfang macht eine Groovebox auf dem iPad, welche Melodien und Drums ermöglicht und offenbar auch mit Synthese solang die DS(P) Kraft reicht. Noooch ist nichts im Appstore, aber kommt dann wohl bald.. -> Forum: Frankemusic / ex.Waldorf mit einer Art Groovebox Stroke
8 Takte mit 1/16 – oder höhere Auflösung entsprechend kürzer.