Glitchmachines – Quadrant – Aalto inspired semimodular?
Glitchmachines' Quadrant (renamed from "Scope"). has a lot of being inspired by Madrona Labs Mod-Concept – trying to make a simple structure effective as hell.
so this time it is a moog-coast (not buchla/serge west coast thing) – having 2×2 FM OSCs – stop – isn't fm again more the other coast stuff? you are not getting what I try to tell? right – let's forget about this categories-stuff –
in fact it has a lot of things in common with Aalto but tries to be more FM and less "buchla" but as flexible to have a fast patch cable system – it's more than those shown here – seem like since there's 26 modules .. so – this is not a fixed but an interchangeable customized "rack" that will do the noise..
so let's keep an eye on the details – and there's a list of module creators of the euro rack worlds envolved known for cool modules – so this is a try to make your euro rack be converted to the mac & pc
well – there is a bit more to it ..
in fact is is no less then a modular synth.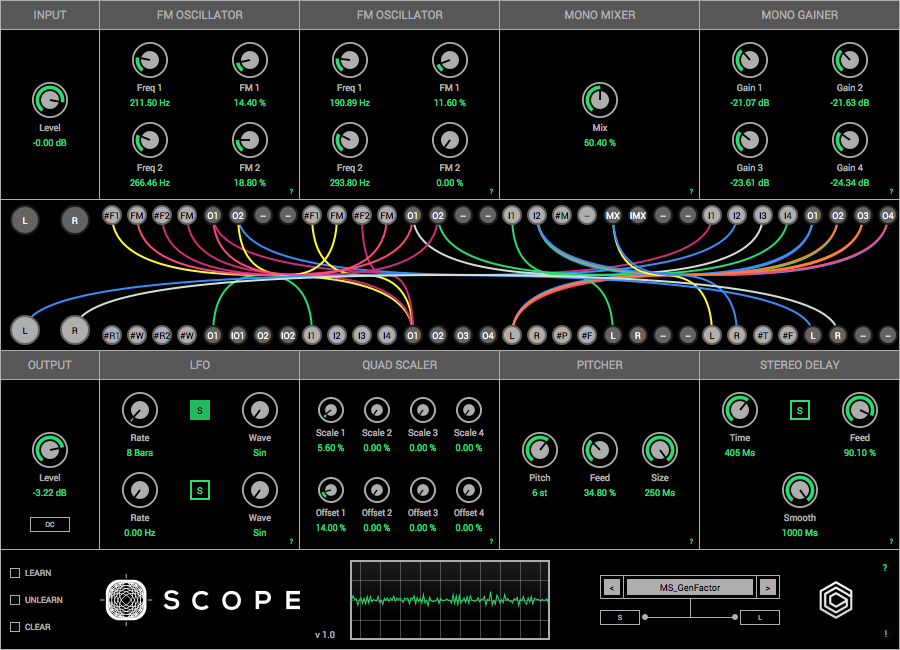 copy: features…
check their videos
love to see new modular synths coming up .. (like wusik 4000 and others)
btw way- noodles (self generating auto players) are intendent to be made with this as well.
Fully patchable modular sound generator and signal processor
Sample library with 1500+ modular SFX in 24bit/96khz .wav
26 Modules ranging from Oscillators & Delays to LFOs & Mixers
Freely configurable module slots and signal flow
Tactile graphical patching system with virtual patch cables
Real-time animated audio analyzers and visualizers
160 patches from 8 cutting-edge sound designers and artists
–> renamed to Quadrant 20.4.2014
Cross-platform compatibility (PC/Mac – VST/AU 32bit & 64bit)