iOS DAW with/mit AU Plugin-Support (!!) – MultitrackStudio
(English below)
Es ist soweit – die erste DAW auf iOS mit Audio Units (Plugin) Support. Es kann losgehen. Das MultitrackStudio liegt bei 30€ und kann "das Übliche". Es gibt da eine Pro-Extension für 20€ (sie ermöglicht das erst), es kann also versteckt noch ein wenig mehr kosten. Für Apps sind 50€ durchaus eine Ansage. Aber dennoch muss man den Aufwand wohl auch finanzieren – wie gut das Ding ist muss sich zeigen. Es gibt die üblichen Einzeleditoren, allerdings gibt es nur von der Automation einen Screenshot..
(Extensions sind erst mit neuem iOS möglich. )
Achja- Tim Cook sagt nein zur Fusion von iOS und OS X, dh das iPad Pro wird ein iOS Gerät bleiben und ist auf diese Art Apps angewiesen, die auch "Pro" sind..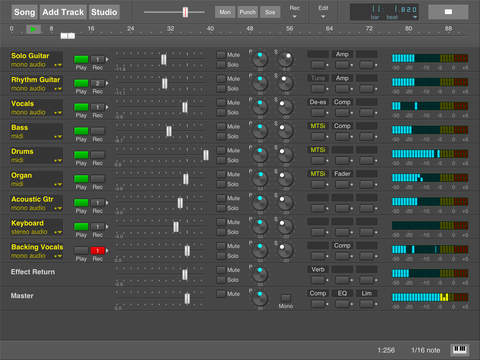 It's time for plugins in iOS DAWs – here's the first one to implement it – MultitrackStudio is at 30€ and additional 20€ für the "Pro" in-app buy which might contain the AU support, so it is in fact 50€. that's quite some money for an App – but well – how to finance years of support? – we'll say how the worlds develops in the future.. I did not see the "classic daw" view  – but there are editors for audio, midi (pianoroll, score), drums, automation / midi controllers, time/tempo.. so it's all there.
Extensions are now possible with the new iOS.
Tim Cooks says no to the fusion of iOS and OS X – so on the iPad Pro things like this are the Pro league, then. or the upcoming updates of Auria, Cubasis.. whatever… (Logic Mobile?)