Lightning Cam Connection Kit does work with iPhone 5 – with iOs 7.02 (& higher) – problems / probleme
ok, I went for the 35€ and let me tell you this – when you even just connect it to the iPhone 5 it says this device is NOT supported. Apple tell me how to spell FAIL! this is insanely shit. I really recommend to give this back to apple for every one who liked to make music with USB Keyboards on iPhones, here  apple (their forum) – I asked apple, iOS update needed? something? – no idea. nothing. they recommended to order and try – and give it back, ok – looks like giving it back!? ..
UPDATE – it finally works
had some fun – while showing iPhone 5 with the new Cam Kit (CCK) – image below – since it works now!! but needed iOs 7.02 !!! did not work before with iOs 6.XX when it was new till release of iOs 7.02! 
JAAAA, es läuft – auch auf dem iPhone 5 läuft das, aber nur ab iOs 7.02.
ab jetzt geht ab iPod Touch 5 und iPad 3 mit Lightning und iPad Mini das CCK auch mit den kleinen Geräten (iPhones, iPod Touches)
also Entwarnung – Aber Apple – mach das nie wieder! Immer schön funktionieren, wenn man schon so viel Geld für das CCK ausgeben muss.
___
Nun habe ich das sündhaft teure Teil gekauft, ein simples superkurzes Kabel zwischen zwei Steckern, Lightning und USB, und das richtige, nämlich das Camera Connection Kit für Lightning. Und – angschlossen an iPhone 5 ohne etwas am USB Port – und schon – ploink:  wird nicht akzeptiert. – EPIC FAIL,
Apple!!! iOs 6.X: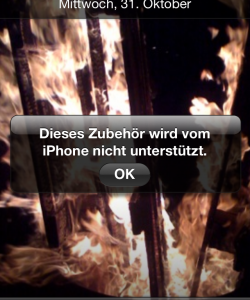 ios 7.02:
YEAH!! no more pop up dialogue.. it just works.
__
Ein Adapter der für diesen Zweck gemacht ist und nicht funktioniert. Superfail! Das wird Musiker reihenweise enttäuschen.
Ich bitte und ermutige, sich konkret bei Apple zu beschweren. sie haben Foren dafür: apple – habe gefragt, ein Update könnte das ggf. richten und war noch nicht so weit? Aber bisher keine Antwort. Bestellen sie es und geben sie es zurück war der einzige Tipp.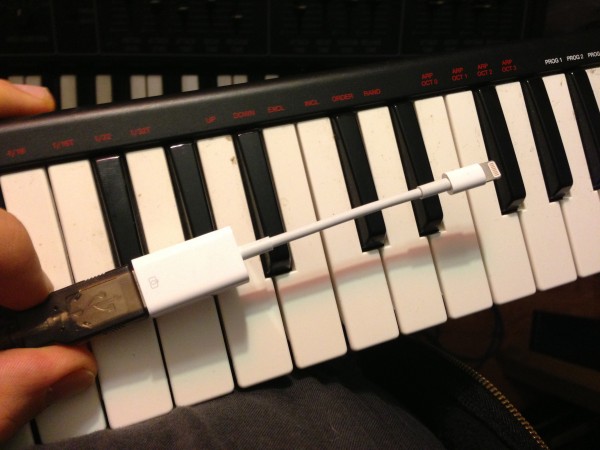 more / mehr
–> what happened / background / was  bisher geschah.. Hintergrund.
–> where to post your frustration to: at apple  <– da beschweren! jetzt!