MFB Tanzmaus – Drum Machine / Tanzbär Lite
Tanzmaus (dancing mouse) is a 4-7 instrument drum machine quite like the Xbase09 was – so this is a smaller version of the Tanzbär Drummachine (dancing bear) which is bigger than a mouse.
Tanzmaus lets you load your own samples, Tanzbär lite is more like the Tanzbär – an analog drum synth like the 808 etc.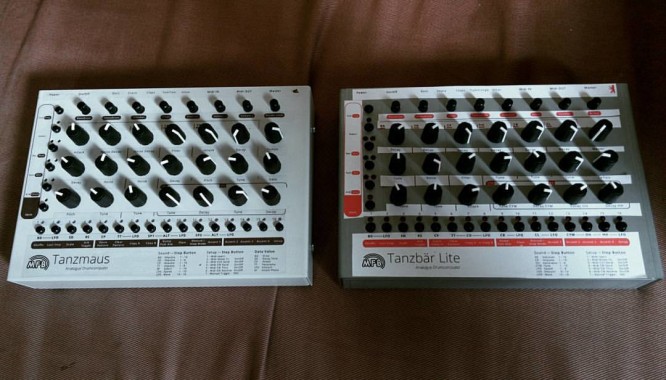 4 instruments on top – the bottom rights may be something for the hihats.. so it's 5/6 instruments – at the bottom I found 7 "things" so – I assume it will be a 7 instrument drum machine with step input.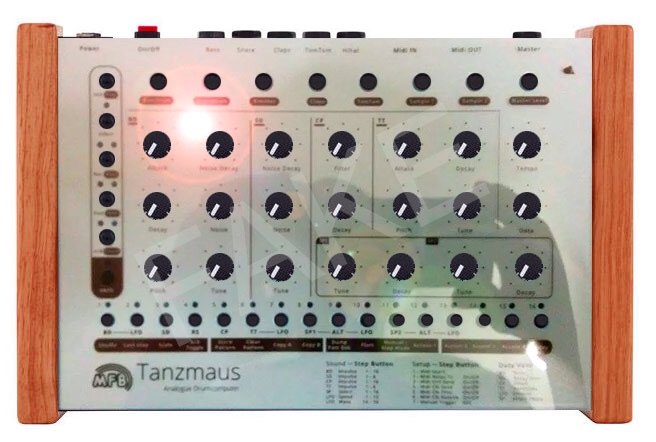 die Tanzmaus ist offensichtlich eine Drummachine mit 7 instrumenten (das ist, was ich zählen kann) – 4 oben, 2 unten rechts und in der Leiste kann man 7 zählen. Und Mäuse sind kleiner als Bären.
UPDATE: Front Panels – Tanzbär Lite und Tanzmaus – bessere Auflösung.
Forum: MFB Tanzmaus