OS X 10.11 El Capitan, iOS 9.02 – do or don't do? UPDATE: you can, now (10.11.1)
UPDATE: you can now update to 10.11.1 – makes sense to musicians NOW since all bugs are fixed.
Alle Probleme mit OS X 10.11.1 El Capitan sind nun beseitigt, man kann als Musiker nun bedenkenlos updaten!
__
just released – the new OS X El Capitan 10.11 (6GB of data) and iOS 9.02 which is basically a security and bug fixing as well as 10.11 –
well Safari 9 was up as well and freezes when there is little things to do – so this might not be what they have planned – it's still too fast up for everyone before it is all tested – so be aware .. ok – it's a bit simpler – delete the history and cache – might work then (with me it seems do work)
UPDATE: All NI, Arturia, U-HE, Madrona, Roland, XILS-Lab Plugins run fine on El Capitan. I was told the validator in Logic might sort out some – in live everything worked perfectly.
But in Logic NI and Arturia completely fail at validation!
Native Instruments and Arturia seem to not recommend to update now, Ableton and Focusrite say "it's ok".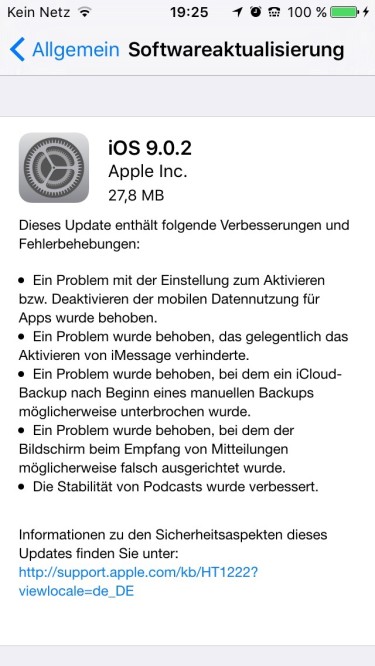 So – nun sind die Updates für die Äpfel da – während das iOS 9.02 ein Sicherheitsupdate ist und ein paar weitere Bugs repariert und damit zeigt, dass Apple es eben nicht mit dem Release schafft ohne Fehler aus zu kommen, sollte auch warten mit dem Safari 9, welches ich bereits runtergeladen habe – es friert schön lieb ein und dann hilft nur noch abschießen – es ist also in 9.0 unbrauchbar.
Wie gut El Capitan ist, muss man nach 6GB Download sehen, aber Safari 9 ist fies – funktionierte erst nachdem der Browserverlauf und Cache gelöscht wurde, wie oben schon erwähnt sind ein paar Firmen Warner vor dem Neuen, andere geben grünes Licht für das Update. Also – bitte aufpassen und vielleicht einfach 1-2 Wochen warten, ggf. mehr wenn alle Hersteller melden, dass sie das was du nutzt auch getestet haben, idR brauchst du dann ein Update – das betrifft auch Plugins. Obwohl man das nicht erwarten konnte ist das NICHT sicher, das alle ohne Probleme laufen.
Meist gibt es recht schnell Updates nach dem zweiten Punkt (kleine Fixes) und die sind meist auch notwendig, in der Regel sind es etwa 3, so auch bei iOS. Und Ende des Jahres ist man meist mit dem zweiten Punkt nach der Versionsnummer dran und schiebt auch dann erneut ein paar Fixes nach, weil auch das notwendig ist. Apple ist noch immer zu schnell mit dem Jahrsrhythmus – denn sonst wären diese Dinge anders. Dabei sollte dies eigentlich ein freundliches sicheres und schnelles "Snow Yosemite" werden, also ein unproblematisches Wartungsupdate ohne viele extreme Neuerungen und mit Bugfixes. Außerdem scheint Apple das Abgleichen von iOS und OS X nach dem Update schwer fallen oder ist weitgehend lustlos, da nicht selten einige Funktionen plötzlich nicht mehr gut funktionieren. So war das jedenfalls bei dem Sprung von 10.68 und bei den letzte größeren Updates.  Wir werden also sehen, was es bringt. Zur Zeit sind die Server eh überlastet. Es ist sinnvoll 2-3 Subupdates zu warten und dann schauen was klappt und was nicht.
-> Hier gibt es Hinweise: OS X 10.11 El Capitan und Safari 9 für Yosemite