Use Audio – Plugiator – the Post-Creamware ASB recycle engine. offers modular III also in this box!
the big thing on this little box is: you can get it to run the modular III synth also, so it could be nice for former clavia NordMicromodular, MicroModular users?
EDIT: 11/2010 – this synth is out of production now.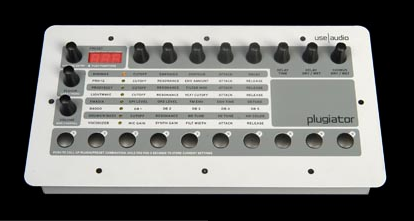 this thing is so to say a bit of Noah and a bit of the Creamware ASB Series
This one seems not to come from Soniccore but from the inDSP indian company.
It is open/modular so you upload the software and it is one of the Klangboxes or other Plugins of the System..
http://www.use-audio.com/plugiator.htm
It's a chinese company – never heard of them before but they offer some modules for the CME keyboards, too.
there's 4 synth in the box: minimoog (minimax),lightwave (simplified microwave), the B4000 organ and a vocoder (vocodizer).
you may know, that soniccore is the official successor of creamware, so they might sell it all as a sub-license manufacturer called use-audio.
there synth can be loaded (4 more max – so you need to choose..):
http://www.use-audio.com/SCOPEplugins.htm
including the modular III! and all ASBs, so here it is – the new small modular after clavias modular..
Creamware/Soniccore/inDSP(oder so)/und jetz das….!
MEHR/MORE: Use Audio Plugiator