RF1 ist ein Hallspezialist für das iPad, mittels Audiobus und Co lassen sich die Signale intern routen, auch via Inter-App routing zB für USB Audiointerfaces. 5 Halltypen sind dabei.
Hall, Plate, EnsembleVerb, TremoloVerb & VintageVerb
kostet – 5.99€ hier: RF-1 – Kai Aras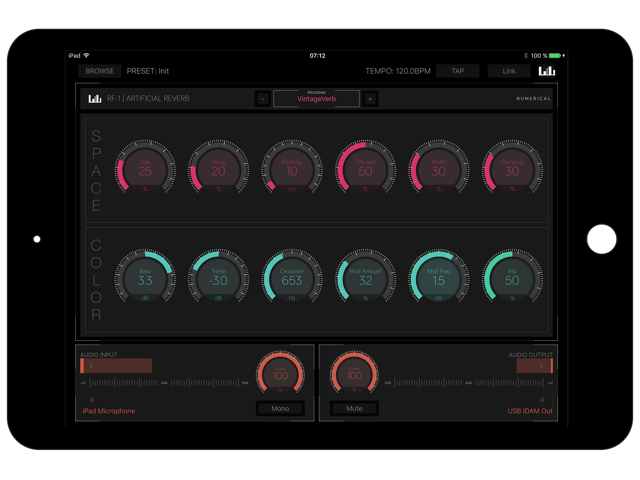 Wer schnell lieb und sequencer.de treu ist, bekommt sogar einen umsonst – Promocodes: T9HHALYH33MN, 4TKHNR6LMNKR, M7L6FNP6NEXT
Features:
5 unique reverb algorithms (Hall, Plate, EnsembleVerb, TremoloVerb, VintageVerb)
Space section with individual controls for size, decay, predelay, stereo width & damping
Color section with high and low shelving filters, variable crossover, modulation frequency & amount
True stereo processing
Standalone operation with mic/guitar input and support for USB audio interfaces.
Audio Unit Extension
Inter App Audio support
Audiobus support
Ableton Link support
Programs:
1. Hall
Clean and bright sounding space with subtile modulation and gradually building density. 
2. Plate
Dark, highly diffused sound with high initial echo density and dark modulation.
3. EnsembleVerb
Capable of huge, wide spaces with deep modulation.
4. TremoloVerb
Large and bright reverb utilising a tremolo section to create constantly moving spaces.
5. VintageVerb
Dark, noisy and wonderful sounding reverb modelled after the first digital reverbs from the late 70s.

_
Website: http://numericalaudio.com