Ungewöhnlich und unerwartet – Wir schreiben den 20. Juno (yay, Wortspiel™). Roland liefert einen MiniMoog im Boutique Format. Noch vor Behringers D-Synth Clone. (english below!)

Minimoog mit LFO und Sequencer und eigener Xmod / FM / Filter-FM Sektion von Roland für 500 Dollar.
Roland Moog Oscillator Potentiometer Synthesizer – RolMops! Und klingt offensichtlich gut, Der Uli wird toben. Und Moog? Was macht Moog in Zukunft? Apps? Vor dem Release des D-Synths. Also erstmal vieles "richtig gemacht". Rolands erster Nichtroland. Kooperation mit Studio Electronics, Macher des SE1 Midimoogs und langjähriger Hersteller von Oberheim und Prophet Clones. Und eingebautes Delay dazu. Ach – Roland hat zwar nie direkt gecloned, aber doch – es gab im SH3 das Moog Filter und der SH5 ist nahezu exakt sehr sehr nah dran am Odyssey, nur anders im LAyout und mit 2 LFOs. Aber direkt ein Cloner waren Roland nie, aber mit Aira haben sie sich selbst gecloned und über Malekko das System 500 clonte Rolands System 100 unter dem Roland-Namen, was übrigens jetzt auch von Roland hergestellt wird, Malekko war ihnen wohl zu grobmotorisch bei der Qualität.
Doch halt – eins ist wichtig – Das Teil heißt SE02, von Studio Electronics gibt es den SE1 und SE1X, der sich nicht direkt als Minimoog-Clone versteht, wohl aber an ihm orientiert ist. Somit wird auch dieser Synthesizer eher ein Gerät in diesem Sinne sein. Wer einen Clone will, wird vermutlich noch einmal genau vergleichen müssen, wer einen Synth mit einem Moog-artigen Verhalten sucht hat noch genug zu hören.
Wie dem auch sei – ein offensichtlich gut klingender Minimoog von Roland kauft sich für manche vielleicht leichter als aus Fernuliost? Das weiss man halt nicht wirklich – aber die Nerds auf der Superbooth waren alle eher anti, bei Roland könnte das anders sein. Mal sehen.
_
Very unexpected: Roland makes the Minimoog. What? it's NOT digital! But it has a Sequencer and a Delay.
and even more strange – it is analog and a collaboration with Studio Electronics – the maker of high quality Analog Synths Clones (P5, Minimoog / Midimoog / Minimidi -> Omega 8, Code, SE1 etc.)
So 2 Questions – what will the Uli do? How do you think Moog think about it? What should they offer? Apps?
Roland sells analog Moogs, what's next?
But wait – it's name is SE2, which is reminiscent of the Studio Electronics SE1 and SE1x – they are not exactly "Clones" of a Minimoog, they are sort of Synths, that seem to be inspired by the Mini plus some more and different characteristics here and there. so – it's not exactly a "clone".
this Moog will be $500. So quite a good price tag, seems to sound great.
Roland SE-02 
 @Forum // Diskussion bis da hin Neuer Synth von Roland am 20.6
Roland Boutique SE-02 Analog Synthesizer - Designed by Studio Electronics
Roland SE-02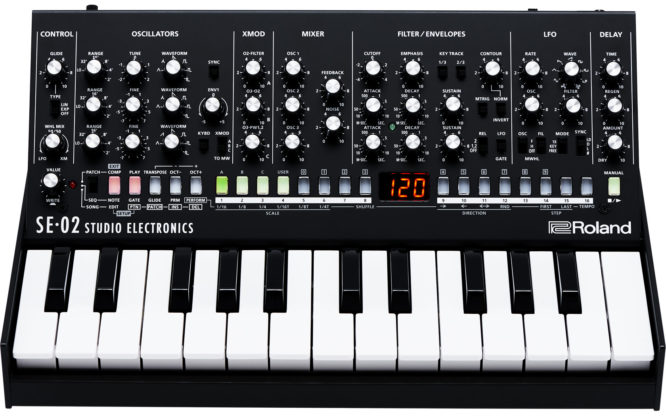 Also new – Roland FA06, FA07, FA08 next generation Workstation Post-Fantom Synth re-loaded. as well.
connects to iPads, 16 track sequencer, next generation and Integra 7 engine, so it's more like the Jupiter 50/80 engine – the now oldest compared to Airas and analog but well – it is still here.