Sequential Pro 3 alternativ mit Klapp-Panel (SE Edition)
Der Sequential Pro 3 ist da und doch total anders – er hat keine digitalen FM, AM, Wavetable-Funktionen mehr sondern ist eher eine Art Matrixbrute mit Klapppanel im Minimoog-Design und hat 3 LFOS, 4 ADSR Loop-Hüllkurven und 3 VCOs mit klassischen Wellenformen und 2x Sync., einem vielseitigen Filter (statt bisher 2) aber mit 3 verschiedenen Modi und dafür aber mit 32facher Matrix und Stepsequencer. Unter den Effekten sind auch Reverb und Delay. Der Stet-Sequencer ist erhalten geblieben, denn der war wirklich toll. 16x16x4. 16 Spuren – 3 davon für Noten – der Rest für Parameter. Ob eine FM via Matrix möglich ist, ja – das ist so – die Matrix ist Audio-Rate-tauglich sagt Dave Smith selbst. $1599 wird er kosten. Der große Unterschied ist also schon 1 Filter statt 2 neben dem 2-Analog und 1 Digital Oszillator Konzept, was mit dem alten Pro 2 nichts gemein hat.

2 Effekte – und Feedback wie im Evolver gibt es auch.

Damit ist er doch deutlich anders als sein Vorgänger Pro 2 und spielt eine komplett andere Rolle. Monophon, aber er ist auch 3fach paraphon – das ist dann anders zu spielen als der Pro 2 und wirkt sich anders aus, da diese Töne auf die 3 VCOs verteilt werden.
Es gibt 2 Versionen – normal und SE (Special Edition) – nur die SE hat das Klapp-Panel.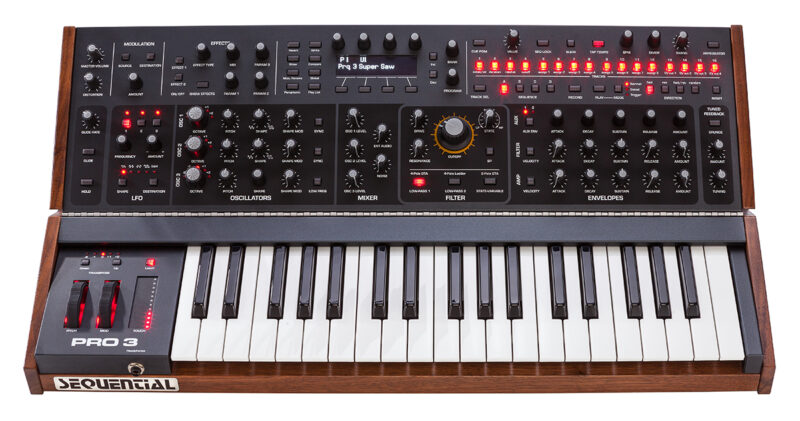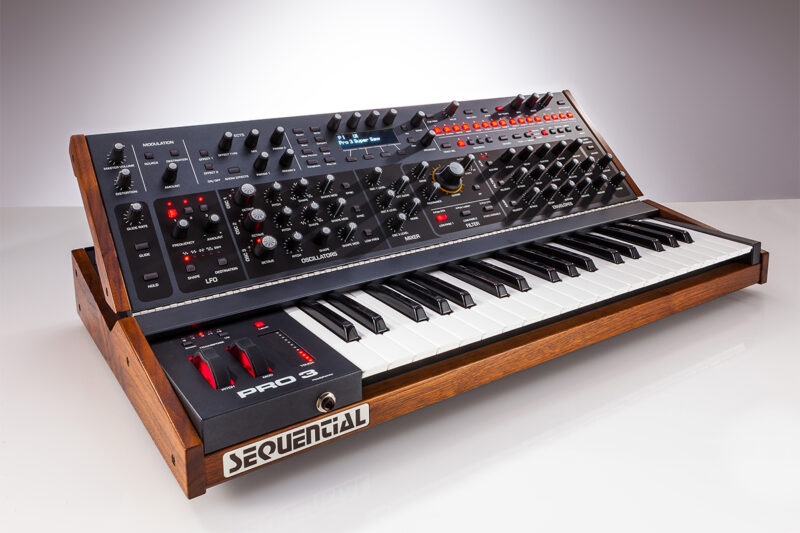 Er hat 4 CVs in/out, 2x MIDI out, USB – damit kann er auch mit der Außenwelt reden, und zwar in beide Richtungen.
– 2 analog, voltage-controlled oscillators – 3 classic wave shapes: (triangle, saw, pulse) – variable shape modulation/pulse width on each

– 1 DSP digital oscillator – 32 digital wavetables (16 waves) + wave morphing, plus classic waves (sine, triangle, saw, variable width pulse), super saw – works as LFO for complex wavetable-based modulation
– White Noise
– Hard sync, per-oscillator Glide, Oscillator Slope

– 3-voice paraphonic mode – individually-gated envs / osc
– 3 classic filter types: alternatively – no multiple serial/parallel use – 3 choices:
– Filter 1: 4pole, 24 dB / oct., Prophet-6 low-pass filter
– Filter 2: classic, 4-pole, 24 dB / oct.e, transistor ladder filter + optional resonance compensation
– Filter 3: 2pole, 12 db / oct., OB-6 state-variable filter. morph: low-pass, notch, high-pass, alt: band-pass.
– 3 syncable LFOs / phase offset, slew / LFO
– 5 waveshapes: triangle, saw, reverse saw, square, S&H
– 4 ADSR envelopes + delay (Filter, VCA, and two Auxiliary envelopes)
– Envelopes freely assignable – multiple modulation destinations
– envelopes repeat/loop
– Tuned feedback with Grunge & analog distortion
pre-order – $1599 USD. also etwa der Preis des "alten" Pro 2.
Etwas Gequatsche zum Pro 3 – dort wusste ich noch nicht sicher, wie das mit den Filtern ist – aber ich hatte Recht – es ist eben nur einer – nicht 3 oder 3 – es gibt nur eben soviele als alternative Auswahl.