Dies ist nach 19 Jahren das letzte Maschinenfest, alles wussten es und kamen daher verstärkt. Und das spürte man schon zu Beginn. Es sind wirklich viele Leute da und es gibt viel zu umarmen, wiederzusehen und die Tage bestehen aus 10 Acts. Dadurch wurde die Einlasszeit nach vorn geschoben. Eine unglaubliche Crew für Visuals und Audio stellt eine ganze Armada an Zeug zur Verfügung und einen extrem starken Beamer, der traditionell jedes Jahr auf einen anderen Hintergrund projeziert. Die optischen Dinge werden immer weiter gesteigert und die Wahl der Acts ist wie immer gemischt von Ambient bis Powernoise, es ist fast unmöglich das Maschinenfest zu erklären, wenn man noch nie da war – aber wer da war, lässt es doch eher ungern aus, weil es so ist wie es ist. Der letzte Acts wurde freundlich 3x zurück auf die Bühne geschoben – mach weiter – das dankbare Publikum ist so gegen 4:20 am Sonntag fertig und feiert weiter draußen, bis dort auch die Musik aus ist – ein felliger Brüllwürfen versorgt dann noch einige Zeit de Leute und man benötigt ein halbes Jahr um voneinander los zu kommen, Hugs hier und einige Vortrauer aber auch tolle letzte Aktionen wie Gruppenfoto und Sammlungen passieren. Liebevoll gemacht. So wie das ganze Event, was von Thomas & Grit Hein aber auch vielen anderen im Kernteam mitgetragen werden. Man geht dankbar aber es war leider zu schön. Ähnliche Feste gibt es nicht so bald wieder. Ende – Neu. Besten Dank. Übrigens gab es auch einen gestiegenen Einsatz von Modular-Systemen von Control, Alarmen über Law Rah Collective bis Xabec, Hypnoskull und Orphx. …
Hardware und Software ist im Einsatz aber am Ende zählt sowieso die Idee, nicht so sehr womit..
"Wer heute spielt, spielt für alle". So hörte ich einen Freund sagen. Siehe den Flyer ganz unten!
Bilder von den 3 Tagen..
friday
17:30 DIVE
18:30 DAZZLING MALICIOUS
19:30 THE [LAW-RAH] COLLECTIVE
20:30 DIRK GEIGER
21:30 CONTROL
22:30 NULLVEKTOR
23:30 ISZOLOSCOPE
00:30 END.USER
01:30 IMMINENT
02:30 AH CAMA-SOTZ
saturday
17:30 ALARMEN
18:30 HOLOTROP
19:30 CONFIG.SYS
20:30 SALT
21:30 SUTCLIFFE JÜGEND
22:30 MENTAL DESTRUCTION
23:30 SYNAPSCAPE
00:30 DJ HIDDEN
01:30 MONOLITH
02:30 WINTERKÄLTE
sunday
16:00 XOKS
18:XX KILLERLADY ENSEMBLE
17:00 PROYECTO MIRAGE
18:00 XABEC
19:00 AMBASSADOR21 vs. SUICIDE INSIDE
20:00 CONTAGIOUS ORGASM
21:00 HYPNOSKULL
22:00 CHRYSALIDE
23:00 ARCHITECT
00:00 ORPHX
01:00 VROMB
who we are… / wer wir sind – the final chapter – das letzte Maschinenfest 2k18 – in der Turbinenhalle Oberhausen. Hoffe wir sehen uns irgendwo wieder oder in "neu" irgendwo ganz anderes – #34 <– da weiter lesen.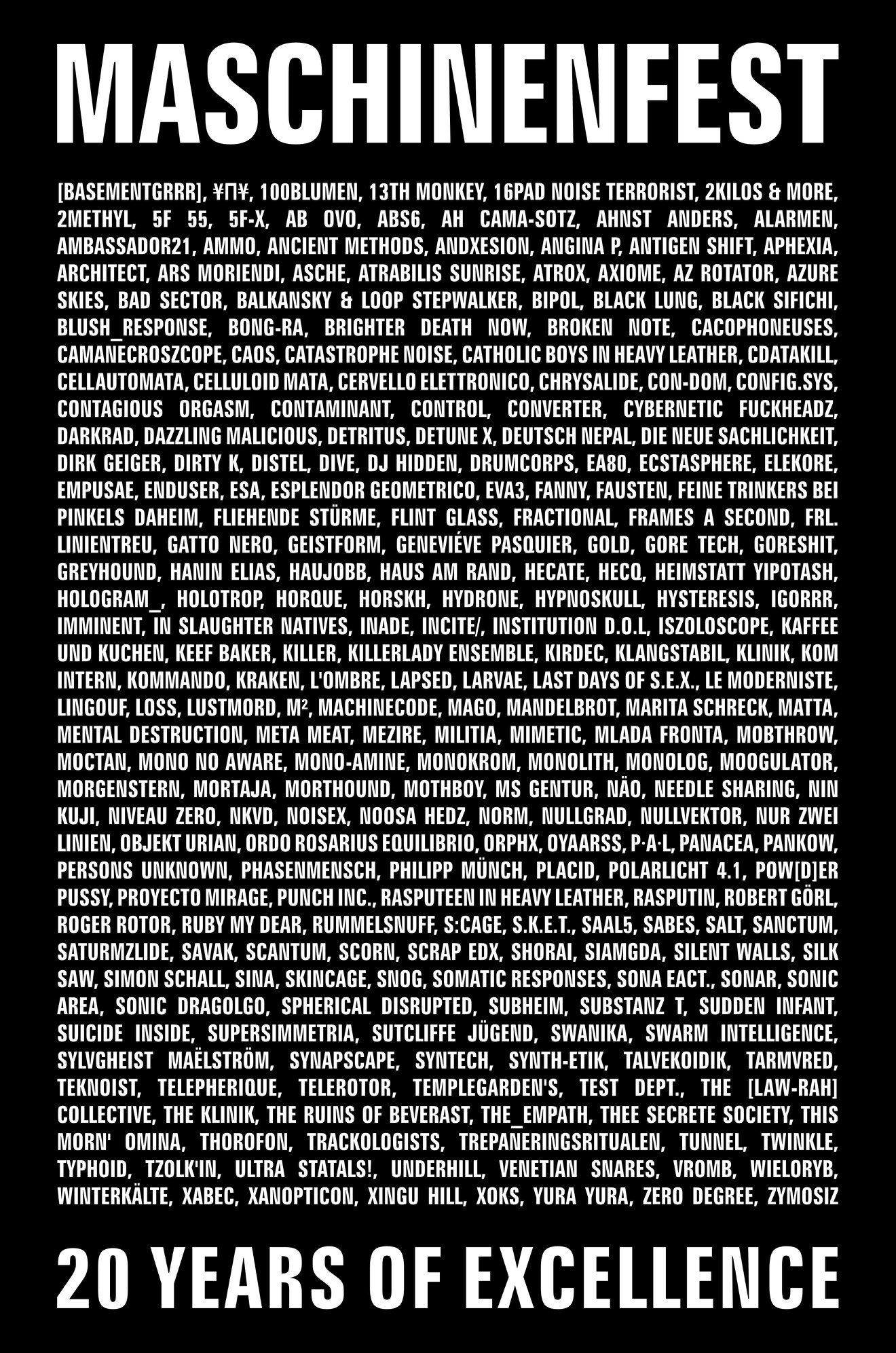 all around us.. some tidbits 'n' stuff – Dies und Da um das MF.