Fingersonic AnalogFusion Synth 6OP-FM/Wavetables/Analog
Dieser italienische Synthesizer kann offenbar einiges – 6OP-FM Sounds (a la DX7), Wavetables, 10 Sample-Drums, eine einfache Bass – Analog Stimme mit 24 dB/Okt Tiefpass und – ein 6 stimmiger 2-OSC Synthesizer mit 3 Wellenformen, Sync, Ringmodulation und Rauschgenerator (weiss/pink).
12+1 Stimmen also. Für das Layout wird man wohl keinen Ergonomie-Preis erwarten können, aber diese Multi-Engine ist doch mehr als man erwarten kann.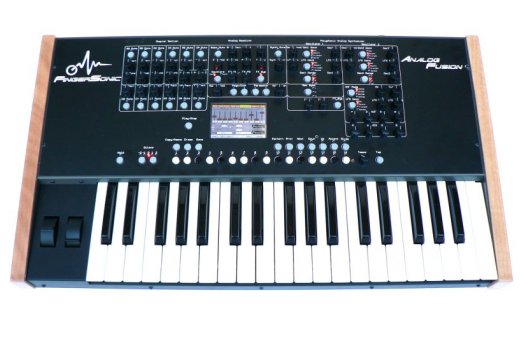 Arpeggiator, 5 Part-Sequencer, USB, MIDI, SD-Cardslot, Hybrid aber auch diskrete Elektronik bei den beiden VCOs und Filtern – die digitalen Sachen werden per ARM Prozessoren gemacht – davon sind 3 verbaut. Das Teil kommt 2019 zu uns, Preis noch unbekannt. Fingersonic hat bereits auf der Superbooth einen kleinen Desktop-6-OP-FM Synth gezeigt. 
this synth has discrete oscs, Ringmod, sync, multimode filter (bps,hpf,lpf 2 slopes), 6 voice polyphonic plus 6OP FM and wavetables or sample drums (44.1khz/16bit). 5 part sequencer, arpeggiator – midi, usb, SD slot – and an additional bass sind with 24dB/oct low pass – seems worth the wait until summer 2019.
this demos is a big cheesy..