Bazille (Bacteria!) is a small scale software synth most of you may already know since there are a lot of pre-infos and even a beta that is still running from older times – but the new and final one has some more stuff in it especially what's going on between oscillators. so just check it out and listen yourself since it is public beta..
Die Bazille ist schon sehr lang erwartet – ein 4 OSC-Modulsystem mit einer Menge Möglichkeiten –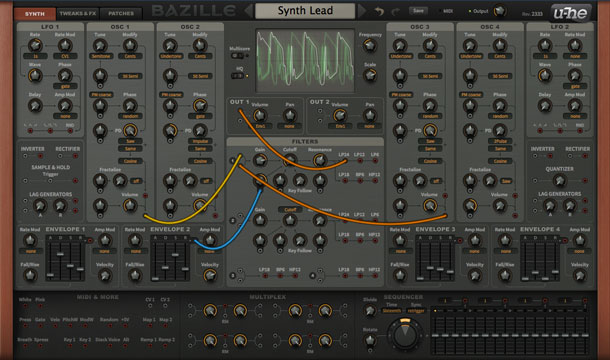 diverse Modulationsoptionen zwischen Oszillatoren neben FM sind das wichtigste "Neue" im Vergleich zu dem, was DU bereits über die Bazille (oder den Bazille!) wusstest.
Cwejman in Software? Sowas? Naja, irgendwo zwischen ACE & Zebra und einem ganz normalen Eurorack-Synthesizer mit gut gewählten Modulen im Look eines Roland 100m. Der Sound ist nicht aus DIVA herausgefallen, er klingt deshalb auch eher nach sich selbst.
Ausprobiere für alle läuft jetzt gerade..
User Name: "Public Beta"
Serial: "X5DY-O21G-HPI4I-IGB42-Y6SX1"
_