Logic X 10.2 + (ex Camel Audio) Alchemy are one / in neuer Einheit und viele Features
CDM says, Alchemy will be part of Logic Pro X. So if you are a user, you will be an alchemy-user soon, which is a good thing – maybe they do more than this in the future. But they finally got something interesting added to the "why Logic X today" list. Btw.- FX and things like "Phat" which were cool and fast tools for producing music might be in and integrated sooner or later as well, since it totally makes sense. And there will be connections between Logics Sampler and Alchemy etc. – so it is not just the same – it's more integrated into the eco system also adding Gobbler, a networking service for music.
Read all Logic X 10.2.  features in the  Comments..
Here are the details that have been made, documented in a PDF
You can get "Main Stage" with Alchemy as well for about 30€.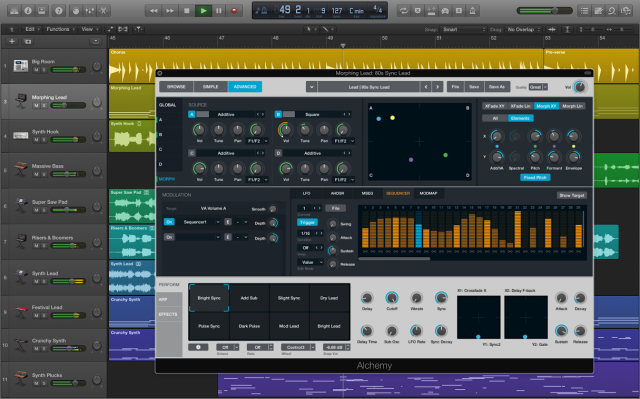 Logic X wird mit dem kürzlich aufgekauften Camel Audio additiv-Synthesizer Alchemy ausgestattet sein. Da Camel Audio auch einige nette Effekte und Tools anbot, muss man davon ausgehen, dass auch die Einzug erhalten werden.  Das würde das Paket Logic insgesamt aufwerten und etwas praktischer machen, denn es gab ja schon einige Zeit nicht mehr wirklich etwas Neues – eher ein wenig Facelifting. Auch ich bin noch bei Logic 9.  Es werden der Sampler (ESX) und andere Komponenten von Alchemy mit Logic verbunden!
Super ist, dass Alchemy in vielen sogar mal wesentlichen Punkten aufgewertet wurde, also das ist nicht nur ein Update.
Außerdem kommt wohl der Gobbler mit ins Spiel, Eine Art Fernmusiziertool, was offenbar nun auch integriert ist.
in Main Stage für 30€ ist er auch enthalten!
Alle (neuen) Features stehen in den Kommentaren! (sehr lang)