NAMM 2015 week / NAMM-Woche! – Moog Modular + X?, Koma Komplex Sequencer & Poltergeist
this week is NAMM (music fair) week – starting on Thursday (in europe it's in the evening) – so there will be some things to be announced on that date and posted as soon as I can ;)
the big Knob on the left "NAMM 2015" will show you everything.
Moog posted something but since the Minimoog is from 1970 – we may still hope that it could be a new Minimoog – since the Name has been re-registered by them … – did I mention there is an expansion for the DIY Synth Werkstatt Analog Synthesizer ? see image below!
Elektron said something about "Overbridge" and
Koma posted a 7U something –  The Komplex Sequencer with MIDI and CV/Gate,
-> sequencing the sequence. built around four full-featured 16-step sequencers that allow and invite the user to use one or more of the sequencers to sequence the other one. no screen or submenus; all features have their own dedicated controls /  in- and outputs on the large 86-point patch bay.Each sequencer has its own start and stop buttons,
a quantizer (switchable between chromatic,
major & minor scales), one-shot-mode and five
play modes (forward, backward, ping-pong, ping-pong reversed, random).
output range per sequencer: 2V, 5V or 9V.CV control the parameters for:
Sequence Start Point, Sequencer Clock Division, Glide between the steps, Skip Step, Repeat Step and Repeat Length.
Transpose the whole sequence via CV, start it with an external trigger signal and use, for example, an LFO or another sequence to control Sequence Length or Gate Length.
20 in- and outputs per individual sequencer,
CV recorder outputs, adds up to 86 CV patch points -> all on the front panel.Designed as a large 19″ 7U surface,
LED's on the 64 step-sliders show active step,
64 corresponding RGB LED's under the sliders' push buttons allow you to set:
sequencer start point, choose active steps,
Glide per step,
Gate per step,
amt. Repeats per step / Repeat mode.
choose the output MIDI channel for each sequence.
-> 7 channel CV-recorder -> bank selection is controllable via CV
-> master start/stop to start/stop all sequencers at once.

available at select retailers worldwide – Spring 2015 – $1500.00.

KOMA Elektronik's new POLTERGEIST Eurorack module enables users to manipulate up to four audio/CV signals quadraphonically or stereophonically in new and ghostly ways.The POLTERGEIST is an analog Eurorack format audio/CV mixer, panner and VCA that goes beyond the usual two dimensional standards and enables hands-on quadraphonic mixing and panning with a staggering amount of VCAs. The four individual channels each include a VCA with CV input, performance-oriented clickless solo and mute switches that engage upon release for perfect timing, pan with CV input over 360 degrees (however, with the proper CV signal you can spin the sound around infinitely), a FIELD knob to add an inverted version of the signal to all mixer outputs, an ORIGIN knob to control pan modulation from the Master Pan CV input, and of course an input with Gain control. Spatial animation is easily achieved by adjusting these parameters along with outside CV control from other modulation sources.With a flick of a switch, the POLTERGEIST can function as a stereophonic mixer as well. In the master section are 4 mixer outputs dedicated to each quadrant or left and right depending on which mode it is in. There is also an auxiliary stereo input going directly to the summing bus (pre-master VCA). Create your own compressor by using another module like an envelope or comparator into the Master Gain CV Input, a half-rectified, inverted CV input where positive CV reduces the Master Gain and negative CV is ignored. At the end is the Master Volume knob with CV input.http://www.youtube.com/watch?v=rNi0xYU88x0Pan position is highly controllable on an individual level for each channel. Slope (also controllable via CV) controls the curve of the pan: on one end the signal remains at one output for a long time then quickly jumps to the next; while on the other end, the signal stays at the output for a shortage before it slowly begins moving to the next. Shift each or all channels pan positions from 100% to 0% to -100% with the Master Pan CV input. By adjusting each attenuverter on each channel, complex choreographies are possible.Additionally, while the POLTERGEIST comes AC coupled to protect amplification equipment from DC signals, a dip switch on the back allows it to be DC coupled to process CV signals as well. It measures at 28HP wide. The KOMA team has worked over a year and a half on this entirely new design as this module premiers our patented analog method of controlling quadraphony and mixing.
The POLTERGEIST will be available at select retailers worldwide in Spring 2015. Come by booth 6990 (hall A) at NAMM to try out the POLTERGEIST for yourself, or catch us at one of our quadraphonic events in Oakland, Portland or Berlin.
diese Woche ist NAMM, diese Messe startet am Donnerstag und für uns hier in Europa ist das abends gegen 21:00 – es wird auch eine Sondersendung Musotalk dazu geben. Und ich werde versuchen die wichtigsten News (wie bisher) zu posten. Das Wichtigste in Kürze ist  über den NAMM 2015 Knopf links im Menü zu sehen.
Moog macht was Neues – aufgrund dieses Banners kann es ziemlich gut ein  (1970)  Moog Minimoog Analog Synthesizer  in alter Form sein. Aber – er kam ja etwas früher – hmm…
UPDATE: Der Moog Modular ist zurück!!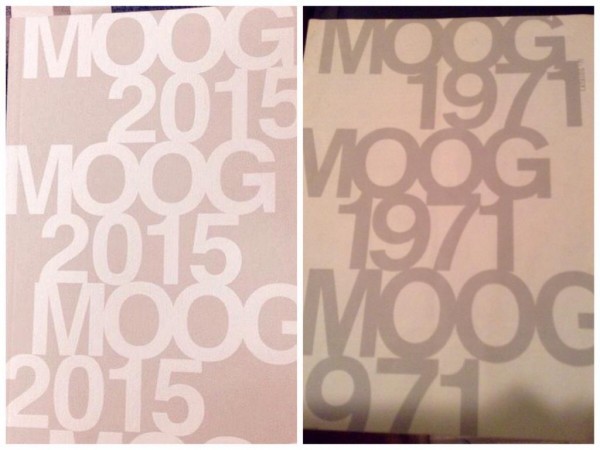 aber das es für den Werkstatt eine kleine Erweiterung gibt, habe ich erwähnt, oder?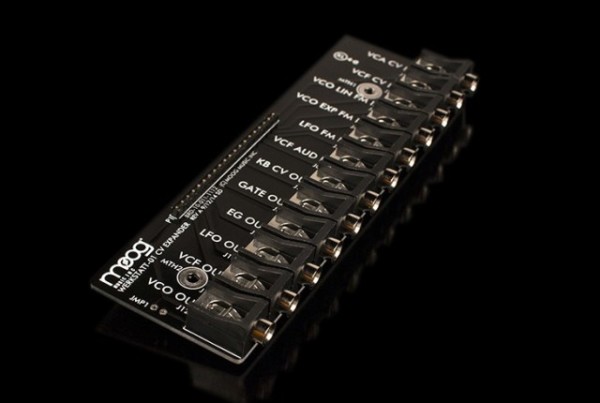 Elektron ist da noch mit "Overbridge" …
und es gibt etwas von Koma mit 7HE – was das sein könnte wissen wir noch nicht: siehe oben – Poltergeist heißt ein neues Teil von Koma.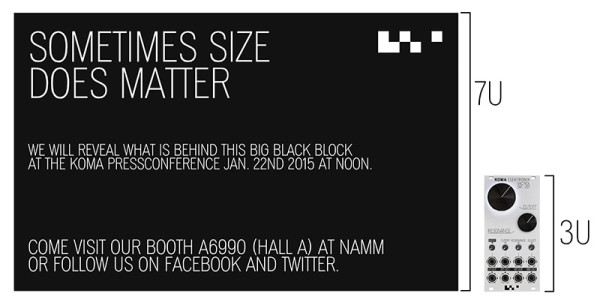 Forum: 22.1.15 USA, NAMM 2015 (the real NAMMFred)
here's a random modular performance from Lori Napoleon who was introduced in the "I dream of wires" documentation – enjoy DIY electronics.

Intercept Tone/Vacant Level by Lori Napoleon (NYEAF 2013)