NI Komplete 12 – Massive X, Drumsynth/Basssynth, Kontakt 6 etc.
Native Instruments bringen offenbar sehr bald ein Update für Komplete mit der Nummer 12 – darin sind einige neue Dinge, speziell zB der TRK01, eine Art Bassdrum Synth und Bassline Synth mit Sampling.
NI will put out Komplete 12 with a new Sampler Kontakt 6, a Bassdrum-Synth with Bassline and Sequencer called TRK01 and new FX. along with new and more Maschine integration..
Besonders neu sind Massive X, Kontakt 6, neue Effekte und ein Annähern von Maschine und Komplete/Plugin Paket.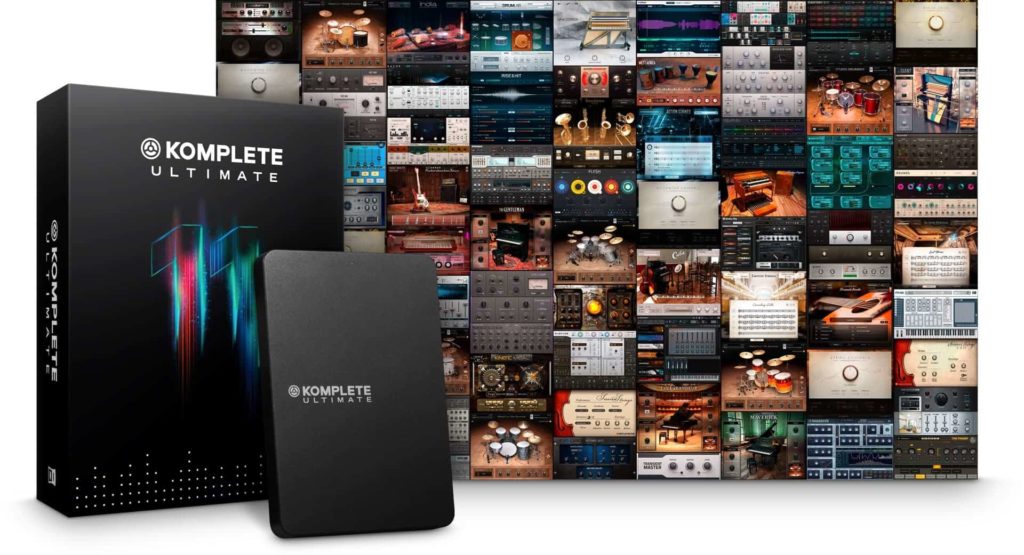 KOMPLETE 12 – Content:
Virtual Instruments
Massive X Synthesizer
Kontakt 6 Sampler
TRK-01 Kick/Drum for Reaktor 6
Effects Series
Choral chorus
Flair flanger
Phasis Phaser
9 Sound Expansions
Molten Veil
Elastic Thump
Queensbridge Story
Halcyon Sky
True School
Lucid Mission
Neon Drive
London Grit
Deep Matter
What Will Be New In KOMPLETE 12 ULTIMATE?
Virtual Instruments
Massive X Synthesizer
Kontakt 6 Sampler
TRK-01 Kick/Drum for Reaktor 6
Thrill
Session Guitarist – Electric Sunburst
Session Guitarist – Strummed Acoustic 2
Session Strings Pro 2
Middle East
Effects Series
Choral
Flair
Phasis
Freak
Bite
Dirt
20 Sound Expansions
Molten Veil
Elastic Thump
Queensbridge Story
Halcyon Sky
True School
Lucid Mission
Neon Drive
London Grit
Deep Matter
Marble Rims
Platinum Bounce
Drop Squad Bundle
Caribbean Current
Astral Flutter
Golden Kingdom
Cavern Floor
Lazer Dice
Byte Riot
Decoded Forms
Deep Matter