SPECTRALIS – THE FINAL SPECTRALIS is here Feb.2005update messe:
Es sind 32 Stereo-Stimmen – entsprechend 64 Voices/Filter mit LP, HP oder BP.
it's now 32 stereo / 64 mono voices with lp,hp,bpf on the DIGITAL side..FX: Distortion, Phaser, Chorus und Delayhow are samples categorized? good question! you got things like BD, SD etc. and Leads, Pads, etc.. also you can name them,so you only need to call up BD and scroll through all Bassdrums without being annoyed by searching for all of your BD sounds.
"Specki" has USB2 aboard, so you can have fast access on sound Xfer, SF2 and REX will be supportet asap – the standards are supported already (like wav..)
usb2 port will be later used as midi and audio pipe, so you will no longer need too much hardware (later update)..it can do: 4 VCOs and each has it's own Envelope, so it is possible to do 4 OP FM with it! it sounds very PHAT (it does!) you can turn the fine tune as long as you reach the max, because it will help you to use it like on the EMS VCS3 (jumps over to next semitone but it is still a constant glide of the frequency of all 4 VCOs or just one on one page..
my audios:ENV_FILTER.mp3 schneller_seq.mp3 beats_filterFM.mp3 Sequencerhuellkurven.mp3 FrickelElektronik.mp3 Speckexperimente.mp3 filterbank.mp3 britzelpop.mp3

a current minimal demo by PDT: spectralis_MinimalFM.mp3
now with OS0.92 some PWM mod Demos by PDT again, enjoy this:
Oldschool.mp3 and
more phasenmodulation + fm + sync / filterbank stuff ExpFBrev.mp3

a nice "glitch" demo by PDT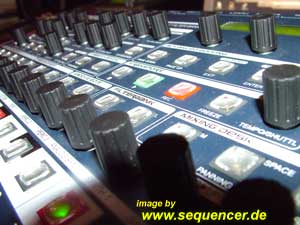 the spectralis .. close to landing.. all knobs can be clicked..
all "parts" (one of 32 sequences that can be started and stopped and trigger other parts independently) can be played randomly, foward, backwars, etc…
there are morph settings that control the OSCs, Filter, etc..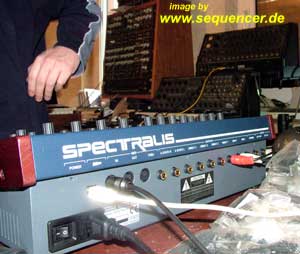 usb2 equipped , lots of ins and outs and: a real power cord.. no wall wart!
click image to enlarge spectralis..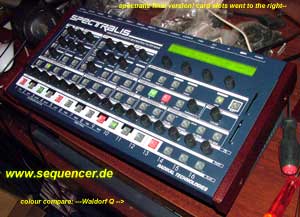 the final RADIKAL SPECTRALIS synthesizer / groovebox / beat matrix design.. card slots now on the right.. small changes to the design and updated OS.. it's all high quality endless encoders – can be "clicked" on to select the menu..
click image to enlarge spectralis..



here's the board, see the moog filter cascade on the left lower side? it's all SMD..
click image to enlarge spectralis board 1 ..
freely route the signals around..
the spectralis has a nice intelligent sample management: it will load all necessary samples, it will NOT load samples that are already loaded, usb2 is fast and will later be used as audio "one cable" connection.. seems much better than virus TI's usb1 connection, huh?
an analog synth to go.. any step in the sequencer can be used as for envelopes that can be set to last for X steps to control ANY parameter in the spectralis..
the audio quality of sample playback isvery good, the samples are selected in the part section on the left upper corner, quite like selection instruments on the TR808 but with categories like drums – snares – tr808 …
updating is also very easy.. just upload it by simply plugin it in (no driver needed!) and press the button.. it will flash around niceliy like KITT and it's updated after a few seconds.. I saw it..
more to tell…
---
older infos…
the spectralis site : www.spectralis.de
update (german): source (the forum)
About AUDIO :http://joergschaaf.de/spectralis_modular.MP3
Die "Wählscheiben" sind ein langsam schwingender Oszillator durch die Filterbank in 12 DB Steilheit Stellung und an den Bändern spielen.Im Gegensatz zu einem normalen Modularsystem sind beim Spectralis die Verbindungen im Grunde alle schon verdrahtet. In den Verbindungen gibt es Levelregler. Von daher gibt es also nicht Kabel rein oder raus sondern Signal X geht in Modul y mit Pegel XY. Das hat den Vorteil, dass es in vielen Fällen Überblendungen zwischen Routings möglich sind, die sogar vom Step-Sequencer kontrolliert werden können. Ein Pegel von Null bedeutet praktisch "Kabel raus"…
Wie vielleicht bekannt hat dieser Stepsequencer 32 Spuren – wildeste Klangänderungen sind also kein Problem.Zum FM: Oszillator 3 und 4 können als Operatoren Oszillator 1-4 frequenzmodulieren. Man kann also mit Oszillator 4 den Oszillator 3 modulieren und mit diesem wiederum Oszillator 1. Gleichzeitig kann Oszillator 4 natürlich auch direkt Oszillator 2 modulieren. Dabei hat jeder Oszillator eigene Level- und Pitch-Hüllkurven und besitzt eine Velocity Abhängigkeit des Pegels. Das für FM gesagte gilt auch für die Phasenmodulation.Grundsätzlich geht FM und PM beim Spectralis mit beliebigen Wellenformen. Zusätzlich lässt sich Oszillator 1 zu Oszillator 2 syncen und Oscillator 3 mit Oscillator 4 ringmodulieren. Jeder Oszillator hat darüberhinaus unabhängig regelbare Ausgänge für den Direktausgang, den LP-Filter-Eingang, den MM-Filter-Eingang und den Filterbank Eingang. Hinter den Filtern gibt es auch wieder Level-Regler. So kann man zum Beispiel den Ausgang des MM-Filters in die Filterbank routen und von dort aus zurück auf den Eingang des Multimode-Filters. Aufgrund der Levelsteuerung kann man diese Pegelroutings dynamisch steuern.
Darüberhinaus hat jede Sektion unabhängige Modulatoren. Es gibt zum Beispiel LFO's in den Filtern und in den Oszillatoren. Eine Matrix braucht man im Grunde nicht, weil alles reichlich in jder Sektion vorhanden ist. Ich komme jetzt schnell vom hundertsten in tausendste. Allein die Oszillatoren sind natürlich nur zum Teil beschrieben. Es gibt stufenlose Überblendung der Wellenform, Time Linearity Modulation, Bit Reduktion, selbst bei diesen vielen Hüllkurven kann man trotzdem noch so Sachen wie die Kurvenform zwischen linear und exponentiell stufenlos für jede Hüllkurve einstellen, es gibt in jeder Hüllkurve die Einstellmöglichkeit der Verweildauer zwischen Attack und Decay, die Hüllkurvenzeiten lassen sich modulieren etc, etcnow working: sync, FM, free runing OSCs, 150 parameters for OSC section may show the power.. and: it sounds!! I already had an ear on it.. since there are some official demos up, listen yourself on the site or check my demos download.. but remember mine are older then those new ones on the spectralis site..
watch the video on sonicstate.com under videos!!
neue website/new website for spectralis: www.spectralis.de
2004/jan: my latest mini audio demo made on a pre-model. you will hear the analog synth only here (DSP wasn't implemented at this time)! no samples, ENVs did not work ,too.. so imagine this when it has envelopes and lfos.. this is only the sequencer (up to 800bpm) and the pure analogue engine only and: the FM ,sync and ringmod mod features will follow later.no FX, no ENV.. this as some sort of 30-40% the power of the analogue section.. after musikmesse I will have more..
THE SPECTRALIS audio!! download here!
ah: the sound at first: quite moog-type fat analogue sound chunks.. you can get the impression from the winter namm 2004 video..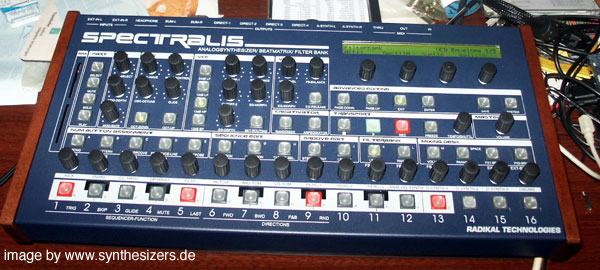 warning: the color is a bit too bright ,here..
SPECTRALIS (spectrolin was another option for the name – the first name was "SPECTRON" shown on the 2003 musikmesse frankfurt, see pics below (scroll full down!)!)
THE DESIGN HAS CHANGED A LOT!!!..
atm it has analogue 10 BPFs and 32 track sequencer that is capable of 1/96!! resolution and goeys up above 600bpm
jörg schaaf (ex quasimidi and musician (worked with klaus schulze)) was really nice: had had his soldering iron powered up at the evening to show a little more next day ;) .. maybe there will be more BPFs in the final version.. also the design ist NOT FINAL!!.. you can ctrtl CCs, start envelopes and many more just from the sequencer.. you can hold a step and set all those BPFs and hear it.. the final synth is planned to be monophonic 3 OSC and FM equipped with 10-XX BPFs and a multimode 24dB/oct filter behind.. the sequencer is a bit like the xbase: you can set a complete new patch per step.. the envs are makros, but remember how oyu set and use this synth.. its more like to control a time-audio-scape.. you SHOULD watch this machine and keep an eye on it..
48 voices sampling, 2 smart card slots to load your samples into the machine. it will play REX files and you can guess: yes, some loop slice functionallity will come, but lets check for end of may 2004 for more ;)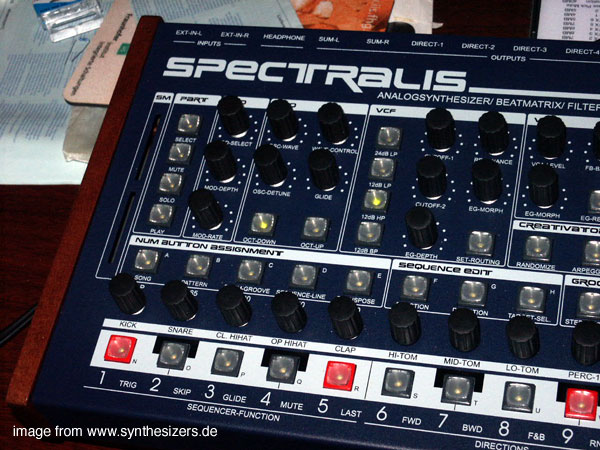 audiodemo-movie – not best quality..
even more videos can be found on sonicstate.com go HERE for spectralis
the latest design is this / das letzte design bisher – ein sequencer/synthesizer/groovetool: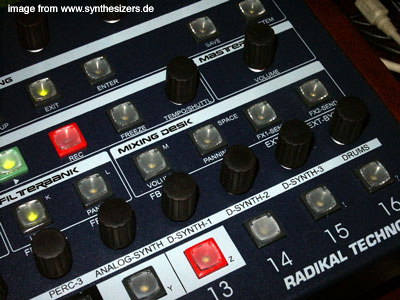 NEWS 2004:
signal flow: 4 OSCs with PW and shaping (seamlessly for pulse and saw to triangel -type of waves)
free routable through the 10band filterbank (hpf,bpf and 8 bandpasses)
also noise. 2 filters (multimode and 24dB/lpf) also freely assignable
40 VCAs for routing etc..
feeding back the signal to filter inputs is no problem!
2 smartmedia cardslots for sound sampling (the 48voice poly DSP area!!)
lots of MB for samples..
sequencer can record any parameter !! up to about 800BPM (I think it was 880..)
of course the sequencer can control external gear, too..
sequences are indepentend 96steps. forward, backward, jumping, reverse playing
all endless encoders are press buttons, too.. want to see the parameters or mod it? just press it!
new audio files will follow soon (soon starts in 24.jan.2004+ some time)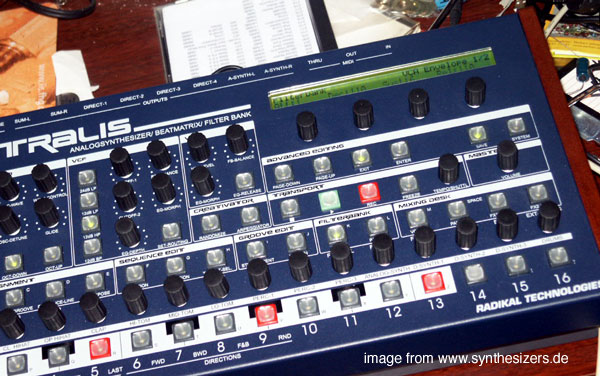 the first real image (this is the color. quite close to the dark blue of the first waldorf Q or wave modelsl) and rendering:
PROTOTYPING..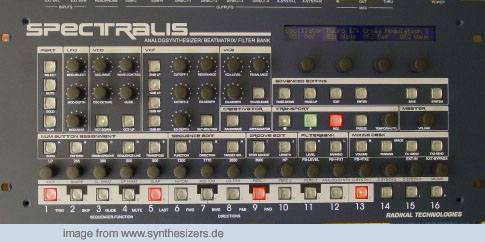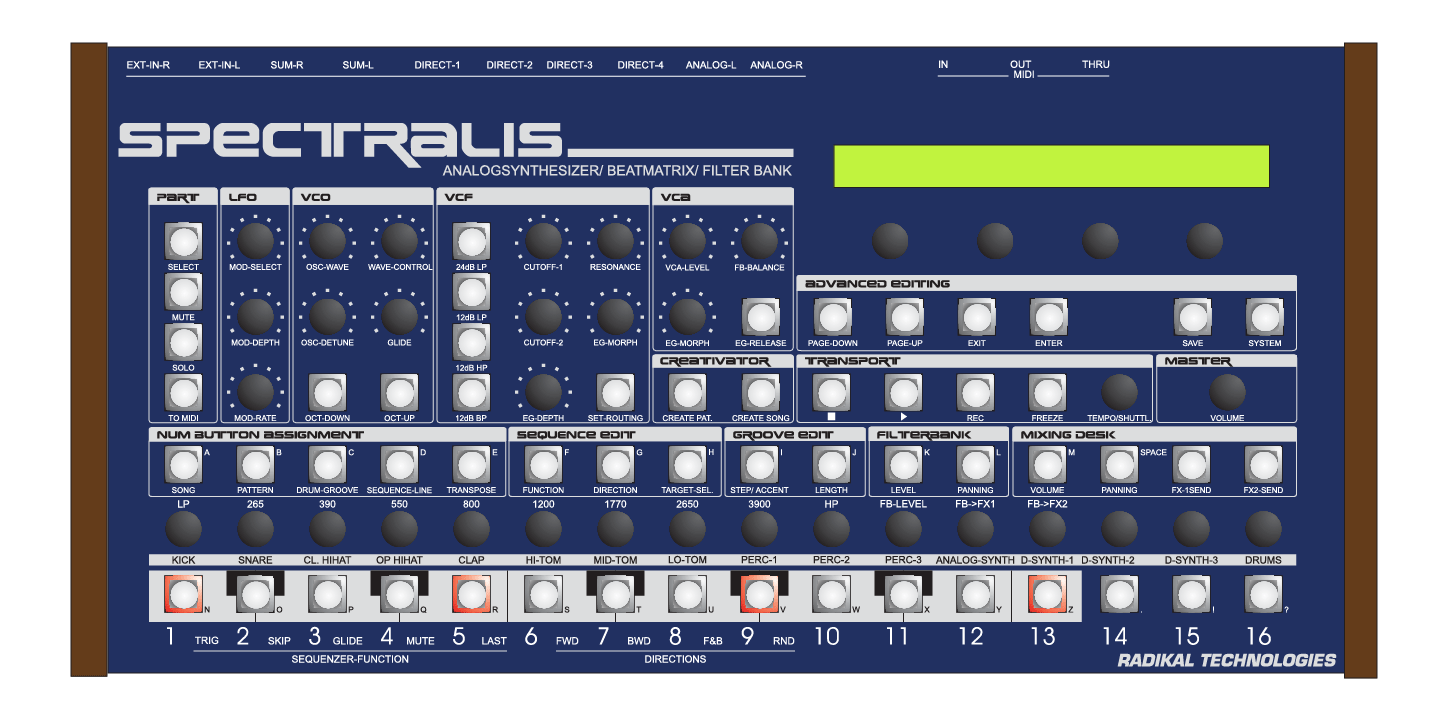 enlarge.. / vergrössern.. hier/here (or click the image)
thx to jörg schaaf for pre-pic. dies eine zwischenversion :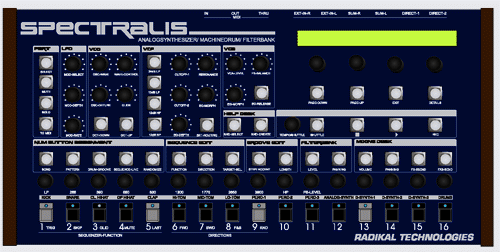 ALTE PROTOTYPEN im MESSE-PRE DESIGN: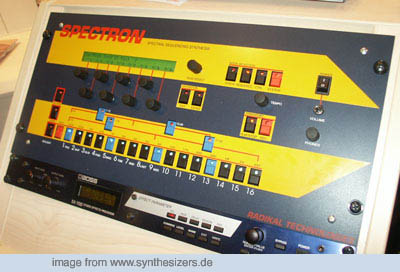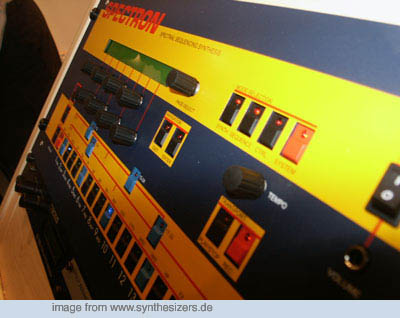 das konzept (32 track sequencer , unterschiedliche längen bis 600bpm)
2 filter, analog,crossmod, alles PRO STEP programmierbar!!..
rom abteilung 48stimmig und 8band filterbank mit lpf und hpf DAZU!!..
ist sicherlich spannend
alles STEUERBAR PER SEQUENCER!! .. pro step, endlosregler, CC steuerbar
all parameters can be set PER STEP, so you can control up to 32 events..
including the filterbank ,waveforms etc.. up to 32 tracks (do not need equal length! independent length of each track and up to 600 bpm so you CAN use the sequencer as a "timeline" or "megaenvelope" to control parameters..)
spectralis – analogsynthesizer – beatmatrix – filterbank
INFO AUS DER LETZTEN QUELLE:
Vom 18. bis 20. Juli 2003 wird der Spectralis offiziell der Presse und dem Fachpublikum vorgestellt.
Zur Zeit arbeiten wir auf Hochtouren um eine möglichst beeindruckende Produktpraesentation sicher-
stellen zu können.
Besonderer Mittelpunkt der Demonstrationen wird das interaktive Benutzerinterface sein, dass es
ermöglicht, den DSP Teil der Tonerzeugung mit den gleichen Steuerelementen zu bedienen, wie
die analoge Tonerzeugung.
Die DSP Engine stellt 2 Multimode Filter zur Klangformung bereit. Daher lassen sich die folgenden
Filter-Konfigurationen in dem samplebasierten Synthesizer realisieren:
12 dB Tiefpass
12 dB Hochpass
12 dB Bandpass
24 dB Tiefpass
24 dB Hochpass
Die Filter stellen Resonance bis zur Selbsoszillation zur Verfügung. Da der Spectralis die kompletten
Klangparameter auch fuer die einzelnen Drum Spuren zur Verfügung stellt, ergeben sich umfangreiche,
rhythmische Klangformungsmöglichkeiten die, in Verbindung mit den Stepsequenzern auch ausgefallene
Grooves möglich machen. Kurz nach der Summer NAMM in Nashville werden wir fuer Sie eine Seite einrichten,
auf der Sie sich die ersten Klangproben herunterladen können.
Spectron -> Spectralis – Warum die gründliche Änderung des Konzeptes?
Auf der diesjährigen Musikmesse haben wir den Spectron vorgestellt – einen analog aufgebauten subtraktiven-
Synthesizer mit einer Filterbank, dessen Parameter über einen klassischen Stepsequenzer gesteuert werden
können. Warum sind wir von diesem rein analogen Konzept abgewichen?
Es gibt mehrere Antworten auf diese Frage.
1.) Der Preis
Ein analoger Synthesizer ist nicht billig aufzubauen, gerade wenn er Klangmöglichkeiten eines Modularsystems
koppelt, mit einer umfassenden Speicherbarkeit und Reproduzierbarkeit. Der Spectralis benötigt ein Meer aus
Analogschaltern und Digital/Analogwandlern, die eine freie Programmierbarkeit des Synthesizers ermöglichen.
Doch wer ist wirklich gewillt, fuer eine im Grunde monophone Synthesizer-Stimme so viel Geld auszugeben?
Zwar liegt der Spectralis sicherlich deutlich unter dem Preis eines Moog Voyager – trotzdem denken wir
ist es nicht sinnvoll, nur die Liebhaber analoger Modularsysteme im Auge zu behalten. Deswegen haben wir uns
im Frühjahr dazu entschlossen, dem Spectron eine DSP Tonerzeugung mit auf den Weg zu geben, die das ganze
Projekt auch im Sinne des Preis/Leistungsverhältnisses in einem vernünftigeren Licht erscheinen lässt. Der Spectralis
besteht nun also aus zwei Instrumenten – dem analogen Boliden und dem DSP basierten Synthesizer mit Schwerpunkt
auf Vintage-Synthesizer-Sounds und Schlagzeugklängen klassischer Drumcomputer .
2.) Das User Interface
Auf der Musikmesse wurde uns recht schnell klar, dass das User-Interface des Spectron nicht unbedingt dazu
geeignet ist, flüssig neue Sounds und Effekte zu programmieren. Ausserdem wich die anfängliche Begeisterung fuer
das etwas eigene Design schnell der Ernüchterung, dass der Spectron so richtig Scheisse aussieht. Ein komplett neues
User-Interface musste her. Da es dummerweise auch noch eine ganze Reihe anderer Produkte gibt,
die den Namen "Spectron" tragen, haben wir uns zu dem kompletten Redesign entschlossen.
3.) Die Filterbank
Die Filterbank liess sich beim Spectron ohne Zuführung eines externen Signals nur fuer die monophonen Signale
des Analog-Synthesizers nutzen. Reizvoll ist aber ebenso die Verfremdung von Akkorden oder die Bearbeitung von
Drumloops mit der sequencergesteuerten Filterbank Doch es wäre doch schoen, wenn diese Effekte auch ohne
Einspeisung externer Signale moeglich wären. Dies war ein weiterer ganz wichtiger Grund für die DSP
Ergänzung.
4.) Der Spassfaktor
Eine Benutzeroberfläche, die das Arrangieren nicht nur ermöglicht sondern tatkräftig unterstützt – Konzepte, die
erfahrungsgemäss einfach Spass machen. Im Livebetrieb neue Rhythmusstrukturen eingeben, Lautstärke-Anteile
mischen, transponieren, Songsteps dynamisch verlängern, feste Strukturen unterbrechen und interaktiv verändern –
das sind nur ein paar der mannigfaltigen Möglichkeiten. Der Spectralis wird natürlich nicht alles
können – aber sicherlich eine Menge so richtig gut. Die langjährige Erfahrung im Bereich der Entwicklung
interaktiver Benutzeroberflächen wurde beim Spectralis in vollem Umfang eingebracht.
Spectralis – aktueller Stand 11.07.2003
Die Entwicklung der Analogen Schaltungstechnik ist weitgehend abgeschlossen.
Die Erstellung von Multisamples und Sounds fuer die DSP Sektion hat begonnen.
Das User-Interface und die Frontplatte ist abgeschlossen. Die angehängte Datei gibt Ihnen
die Möglichkeit einen ersten Blick auf das reale Gerät zu werfen.
Die grundsätzliche Sequencer-Engine steht.
Die DSP Tonerzeugung und die analoge Sound-Engine ist mit gewissen Einschränkungen betriebsbereit;-)
Status: Prototype
radical technologies spectralis
proto name was:spectron (maybe will be called spectrolin)
audiodemo-movie – not best quality..
another info pdf. and the final design spectralis / infotext
NEW-NEU:deutsche komplettere und neue info bei radicalder spectralis hat nun sein finales äusseres bekommen, genauere specs und infos als PDF gibt es hier spectralis PDF info
weiteres pdf. für den TEXT.

•4 VCOs analog
•2xVCF, diskrete bauweise, analog (2 stück 24dB/oct und 12dB/oct multimode)
•rom sektion: 48stimmig mit eigenen samples (per smart card einladbar, es gibt 2 laufwerke an bord!) mit drumsounds und diversem basismaterial
•sync (VCOs)
•filter fm
crossmod / FM der VCOS (lin und expo)
•8 BPFs und je einen HPF und LPF als "nachbearbeitung" (filterbank!)
•32 spur sequencer, hier kann JEDER parameter pro STEP genau gesteuert werden, kleine hüllkurven gestartet werden, es können steps ausgelassen werden (live!!) und auch unterschiedliche längen der einzelnen spuren ist möglich..
•der sequencer ist für drums (TR-ähnlich) und auch für melodien geeignet (step mode!)
•random generator für zufallspatches..

HARDWARE
Texas Instruments TMS320C6713BPYP200
Floating Point DSPs. one DSP for the Sampling Engine + Effects
the other DSP for Hybrid-Synth + Filterbank.
Renesas M16C Controller (Processor)