after the crowdfunding event it's finally there – a new sequencer concept on OS X which is basically classic 32 step sequencing.. about 110€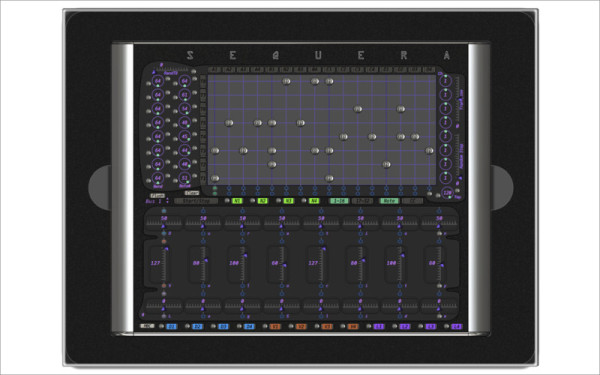 * Concentrated, 8 track by 16 step grid (up to 32 steps).
* Super fast note composition, erasing and switching.
* Pitch transpose.
* Mechanical LED-look ruler.
* Note positional randomization.
* Another randomization feature for notes on the 8th track.
* Completely selectable steps to be looped.
Sequera from Juno Ju-X on Vimeo.
there's also a little timing tool called accuLag that allows to microtime-shift individual steps/beats..
the developer says
"Especially about accuLAG, I still can't test with older hard drum machines just because I don't have them now. But I think it should work with them and look very forward to see how it lags their rhythm. It magically slide timings of basically any Midi clock based machines or apps."
there's 2 more apps "midiBUG" and "midiPLY". ..