Yamaha Synth overview.. RS7000 / RM1x – SU700
Yamaha RS7000 Luxury sampling-Groovebox 64MB ram, and only one for real-time performance in the early 2000s, still.. basically it is the same as the rm1x like before the 1.2.. the grid (chase light) did not work in real time and the filter modes were reduced to lpf only.

(D) . Luxus-Groovebox mit Sampler und Synthesizer mit Vollausbau des Arbeitsspeichers (64MB).
generell ist sie wie eine rm1x aufgebaut, aber die rm1x hat keinen sampler und es gab auch nie das 1.2 update, daher etwas eingeschräntkter.. der vorgänger rm1x sieht so aus:

<– Yamaha RM1x –
klicken zum vergrößern, dank an Kaneda dafür….
the rm1x has no samples, but is a "rompler" lke the cs1x , the rest is identical to the rs7000 with some expansions, especially the SAMPLES and remix function that allows to re-arrange all samples in a beat (remix function). to me the rom sounds a somewhat muffled sounding, the sampler is great , just like the A-series.. it has 2 dynamic pads and FX (not perfectly integrated from the routing side of view – but usable)
die rm1x hat keine samples, ist aber sonst der rs7000 identisch, solang sie unterhalb der OS Version 1.2 liegt, denn sie hat noch den eingeschränkten Lauflichtmodus und nur LPF filter.. die romsounds sind etwas muffig.. zurück zur RS7000..

current RS7000 OS is 1.2 and added lots of live features and multimode filters (BPF,HPF,LPF,Notch) and switchable edit/realtime recording/chase light mode while playing..

zzt aktuelles OS ist 1.22 und auch sehr sehr empfehlendswert, sie nicht unter 1.2 laufen zu lassen.. die rs7000 entspricht den möglichkeiten des vorgängers rm1x bei OS unterhalb 1.2!! .. verbessert wurden vorallem filter modi und live recording umschlatungsmöglichkeit und damit mehr performance.. Testberichte in Keyboards 9/2001 Seite 124, Keys 3/2002 Seite 46.
Die RS7000 hat einen Sequencer mit Performanceorientiertem augeklügeltem Arrangement – System ,welches ermöglicht bis zu 256 Takte lange Patterns zu Arrangieren, live abzurufen und jede spur zu Muten, während des laufenden betriebes, es gibt einen Realtime einspielmode (natürlich auch per MIDI), den Lauflichtmodus ("Gridmode") und Stepaufnahme. Dazu kann man mit dem ,der A-Serie ähnlichen Sampler Recycle-artig, Loops zerlegen und sogar mit den Remixfunktionen neu arrangieren lassen (natürlich auch selbermachen!).. Es gibt Filter (Alle Modi also BPF,HPF,LPF,Notch mit verschiedenen Flankensteilheiten).. Dazu kommen noch die internen Samples, welche eine gute Ergänzung sind und in ihrer Qualität weit über denen des Vorgängers rm1x liegen!!
Die Rs7000 hat 2 anschlagdynamische Pads zumm direkten einspielen zusätzlich, und eine kleine eingebaute 2-Okt-Klaviatur, und Arpeggiator, welche man grade live noch sinnvoll für kleine performances nutzen kann!! natürlich gibt es effekte (reverb,delay und einige andere interessante sachen) , und jedemenge knöpfe für den realtime-einsatz, welche auch aufgezeichnet werden können (logisch!).
Für den Liveeinsatz besonders interessant sind auch diverse msuikalische effekte wie zB takthlabierungen und beat-strech, clock shift und swing, wie man während des spiels wie normale parameter einstellen kann und somit die sequenzen noch interessant und -endlich- auch mal musikalisch veränern kann!!..
Mit ihrem Cardslot für Smartmedia-Cards (sehr praktisch! ich nutze diese zum Verbinden mit dem Mac/PC geht aber auch per SCSI-Festplattenanschluss (eingebaut)) und SCSI Interface ist die RS7000 sehr gut ausgerüstet und sollte sich daher auch eher mit der MPC4000 messen als mit den 2000ern ;)
Außerdem hat die RS-7000 ZWEI (2) Midi-Ausgänge, die sich auch frei zuweisen lassen!
Im Rahmen meines Engagements für Sequencer und neuen Konzepten ist die Rs7000 in jedem Fall ein interessantes Objekt..
eine Idee zu Thema Sequencer unter berücksichtigung des RS7000 gibt es bei Ideen..
das bedienkonzept für den step mode / lauflicht (es gibt auch einen für normale step aufnahme) ist natürlich ähnlich der TR-drum computer ( tr808 , tr909 , tr707 etc.) von roland, also so,wie man es auch beim yamaha dx200 oder jomox xbase 09 oder auch rs7000 oder korg electribe mit lauflicht und steptasten. NUUUR geht das nur sehr eingeschränkt, nur im record mode (ähnlich ungünsitg ist das bei den roland mc maschinen) und auch nicht im vollem umfang machbar.
zum dx200, auch eine interessante kleine "groovekiste" mit dx7 klangerzeugung (FM, 6 operatoren)
OS updates gibt es immer hier (1.22 ist aktuell in 12/2002):
mit:
* direkter Wechsel in die EDIT, Step Record und Grid Mode während des Spielens
* Direktanwahl der Sektionen K-P über SHIFT und Keyboard Pads
* Erweiteter Record Modus: Umschalten von Record zu Playback in Echtzeit
* Erweiteter Grid Step Record Mode: Umschalten der Tracks während des Spielens, Mute / UnMute der weiteren Tracks
* 12 weitere Filtertypen plus neuer Distance Parameter
dürfte also heute wesentlich interessanter sein..

nachtrag:
die rs7000 ist in der tat sinnvoll erweitert worden.. filter haben sogar duale varianten dazu bekommen! sehr gut!
es gibt also doppel lpfs mit offset, und andere kombis, wirklich gut!!.. die hüllkurven beissen zwar immernoch nicht so zu,aber es ist wirklich gut erweitert worden.

umschalten rec-play geht nun auch ..
aber: wenn man im GRID MODE arbeitet hört man im rec mode immer nur EINEN takt und muss den takt manuell weiterschalten.. wieso man nicht einfach alles hört oder einen bestimmten bereich,den man einstellen kann, um den fluss abzuhören weis keiner.. wenn DAS noch reinkommt ist es das richtige. aber es stört mächtig, das ist in den electribes sehr gut gelöst.. ist mit sicherheit reine softwaresache..

und wirklich achja: -reingelegt.. das ist schon drin:
measure hold on := der sequencer spielt nur den jeweils gewählten takt
measure hold off := der sequencer spielt alle takte unabhängig vom aktuell gewählten.

nur leider kann sie kein roll. (nicht schneller als das grid!).. im sinne eines events "maleben".. aber dafür gibt es den groove regler..
aber im grossen und ganzen hat sie mit dem update sehr sinnvoll dazugelegt..
sie ist zzt eine der besten grooveboxen auf der welt.. bei den grossen,da sie den konstruktionsfehler der mc909 nicht hat: diese hat nämlich im TR mode keine change auch play, sondern muss in einem editpuffer editiert werden und lauflicht geht auch nur dann.. da ist die rs überlegen..
ein "trick" die scsi platte zu umgehen könnte DIES sein:
http://www.hantz.com/ASP/NewProducts/Produkte_3.asp?ProduktID=495&CID=0
"Die Wandler gibt es in mehreren Versionen zum Aufstecken direkt auf die 40polige IDE/UDMA
Schnittstelle der Laufwerke oder zur platzsparenden Montage unter den
Festplatten." – nicht geprüft obs geht – ein IDE interface..
---
another groove machine.. ein loop tool:


the SU700

is what is more based on loops than using samples in traditional way like the SU series in general it is made to change tempo of the beats as you change it in realtime..
dynamic pads: 10 and some endless encoders, too..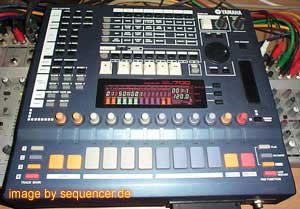 thx to lostweb for su700 pic / click to enlarge..
die SU serie und auch das top modell SU700 ist auf loops spezialisiert und hat 10 dynamische pads.. sie kann auch per endlos reglern gesteuert werden, die beats sind tempoangepasst, also ein bisschen wie in ableton live hier in hardware.. so auch generell in der SU serie ist diese funktion der kern der maschine..mehr zu sequencern / more on sequencers? hier/here
http://www.yamahasynth.com/down/RS7000/RS7000.htm