Yamaha TNR-i TENORI-ON for iPads and iPhones
TNR-i – TENORI-ON – Yamaha has released a simulation of the Tenori-On on the iPad. works on the iPhone, too. 16€ isn't cheap but cheaper than the hardware was/is.
has all modes and functions of the original. it can sync to other TNRs via the Game Center (from Apple). the data on the Hardware SD Cards can be load to the App as well. not said: if it loads a sample stack of 48 sounds as the original and sending MIDI signals isn't clear, but for that price I'd assume it has to…
since Yamaha offer a MIDI connection kit it is very very likely it sends MIDI (iOS 4.3). since the built in sounds are quite strange I just like to check for it's sample upload capability.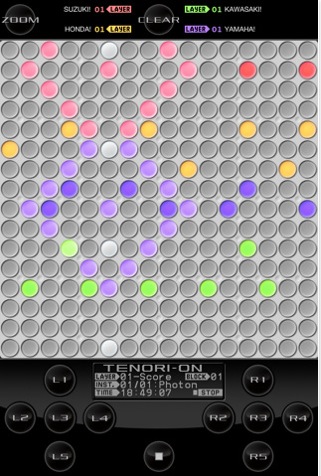 official Codes: TNR-w – the original , TNR-o – the orange LED version, TNR-i – the App.
note: The Tenori-On Hardware (O-Version) was used on my CD "the digital anatomist Project" – last track "Amoebatrons" on the CD and here's another small demo.. –> Tenori On
There is an expensive alternative is this 32€App the Aurora Sound Studio.