ok, just to let you know, expected things to come is the new iPhone, the release of iOS6 and possible the iPad mini (same resolution as iPad2 but 7,6′ display), there are rumours about other things but we'll see if there's one more thing. the mini iPad or maxi iPod Touch might be nice to be more mobile.
Neue Apfelsachen, es werden keine Wunder erwartet, sondern iOs6 und das neue iPhone oder von mir aus iPhone/Neues und vielleicht jetzt aber noch viel(l)eichter etwas später ein iPad Mini mit der Auflösung des iPad2 aber kleiner: 7,6 Zoll. Nicht zu viel erwarten. Vermutlich wird es amazing und insanely great.
UPDATE: Wavegenerator is now in the Appstore, just bought.
UND weil kein eigener Beitrag lohnt:
Achja, war im Kölner APPlestore. Also was ich schon seltsam finde, dass man eigentlich nicht mal eben klar sehen kann ob die Sachen da sind und mitnehmen kann. Aber freundlich sind sie.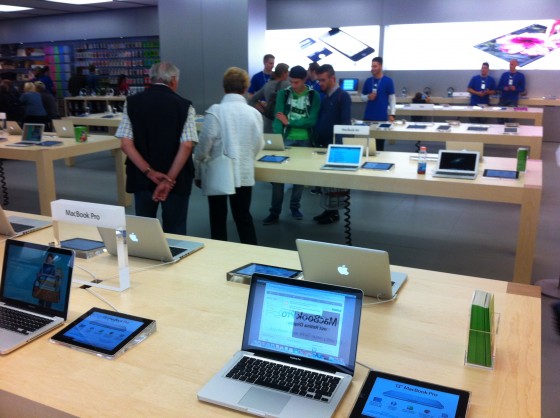 Jedenfalls war das Thunderbolt auf Firewirekabel noch nicht da, aber im Store offiziell lieferbar, das 16GB Protina gibt es als BTO, dh. sowas haben sie nur gelegentlich im Laden, das wissen sie aber eigentlich nicht immer. Trotzdem ist es eine hilfsbeflissene Sache. Man wird fast zu schnell angesprochen, weil da arbeiten einfach viele blaue Menschen.
Ich habe im alten Stil versucht mal eine iPad Tastatur zu finden und ich habe auch etwas gefunden und vergleichen können. Wurde 3x angesprochen. Manchmal finde ich in Ruhe auch mal gut. Aber sicher ist das auch verkaufsförderlich wenn man einfach immer jemanden hat, auch wenn er erst in seinem iGerät nachsieht, was da ist und wo es steht. Deren iPhones scheinen doppelt so dick zu sein, sind ja nicht lange bestromt, wie man weiss, wenn sie mal wirklich arbeiten.
So ein Store ist einfach doch sehr "Shopping Mall" mäßig und passt schon gut dort hin, es ist auch eigentlich angenehm. Aber naja, ich habe noch keine Tastatur gefkauft und auch nichts, was praktisch ist damit das iPad auch damit zusammen gut verpackt werden kann. 69€ für so eine Remotetastengruppe? Mir reicht USB, mein großes KB mit Hub funktioniert übrigens am iPad (gepowert über den Hub, sonst geht es nicht), aber die kleine Tastatur gibt es gar nicht als USB / Kabeltastatur, eigentlich finde ich die besser, die brauchen keinen Extrastrom. Für das iPad darf sie auch kaum Strom ziehen. Tja. und am besten beides noch gut verstauen können. Aber egal, ich wollte ja nur sagen, dass am 12. zu meinem Konzert in Bochum bei der Ars Urbana auch Apfelsachen rauskommen, komm doch einfach vorbei…
so, noch persönlicher kann ich einen Bericht nicht schreiben. Sagte ich schon, dass alle Apfelläden recht austauschbar ähnlich sind? Aber das ist natürlich bekannt. Hach, so ein 11″ Air ist ja niedlich, nur für alles zu langsam, was mich interessiert. Und auch das ist Apple- man findet es alles irgendwie cool, aber der alte 2006er Intel tut es ja noch und überhaupt, alt ist man nur so wie man sich fühlt, das gilt grade auch für Macopis mit Intelschrittmacher.