most expensive Apple Macbook Pro: TouchBar / TouchID – "there is no escape" – 27.10.
UPDATE – Macbook Pro 13 & 15″ – Touchbar & Touch ID, 4x USB-C

6.8 mio times faster than the first book ;)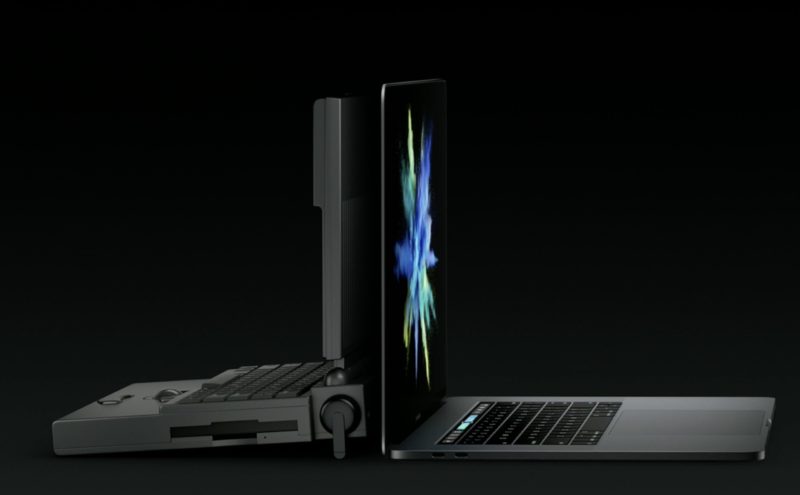 the new macbook pro's – are here. 13% less volume that macbook air  – oops. 2kg 15″ max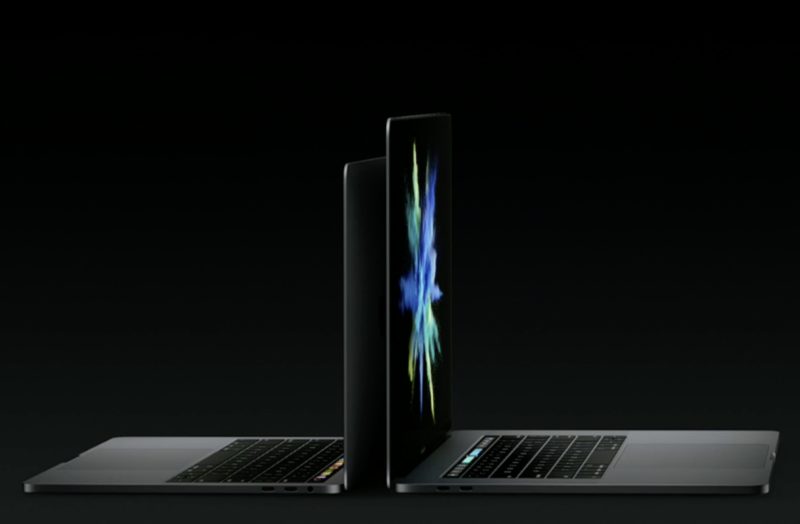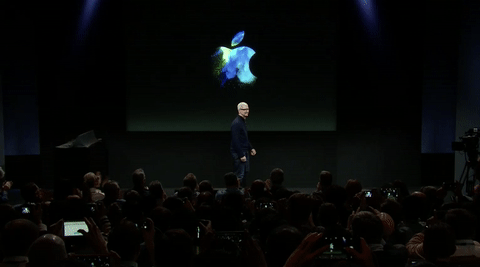 interesting stuff with touch bar – sampling – djing–
touchbar tracks 10 fingers!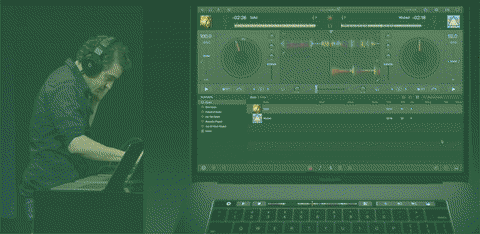 19:20
new small things like TV app on Apple TV, but that's nothing more than – a directory, hub .. anyway – I don't own a Tv so..
available now / 2-3 weeks!
now  – the Mac after 25 of Mac (Laptops) – nice one: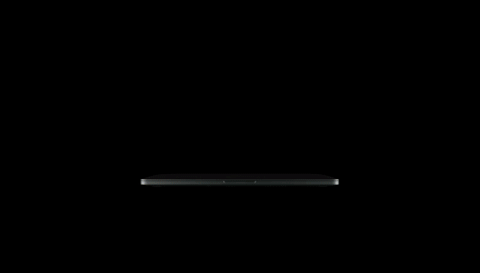 the new function key OLED strip – TouchBar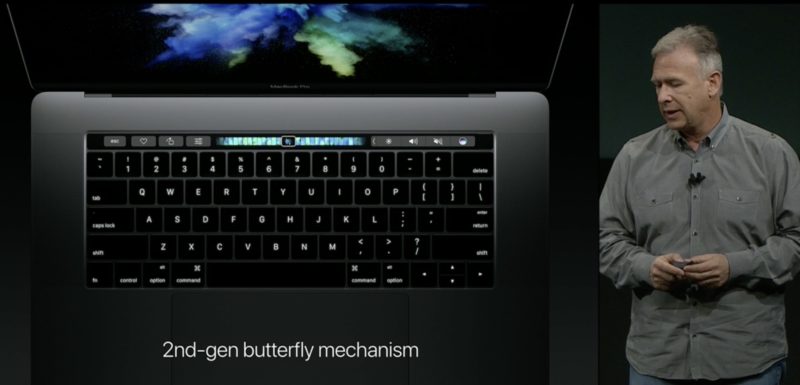 and touchID is in as well – behind the power button (top right)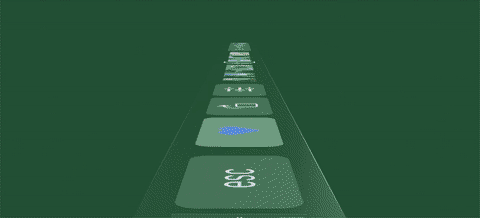 word replacement within the strip..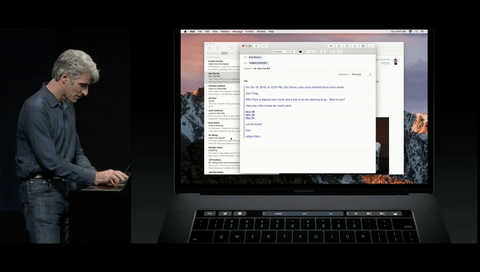 sliders as well for synths and video editing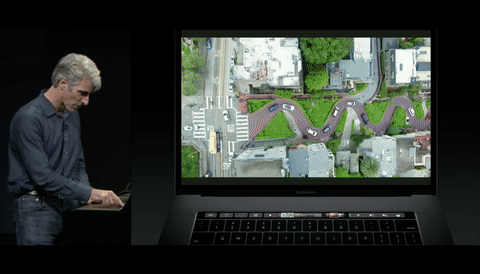 customize it..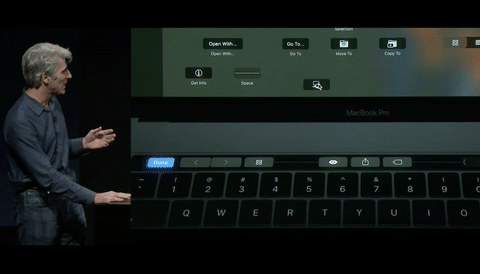 i7 4core – 3.1 gb/s SSD
faster gfx – updated.
2 fans
4 speakers
there are audio jacks!
big touch pad
13″ is still 2core only, 15″ has 4cores.
2x 4K or 1x 5K Display via one USB-C / TB3 Port – the 15″ has 2 TB controllers, the 13″ has only one!
LG UltraFine 4K Display – 750€
LG UltraFine 5K Display – 1,3k€
2.699,00 € // 3199 Euro – still not cheap and never will.
so it's 15″ 4core or nothing / the Microsoft way..
4 USB – C  can be these… any of them!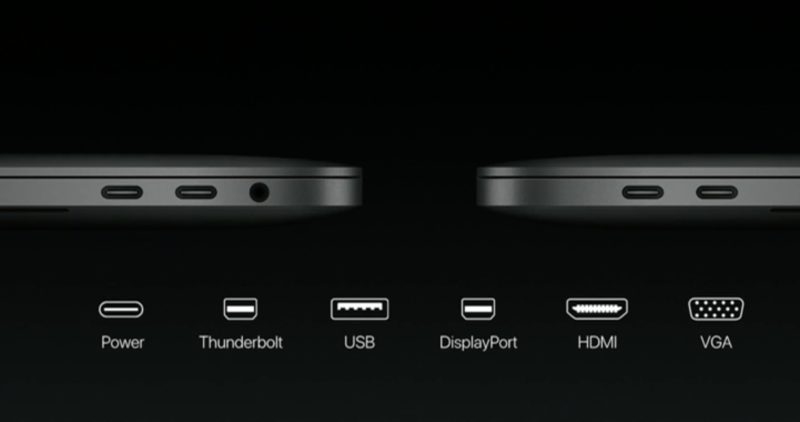 USB-C – you need 25€ per port for USB Type A – there are quite a lot of adapters so you need only "one" cable but – trst me – you need 100€ to be able to get everything to work. and they are really expensive- apple is known for that! so the 4k€ is just without the ability to connect things – nothing has usb-c these days – but might change – since apple computers will be usb-c all the way. so – let's see..
for plugin-intensive musicians: don't buy a 13″ Macbook, it has only 2 cores and is quite expensive – makes no sense at all. that one would be 3280€ with decent 1TB SSD, fastest processor – you can step down 120 and another 120€ (2 steps) with speed. but it's still 3k€ für something that is "usable" in a sense of pro audio – so – the 13″ makes no sense to me since it is half the power of the 15″ for almost the same price.
– video people – 13″ has no dedicated graphics and only one TB controller for 4/5K displays..
it has 3 TB 3 ports.. via USB-C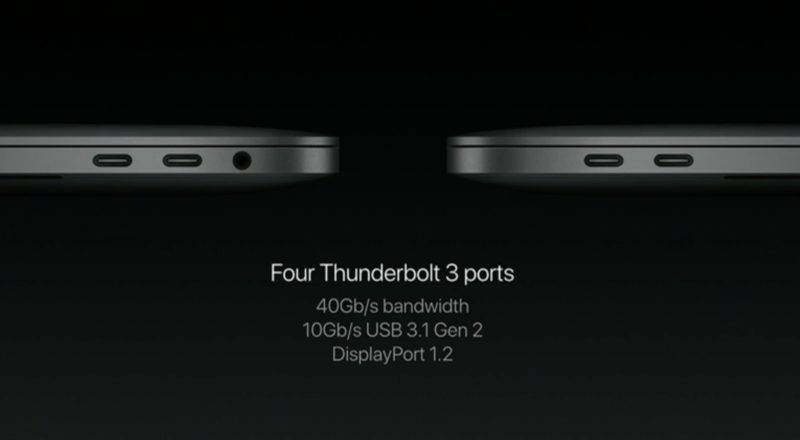 new speaker system: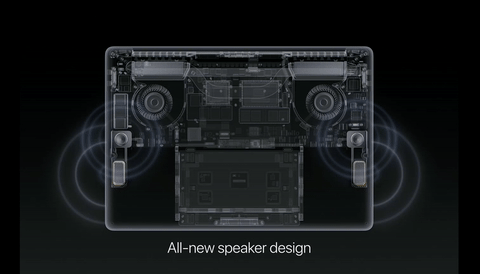 the 13″ is 2 core..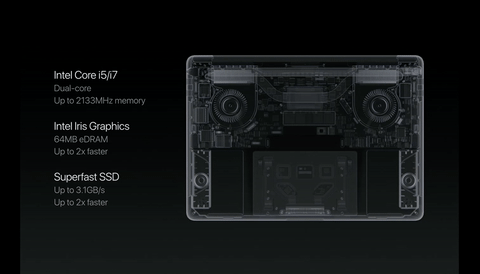 fans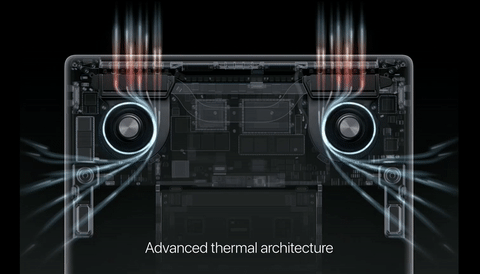 hey, this looks pro – 1 USB-C feeds a 4k screen (LG in that case – Phil says)- charges the book as well via the same cable – this is cool! that display will be at 1.3k€ – which is ok for a 5k display.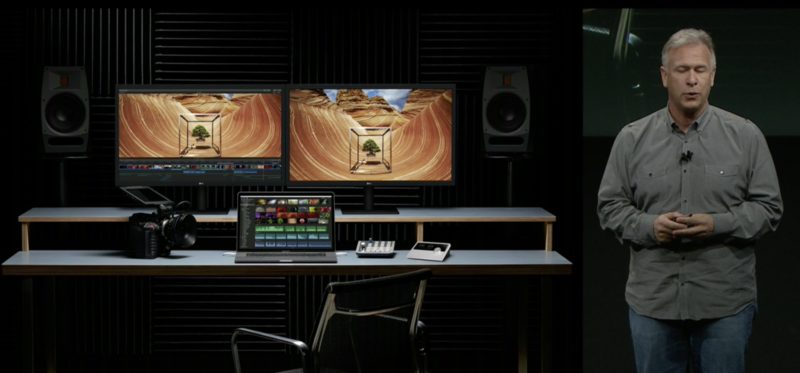 try this with logic or ableton live..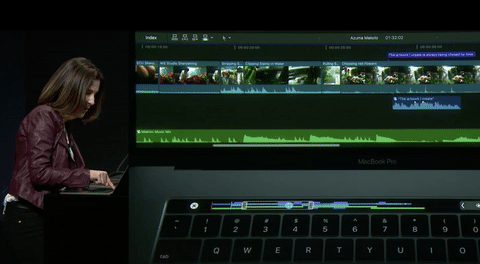 ok, here's a slider – touchpad and touchbar to be used in a DAW or synth – could be super cool. want!!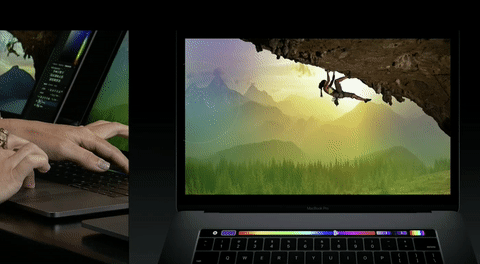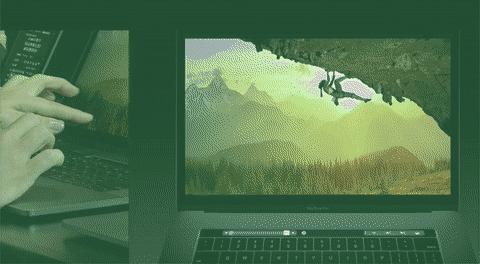 the bottom line is –
we did not see any other new Macs – so expect them to silently update to more speed or being skylaked etc. – no changes – but – to me this means more or less death to the Mac Pro and Mac Mini since they are so outdated and rather uninteresting – so the MB/MBPs being the focus, the iMac follows and the rest is .. history?
but – that new MBP seems to be interesting to what software might do with that strip and stuff – here I am more positivly triggered since they also showed off things that are pretty cool like zoom overview – imagine that in our daws, synths and stuff..
well – you need a lot of adapters – we'll see what will come up next since usb c might be the primary interface – and audio interface makers like RME, MOTU etc. should offer cool things with a little space to add a simple controller behind it or so with usb c – then, some of them only offer TB for macs and USB for windows/PCs – might not be a good idea from now on!
power users will do this:

click the 15″ – quadcore – choose 1 or 2TB SSD.
not a video user? get the low profile GFX – save money: 120€
go to 1TB minimum for SSD (480€ – superbad apple pricing! what
makes it really expensive!)
processor: well – the fastest one – is 240€ extra.
so the one with all clicked except the 2TB SSD will be 4.039,00 €.
this isn't for ppl with no money!
and it is horrible to work with less than 1TB – but you "can" ..  would bring you down to 3560€ which is a bunch of money, isn't it?
how to get it more affordable?
so you could reduce to 3200€ and have a nice machine – but with too less SSD capacity and need to add an external one for SURE if you use libraries and stuff. so the 1TB "step down" processor set with 1GB SSD will be 3680€ – if you don't have it – Apple is no longer interesting – switch to Windows.
that's hard!
of course you CAN step down more – but I don't see any sense in buying a 2core – except if you do not NEED the power.. like just recording and no need for too many synths or .. less power consuming ones – no analog emulations, just some little real digital ones like the Arturia Synclavier (love it) and FM stuff – simple things but not too many of diva, fxpansion synthsquad and roland .. which are the coolest but need power – of course you still can use one or 2 of these without problems, but … well – I'd really be worried if I ever went for a 2core ..
so it's the money that will dictate how much power you will have – and – musicians aren't rich – mostly – so .. I assume this might change the apple dominance a bit or .. they / you just keep it with macs but not the fastest one. right?
so – this is a great machine but it may be the most expensive macbook pro ever made – so.. since the price is relevant to us..
I think – good thing to have but – quite unaffordable to most of us – going to the windows camp, then?
3.5k to 4k€ for a decent computer is quite something.
there ARE laptops out there for 1.5k€ – but all running windows – and don't even
so – it's basically too expensive – even the simpler ones.
that's people leaving for sure.
Adapterchaos
==================================
was bisher geschah…
hier wird es ab 19:00 minütliche Updates geben und gegen 21:00 alles zu lesen sein über das, was Apple an neuer Computer Hardware zu bieten hat.
Hier eine kleine Zusammenfassung, was zu erwarten ist – alles nämlich – sie müssen viel nachholen. der jüngste Mac ist noch der iMac – alle anderen sind im Status "don't buy" weil – veraltet. Besonders der Mac Pro, der Mini und die Pro Serie der Books, auch das Air ist schon betagt.
Diskussion dazu vorher, nachher und jetzt: 27.10. Stream – Neue Macs @ Keynote – no escape!
what happened so far..
19:00 – Apple Keynote – "hello again" refers to the introduction of the first Mac Classic – it introduced itself with speech – so does Siri on the Mac and that logo is quite Mac Pro'ish – which is that old computer some Pros remember from those times in 2013 – Apple clearly gave multiple fuck you's to the pro world in many ways – also – we had a hard time with small SSDs and RAM – aaand adapters – lots of those cables, an iPhone without audio outputs – except using that adapter again –
that Macbook will feature a row of OLED Displays as keys, the escape key has gone as well with all the function keys replaced by that strip of freely configurable touch key/display things we heard on many of those mac fan sites – as well as – there will be just 4 USB-C ports and possibly nothing more – they all feature everything – Thunderbolt (3 is expected), Power, Mini Display Port, Audio, USB 3.1 within the C-Connector – which is a reduction – imagine your audio interface on one port, a monitor on another, the power adapter on the next one and the last one is for keyboards, controllers, synths – so it may be hard to choose from – magsafe has gone on the Macbook 12″ – we expect Apple to renew all Macs – since they are all sort of outdated –
the mini had no 4core compared to the 2012 model, and.. the Macbook Air still has no retina display – so they might rethink the whole range and maybe drop the 11″ one  – note that the Air series is much faster than the MB 12″, since it has a real i7 processor and still has vents and 2 USB connectors – it is not THEEE audio machine but the MB12 is rather slow and not made for pro users at all.
ok – here's the updates which will be updated which the keynote takes place – thursday – 19:00 (euro time)
UPDATES 19:10 (central euro time) – THURSDAY 27.10.:
—> HERE.. <– s.o.o.n.