Der JV1080 als Software – total interessant, aber es gibt ihn nur in der Cloud, also als Abo – genau so wie Jupiter 8 und Juno 106, nur als Hardware oder eben Abo, was Roland eben "Cloud" nennt. Roland JV-1080 – Jetzt in der Roland Cloud

ggf. ist man nach 1 Jahr allerdings Besitzer der Software, bekommt aber auch keine Updates.
Das Prinzip wäre dann 200€ im Jahr und das Ding gehört einem. Das ist dann "okay", wenn es für die Gesamtheit aller Synths dort ist, zahlte man für alle zusammen 200€ – was dann wieder wenig ist. Und die haben die Garantie dass sich das lohnt, allerdings für EINE Software sehr viel Geld, wäre das für alle Plugins und am Ende hat man 200€ für alle gezahlt und friert diese ein – wäre das ok. Das muss man noch herausfinden, wie das Prinzip ist..
Wer wieder updaten will, muss aber irgendwann wieder einsteigen und hätte dann nach 1 Jahr erst das Geld wieder raus bzw kann vorher nicht "raus", was dann wieder etwas speziell ist, da strategisch zu handeln.
Wird aktuell im obigen Link diskutiert.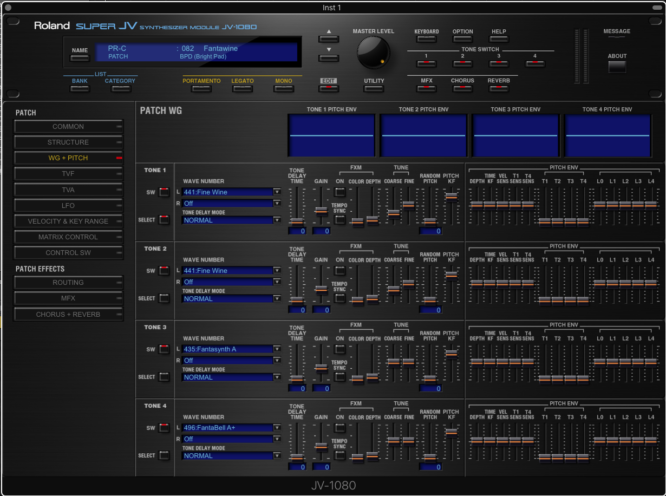 _
Roland still completing a lot of cool synths like the Jupiter 8, Juno 106 and newly the JV1080 – a 90's standard to studios everywhere in the "MIDI time" of racks – it's a 4 layer synth where 2 of them can build ringmodulation or add 2 filters or ringmod at 10 positions incl boost – all in software but – it's only available to those who invest $10 monthly which is still a lot. you can only use them when you are in "that cloud" means you can install it bout not use it anymore.
but you can't buy those synths but install them all – so the key is that cloud access. the sound is always absolutely brilliant but not owning yours synths isn't – don't you think? ah – maybe it's that one: after 1 year you own the software – so it's price is actually 200€ then, but it won't be updated from then, if you want you need to rejoin.
aaand – it may be that it's for all plugins – so 200€ to own incl a Juno, a Jupiter and all those known very very good sounding synths are 200€ a years all together isn't a bad price anymore.. so. what do you think?