Korg has just announced 2 new Electribes that are more successors of the ESX and EMX series, Electribe Sampler 2s and Electribe 2 (like Apple: the new Electribe) both are subtitled as  "Music Production Station" (MPC) – they are digital – they both got MIDI of course and can be battery driven. Sync via mini jacks that fit well with the volcas (analog sync). The MIDI jacks are connected via a cable/adapter – that's why you can't find it anywhere..
and they talk about "integration with Ableton Live" what ever this means when you look at it super closely.:
-> seems there is an export for patterns that lets Live play it as well. scenes and clips.
475€ – official price – so it may be somewhere around 400-440€ in the shops..? – coming 2015, and we do know it's not every1 being served in the 1st batches when ordered.
Feature Box:
it has 16 parts (tracks) so one big point has made it into the tribes..
it has step loops so you can just take a part of a pattern or track/part to be looped –
999 user samples makes a lot more room – the RAM is 270mins mono, means – that might be 44.1khz uncompressed data which may be the limit before 9999 samples are filled up with useful stuff incl loops. no! it's 48kHz now, so sounds better and no tubes which is FINE! 24 voices – 16 parts/tracks -the voices seem to be kept the same but 16 tracks is a lot more.
250 pattern memories – so 6 less then before – very ok.
buuut – only 4 bars = 64 steps – unfortunately, so this is not made for ambient music when it is about all tracks are scaled the same – maybe works when tracks can have different scalings and double the time and therefor the length.. so this is one step BACK ;(
Last Step can be varied for each part and therefore be independent.
DYNAMIC Pads! Great!! very appreciated!
USB is in of course.
time slice can be used, so there is some sort of new slicer aboard the sampling tribe
aaand something that offers modulation patterns that can be selected via 3 parameters – maybe nice for having some quick "up and down" preset for cutoff, etc..
and still motion record – so looks like nothing got lost while reading – but no1 had hands on the new tribes, handling is important.
there is 2 FX knobs now – IFX and MFX – so there's master and insert FX now.
and AD/R Envelopes.
but seems there is a different way to choose mod sources / targets or less than before since there is just one MOD section – we had ENV and LFO before, so we need to guess so far – but since that knob below reads "speed" – these may edit multiple sources – which is new to the tribes.
so to me and for the first time seeing – it is a lot of light I see at the end of the tunnel – almost everything is updated to the better – but 64 Steps Limit is a negative thing – lots of other things can't be told until I've seen one and used it and just one ENV and no LFO would'nt be fun as well – but not sure ..  both tribes appear to have the same controls. so I guess it's still – synth or sampler you choose from. control and performance aspects can be seen and look interesting but – again – it's too early to really tell something more like expectations and speculation ..
but that knob beside the Oscillator one seems like the control center with edit and exit – menus. and shift may allow to double the on board controllers for "things" (like addressing either  LFO or ENV by holding shift – or not)
in theory sampling can be made "live" – but we don't know yet. it's all there:

and they got Pads as steps – so this time they might want you to select Instruments via Pads and then set those steps – that's why there's more buttons above the Pads that seem to have heard my crying about dynamics – since these are dynamic as well.
KORG electribe MUSIC PRODUCTION STATION
and now the Volca Sample…
samples are being fed via iOS App. So be sure you have some iOS Device..
http://www.korg.com/us/products/dj/volca_sample/ Volca sampler – adds another Volca with Sampling..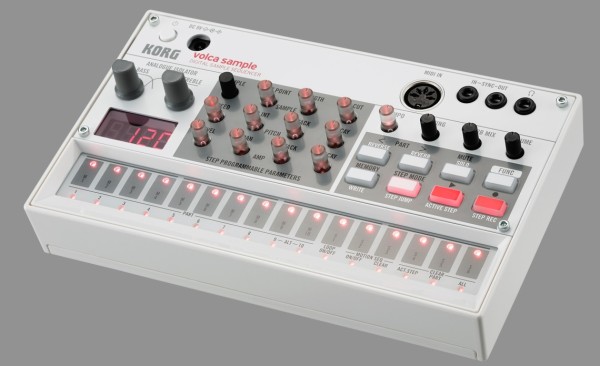 Links:
http://www.korg.com/us/products/dj/electribe_sampler/ Electribe Sampler
http://www.korg.com/us/products/dj/electribe/ Electribe Synth
and new Sampling Kaos Pad Mini 2s http://www.korg.com/us/products/dj/mini_kaoss_pad2s/
https://www.youtube.com/watch?v=90qXyvfP-to KORG mini kaoss pad 2S ("S" for sampler)
..und im Forum darüber reden? Neuer Korg Sample Volca und 2 Electribes
Korg Electribe ESX-1 vs 2S, alt vs. neu, SequencerTalk Monolog, Electribe Sampler 2s Groovebox