it's true now, the thinnest macbook ever will come true. it's no longer a rumour.
1.3kg, very thin (as expected).. and.. 80GB HD or 64SDD, multitouch 13″ screen (so it is not so small, just thin)
Want to see it yourself?
Talk @ Forum: https://www.sequencer.de/synthesizer/viewtopic.php?p=239827#top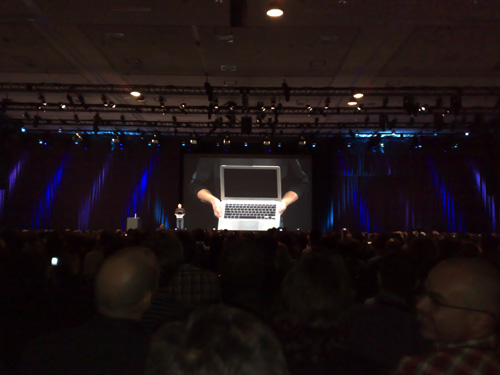 pic: again (C) mactechnews.de
1.6 / 1.8 Ghz Core 2 Duo – iPhone like Multitouch – GREAT!!!
no CD/DVD – charges $100 as a separate device, USB2, audio out, 802.11n, bluetooch 2.1/EDR
Remote Disc: Use another DVD of another mac possible.
45 Watt Power (thats not so much, cool!)
DVI for Monitor, LED BAcklit, Firewire??? seems no..!?!?
5hrs batteries – I assume that means 3hrs in reality ;) as always..
more soon ;)
__ Now the real prices – who cares about USD over here?..
Mit 1.699 Euro kostet das kleine MacBook Air, 2.868 kostet das Gerät in der Top-Austattung mit SDD als Festplatte.
http://www.apple.com/macbookair/