Moog Duophonic Synth Sub 37 – der bessere SubPhatty!
this has been posted by Moog which is marked as SUB 37 Paraphonic – even though it is DUOphonic. That means you have 1 Filter and control of each VCO by 2 played keys – so this is controlling overtone control or pseudo 2 voice action
black proto type – that one in the video has a display – the final one seems not.. but so many controls that makes the Sub better..
Added to SynthDB:
Moog Sub 37,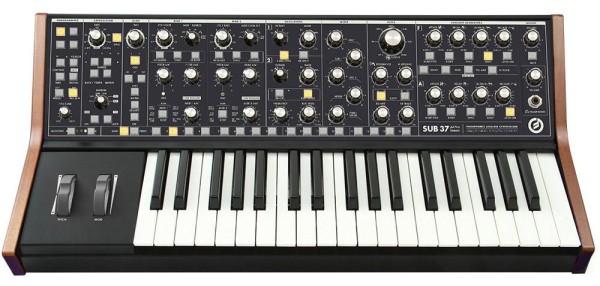 UPDATE: This appears to be a duophonic concept. so this is not paraphonic – so the 37 keys make absolutely sense and you can play your 2 OSCs individually – very good choice. 

Well – it looks like this and derives from the Sub Phatty Concept – therefore it sounds more like it and maybe has digital OSCs or possibly really a load of 2xX OSC on board? we'll see. but coming close what ppl may want – some more voices. And they got back FM & Filter FM
this is no Memorymoog or Polymoog, hmm, wait – the Polymoog-one is a bit more suitable yes but no but – a nice way that also adds the controls needed – arper and LFO hopefully not just controllable via wheel but also as part of the voice as a modulation which is THEE moog downside, everything else is pro Moog ! it is so nicely scaled and sweet spotted – so I expect this moog to be very very cool.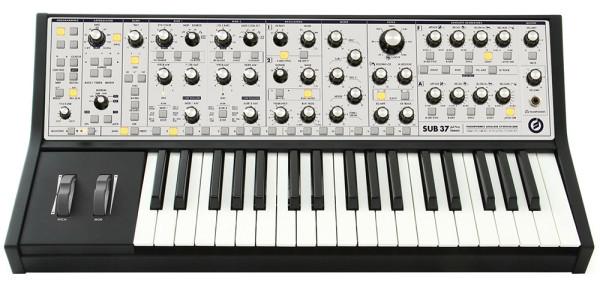 der neue Sub37 hat eine duophonische Steuerung, dh – man kann mit 2 Tasten verschiedene VCOs getrennt spielen. Das ist für Sync-Sounds interessant  (Ringmod gibt es nicht, aber FM). Es gibt hier 2 LFOs und dadurch ist er deutlich interessanter als der kleine aber trotzdem übersichtlich. ->Moog Sub 37 Tribute?
Und hier kommt man direkt an der Arpeggiator und hier hat Moog dazu gelernt.
Sammlung aller Neuheiten und wilde Meinungen zu ersten Meldungen gern hier Forum • 23-26.1.14 USA, NAMM 2014.
Unterschiede zum Voyager:
Plus:
+ Sub OSC
+  Flankensteilheit direkt am Panel
+ Arpeggiator/Sequencer <–!
+ komplexere/loopbare Envelopes
+ 2 komplexerer LFO
+ LFOs mit MIDI-Clock-sync
+ Overdrive + Feedback (V'ger kann gefeedbackt werden über Kabel)
V'Ger: VCO3 kann ein LFO sein.
+ USB Midi?
Minus:
– nur 2 OSCs
– eine halbe Oktave weniger Keyboard
– Envs/LFOs sind digital (allerdings bis 1000kHz)
– kein Pre-Filter Insert fuer externe FX
– kein Dualfilter und Bandpass-Modus
– nicht klappbares Pannel – aber kompakter / leichter
Generell : es gibt FM über das Routing:
SOURCES: LFO, Filter Envelope, Programmable Sources – Amp Env,Osc1/Osc2 Pitch
DESTINATIONS: Osc1/Osc2/Both Pitch, Filter Cutoff, Osc1/Osc2/Both Wave, VCA, LFO1/LFO2 Rate, Noise Level, EG Time. Programmable Destinations – Filter resonance, drive, slope, EG amt. Osc1/Osc2/Sub Level, Feedback/Ext Level.