new iMac . new design. super thin (5mm).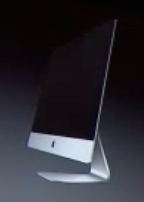 more data: soon.
• non retina. still as known before.
32GB RAM, i7, 768GB SSD, 2 TBolds,
fusion drive: hybrid SSD and HD 1-3TB with 128GB SSD fused to 1 drive.
price $1300, well how much will that be over here.
2.9ghz one also there, $1800.  27″ & 21″
thanks – still has ethernet, 4 USB 3.0 and SD slot on the back (hmm..)
all standard with a slow i5, so you need to choose the i7 first ;) which is 1600€ – 21″ and 2050€ – 27″ plus something to add for the real processor with 4 cores (you need them for audio! don't even think you might save something without)
btw: 100 Mio iPads sold. puhh. but .. that's all of macs!
already mentioned the mac mini is updated to todays tech.. so they're now cool.
but the new iPad 4 will be interesting with it's A6X procressor – but wait until the Cam Connection Kit proves working with USB Keyboards before! ..
__
ok, here's a nicer pic from mtn: