13″ MacBook Pro – from 1699$, – aber bei uns..? hmm..
2,5 GHz, 8 GB RAM, 128 GB Flash storage
2,5 GHz, 8 GB RAM, 256 GB Flash storage
2,9 GHz, 8 GB RAM, 512 GB Flash storage <— den muss man haben
Mac mini
2,5 GHz Dual, 4 GB RAM, 500 GB Hard drive
2,3 GHz Quad, 4 GB RAM, 1 TB Hard drive
Mac mini Server
2,3 GHz Quad, 4 GB RAM, 2 TB Hard drive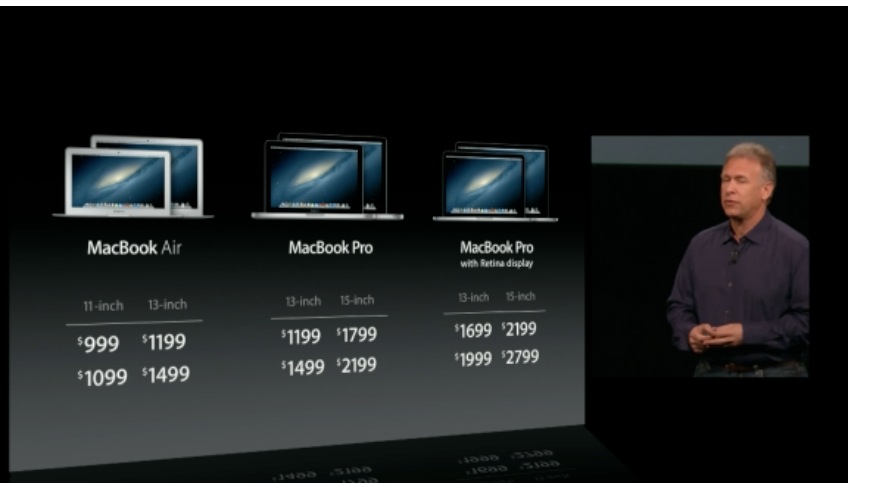 iPad Mini… whatever. 1024×768 pix , 7.9″, very thin – more for reading and stuff, maybe not the music device, I think. but nice.
UPDATE soon.
->via Apple Event…  -> 19:00 euro/MESZ Zeit mit Safari.
-> Forum dazu Der heutige Apple Event…
MUSIKER auf iOS: wichtig: Lightning Adapter wird 30€ Strafe kosten, mal sehen, ob es auch funktioniert, was wir damit wollen.
BEWERTUNG Macs:
Also, da sind sie nun.
Stellt man sich einen brauchbaren MBP mit Retina zusammen, so kommt man unter 2300€ kaum weg, da sonst die SSD zu klein ist oder der Prozessor unsinnig (nur i7 macht Sinn für Audio) und man braucht Minidisplay Adapter und Firewire.
Der Abstand zum großen 15″ ist eine richtige Grafikkarte und 900€. Der Abstand zu den "alten" Macbook Pros ist doch eher deutlich, besonders wenn es um Festplatten geht. Hier kann man auch mit dem Air arbeiten, allerdings ist das für Musik nicht direkt gemacht, da ihm kaum Anschlüsse gegönnt sind und man braucht ja leider viele USB und mind 1 Firewireport für ein vernünftiges Interface, wenn man internes Audio nimmt, dann würde das zu dem was an USB muss reduziert oder man hat auch ein USB Interface.
Billig ist es in keinem Falle, irgendwas mit Retina zu nehmen, leider.
Air ist gleich schnell wie das 13″ alt und neu mit Retina. Wobei die Serien SSD ggf. den Benchmark verbessern wird, da das normale 13″ erstmal eine normale HDD hat. Wer Platz braucht, kann sich ersthaft überlegen die alte Bauform unzubasteln und das optische Laufwerk zu ersetzen.
Preise wären da aber am besten – 13″ alt kosten weniger, weil man weniger Adapter braucht und einfach loslegen kann, beim Air braucht man div. Umsetzer und für alle vielleicht ein Displayport Adapter für ein TFT @ Home.
Speicher: 8GB ist ok für audio, beim 15″ gibt es 16GB optional, was für Video sinnvoll ist, für Audio nicht so dringend nötig, vorerst. Es bleibt der Spruch – Apple User bezahlen gern etwas mehr, wenn es angeboten wird ;)
Ich bin noch immer unentschlossen und ich brauche echt sehr bald ein neues "Buch", aber sie sind alle verdammt teuer..
Entweder macht man einen Kompromiss oder man hat keinen extra Desktop, sonst lässt sich das einfach nicht bezahlen.
Angesichts keiner richtigen Mac Pros (die eh zu teuer geworden sind seit 2011 und dem eher lieblosen Update vor kurzem ohne Thunderbolt und ohne USB3) – Da ist es wirklich hart, vielleicht ist ein iMac oder Mini sogar am besten, nur ist das live sehr sehr unelegant. Aber definitiv nicht ganz so hart zum Geldbeutel, aber das ist eben nicht Retina. Wer grafisch arbeitet, wird das gut finden und alles als unscharf bezeichnen, denn das ist wirklich sehr nett – aber es hat einfach sehr seinen Preis. Und ist daher nur für Foto und Videoleute wirklich zu empfehlen, Musiker haben ja wohl wenig Geld – also dann die alte Serie, denn die hat eher was man braucht und ist auch bezahlbarer, außerdem sind sie genau so schnell, beim dicksten 15″ ist es sogar gleich mit 2.7ghz Proz. ausgestattet. – Beim Retina kostet das alberne Upgrade von 2.6 auf 2.7 250€, was sich absolut nicht lohnt und keiner versteht. Vielleicht pustet auch der Lüfter dann viel, denn warm werden sie in jedem Falle. Ggf. lohnt sich das also eher wenig bis gar nicht.
Preislich – eigentlich schwer für normale Menschen, wirklich. Ich muss jetzt erstmal Zeug verkaufen. Denn ernsthaft kann man wirklich nur sagen – ich mache nur ein wenig unterwegs oder ich möchte etwas mehr, wirklich bezahlbar erscheint nur das alte 13″ und ein hochgerüstetes Air liegt bereits schon nahe an 2k€ mit allem was man sinnvoll braucht. (genug Platz auf der Platte). Sollte man ohne Samples und Co auskommen, dann ginge auch weniger, aber die Entscheidung bliebe extrem schwer und in jedem Falle immer auch teuer.