Sequential (Dave Smith) Prophet 6 – very Prophet 5'ish Synth
it's a lot like the 1x Multi Timbral, 5 Voice, (1978)  
Sequential Circuits Prophet 5 Analog Synthesizer but with some additions. -> bold – what is different to the P5
the Sequential Circuits Prophet 6, P6 Analog Synthesizer isn't bad at all. Sounds a bit different but has new filters and OSCs. very hands-on, very easy and intuitive – ok – it is a classic concept so it should be- like the FX in this one.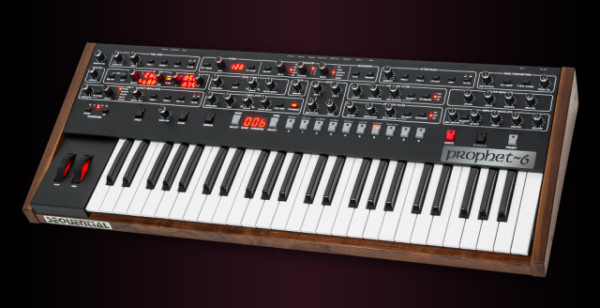 2 VCOs- morphable wave shapes – PWM – Sync, 6 voices
Triangle Sub Generator
Slope for "analog" detuning
low & high pass filter
velocity / env
classic 2x ADSR
LFO with ext. clock sync
aftertouch
arpeggiator
64 step polyphonic sequencer !!
FX
500 patches
2 FX incl Delay.
more displays…
$2799
note: it has 4 instead of 5 octaves – so it is smaller than the P5
Noise seems not to be a modulation source (means: there is a noise generator but not as a mod source)
note: the filters are "new!" the oscs are new! so it isn't just like the others – so it also sounds different from previous DSI synths with easy user interface
the best video I found which is deeper is this
some more
This synth has analog oscillators, it is therefore closer to the Prophet 08, but it has different filters, that have been developed with the Pro 2, so it is also a different sound to both for different reasons). Dave says it is not the same but more modern and – it has a real easy-to-understand user interface – which is obviously true.
so the Prophet 6 is not cannibalizing DSI (which is the distribution with this synth, still) especially thinking of the P08 it has FM like the P5 had and a different sound.
Introducing the Sequential Prophet-6
and yes – Sequential is back without Circuits a new page as well.
…from Yamaha. Here's the "Sequential Statement" – since Yamaha doesn't do synths that much these days so Dave is been given the name back! congrats! To me it's like when Bob Moog got his name back, so we're waiting for Tom to call his machines Oberheim again (not Tom Oberheim).
und ja: Dave hat was zum freuen Neues von Dave Smith // SCI Prophet 6 (nicht DSI)