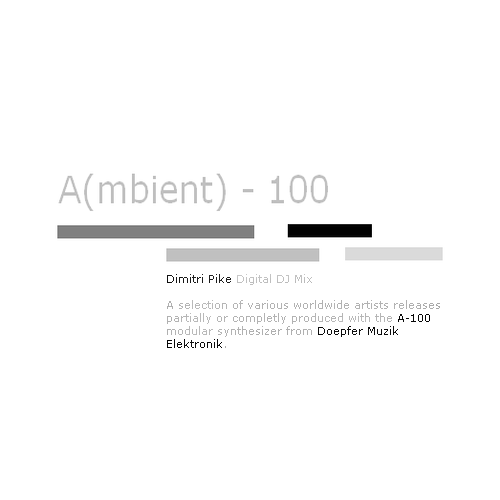 Story :
Doepfer Muzik Elektronik is a German manufacturer of Analog & MIDI equipment that most of you certainly know since they collaborated with mythic group Kraftwerk on the realisation of various instruments including famous MIDI/analog Sequencer Maq 16/3.
They also provides today's musicians with a complete analog modular system called A-100 available in various basic kits but that you can extend near the infinity with various modules of their catalogue.
A-100 is an exceptional machine. Here at Wildtek Concept, if there is only one dream we still have, it's definitely to built our own A-100 system. Waiting for this moment, I was looking through Internet for some samples of the A-100 and discovered much more than samples...
I discovered few very great musicians working with this system and, as a DJ, I decided to record a digital mix of all this great tracks to firstly show respect to the artists behind them but also to Doepfer who makes my nights plenty of dreams with their creations.
I hope you will enjoy this 40 minutes of sound experimentation and who know ? Maybe you will be touched by this incredible way to make sounds with an irresistible envy to construct your own synthesizer sounding as you decided it to sound...
Music by : Efofex, Unyo303, Charles Graef, ...
Enjoy !
Dimitri Pike
Available here :
http://wildtek.blogspot.com